We find ourselves is a strange position, awash with unaccustomed emotions. No, this has nothing to do with being undefeated and Number 1.  That is our proper position and we should feel simple contentment for, indeed, all is right with the world.  I mean we are caught up in the unusual furor of conference-hatred.  Not belonging to one of these mutual-mediocrity-assurance societies, we have no natural animosity toward any of them.  Normally, we deride them all equally.  (Do we hate the Big 10?  No, we feel sorry for the Big…whatever it is now.)  Yet, suddenly we are fixated on that beast called the SEC; that's supposed to stand for Southeastern Conference, but they way these names defy logic, we'll just leave it at an ambiguous triliteration.
As a collective, the SEC seems particularly arrogant and loathsome.  Educationally, they do not teach such big words as those.  In short, there's not much to like and quite a bit to hate – especially since they will shortly pit two of their hulking, spittle-flecked football gangs against each other in order to determine which wounded creature will have the privilege of fighting the Irish.  Quite sure of themselves, these Southern cult-vehicles believe that either of them will rumble over a hapless Notre Dame.  Please note, 12 other teams have already labored under that same misapprehension this year.
A preliminary blow was struck in this new battle last evening, when the basketball lads soundly defeated a heavily-favored SEC squad on the hardwood.  Much of the ferocity that the Leprechaun Legion ginned-up last night was born of the burgeoning abhorrence for the SEC writ large (though I do not think many in the SEC can write).
This is not appropriate.  We are preparing for Christmas, when we celebrate the birth of hope and light in the world.  We should not be summoning all the dark forces of hatred at this time of joy.  And so I propose that we find a way to love our enemies.  Since I know this is impossible with the Irish race, whose members will forget everything but their grudges, I instead propose something simpler and more concrete: Good Works.
Holy Mother Church has long provided a simple check-off list of Good Works that everyone should do.  As with so many things Holy Mother Church teaches, these don't exactly work well in the context of college.  Hence I have taken the liberty of presenting a reinterpreted list of Good Works that all Irish students, alumni, and fans can undertake with a special emphasis on helping – not hating – the philistines folks of the SEC.
The Spiritual Works of Mercy, Collegiate Edition
Instruct the Ignorant: No, this is not a slight against SEC education (but really, your team's score at the end of a game should not be higher than its graduation rate).  This means that we should spread the good news about the Fighting Irish, talented college students who take time out from attending class and studying to defeat teams from Dublin to Los Angeles.  These lads have worked hard and earned every victory; they have not preyed upon a roster of weak opponents or waited for lucky breaks.  Certainly fortune has favored them, just as it smiled upon Wellington at Waterloo.  For SEC fans: Wellington was the general who defeated Napoleon at the battle of Waterloo; Napoleon was the bad guy because…where to begin…  This isn't the point.  The point is we have an inspiring story to tell about our team; let's proclaim that instead of defaming the no-books club that we will face in the final game.
Counsel the Doubtful: Who didn't doubt the Irish this season?  Aside from those of simple, unshakable faith, those with faith enough to make multiple mountainous goal-line stands, it was almost fashionable to have deep doubts about Notre Dame straight up to the latter minutes of the last game.  And that doubt persists, especially within the SEC where they seem to believe they play a longer, harder, more brutal version of American college football.  In the South games last days, touchdowns only count for 4 points and a team must score at least 112 to win while simultaneously preventing the opponent from gaining even one yard, and large blunt weapons are issued to all players.  They play 53 games a season (which would account for their graduation "success" rates).  Of course, this is a canard – as is the notion that all SEC teams are, by their nature, superior to teams in Oklahoma, California, Michigan, and Indiana.  Let there be no doubt that the Irish can meet, match, and supersede any SEC team on the field (and already have in the classroom).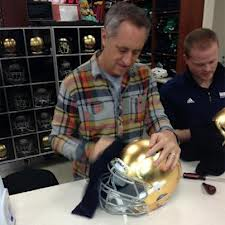 Admonish Sinners: What a gift we have given to Rick Reilly.  No, not the VIP behind-the-scenes tour loyal fans would sacrifice a limb to enjoy; not the free publicity; and not the chance to make new friends and look magnanimous doing so.  We gave Reilly the opportunity to expiate his sins with hard work – frankly, the only hard work or honest job he's done in decades.  We told him in no uncertain terms that he had unjustly slandered Notre Dame.  Then our lads proved it.  Then we let him lift the burden of his sins from his shoulders with a little elbow grease.  Across the country many who had been sternly advised that their words about the Irish were unfair have now been shown the error of their ways.  Do not fall into the trap, SEC fans, of ridiculing Notre Dame.  Consider yourselves warned.
Bear Wrongs Patiently: We did.  All season.  From everyone.  Patience is 12-0.  Just hold on for one more.
Forgive Offenses Willingly: Let us look to Lou Holtz as the paradigm of this virtue.  While most of the Irish faithful faced a general skepticism and a vague mockery, Professor Emeritus Holtz was scorned, derided, and taunted by his own co-workers, repeatedly and prominently.  He did not cower, nor carp, nor lash out.  The noble Holtz was given terrible offense, but he stayed true.  He even forgave gave that loutish May knave; and he gave him an opportunity to dress properly for once.
Comfort the Afflicted: Once again, we feel very sorry for the Big 10.  It will be all right.  You'll pull through somehow.  Chin up and give us a smile – you just picked up two new mediocre-to-poor football teams.  Courage!
Pray for the Living and the Dead:  That's what Sacred Heart and the Grotto are for, and every chapel in every dorm.  We pray for the lads on the team who are very much living a dream right now.  And we pray for those no longer with us.  Even whichever SEC team is left crumpled in a heap on the field in Miami come January 7.
EFS CSC
Latest posts by Father Sorin
(see all)