Ball State. It's an unfortunate name. Then again, our University is technically named for 'Our Lady of the Lake', even though there are, in fact, two lakes. Don't get me started.
Who put the Ball in Ball State? The very generous Ball brothers, who became very wealthy by building a better, smarter fruit jar. It's not a sexy way to make money; but all things considered, glass pickling jars are a lot more popular today than what our first benefactor sold – fur.
Since we're playing host to Ball State, I thought I'd be hospitable and put the Ball in football: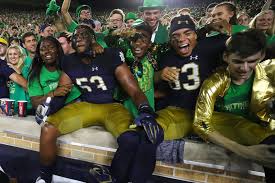 Have a Ball – What we did with Michigan last Saturday night. And I don't mean only on the field. Our fans had a ball in the stands. FINALLY! The Stadium was…I'm struggling for a term…loud. Yes, it was loud. That's probably as shocking to you as it is to me. And I don't know if there is a single factor that made the difference – everyone in the same shirt color, a compelling video clip on the big screen, hatred. It could be any of those. But let's make sure it wasn't a one-time-thing. Let's have a ball in the Stadium for the rest of the season, because it really helps the lads have a hell heck of a ballgame on the field.
Keep an Eye on the Ball – What we need to do tomorrow. Ball State was very good at football once. I don't mean once as in 'during a particular period of time'; I mean once as in only one season, ten years ago. But that's absolutely no excuse to let our guard down tomorrow. Nothing could be more devastating than winning a big game and then losing to a small opponent. Trust me, I've seen it waaay toooo many times. Coaches, players, and fans need to keep their eye on the ball and secure a decisive victory.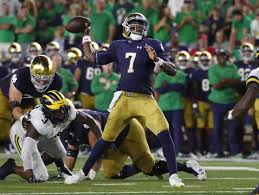 Ball of Fire – Sure, our offense should play like one. But I'm not a big fan of fire. If you want to know why, look at the year over the middle windows on the fourth floor of the Main Building, and then look up the founding year of the University. Tell me what happened between the two dates.
Too Many Balls in the Air – I have no problem with this, as long as they're caught. If not then Take the Ball and Run.
Behind the Eight Ball – Where we'd like to see Ball State. Heck, let them score eight points to avoid the shame of a shutout. Such things are reserved for old friends, and we're meeting these folks for the first time.
Drop the Ball – Not gonna do it.
That's the Way the Ball Bounces – Fine, as long as it's into our hands.
Get the Ball Rolling – Tailgating.
Ball of Wax – Grotto.
Ball and Chain – NCAA.
Bawl – What Michigan did last week.
Baal – An ancient demon worshiped by Philistines; a Jesuit.
Ball Don't Lie – No idea…something to do with Karma. Like calling an opponent chicken and then losing to them.
Ball Out – To do something successfully and with great ease. Notre Dame DEF Ball State
Crystal Ball – Don't have one, But 42-7 is a safe bet.
EFS CSC
Latest posts by Father Sorin
(see all)