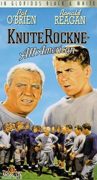 Notre Dame is the only university in America that has had two very popular and flattering major motion pictures made about it: "Kunte Rockne, All American" and "Rudy." As a general rule, you don't want a movie film made about your college, unless you hated it and want to join other people in laughing at it.
Interestingly enough, "Rudy" had its world premier in South Bend exactly 25 years ago this month. That season, the Fighting Irish went into the last game of the year, at home, undefeated and #1, only to be beaten by a substantially lower-ranked opponent. Let this be a dire and horrifying warning!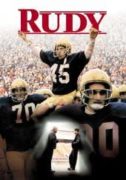 For October is the month of horror, ending as it does with Halloween, the night when ghosts and demons cavort openly among the living. American film-goers love to be horrified, because they know that what they are watching is not real. Irish football fans hate to be horrified, because what they see before them is oh-so very real.
Thus, let us bring together movies, the Fighting Irish, and the Naval Academy Midshipmen (who can be all too horrifying) and re-imagine some horror films with better endings:
"The Poseidon Adventure"
In theaters: A rogue wave capsizes a cruise ship, killing all but our heroes, led by a Minister.
In San Diego: A wave of Irish offense swamps the Middies, led by our hero, a Book.
"The Last Voyage"
In theaters: A heroic father leads his wife and daughter to safety after a boiler explosion sends a cruise ship to the bottom.
In San Diego: A heroic Kelly leads his Irish and their fans to victory after an explosive Notre Dame sends Navy to defeat.
"The Perfect Storm"
In theaters: Three deadly weather systems converge on a fishing boat which is engulfed by the sea.
In San Diego: Eleven deadly defensemen converge on the hapless Middies who are engulfed in loss – unfortunately for Navy, it will be Tranquill weather.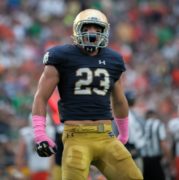 "Below"
In theaters: Terrible things happen on a Navy submarine.
In San Diego: Terrible things happen to Navy next to their submarines.
"Jaws"
In theaters: A great white shark eats people.
In San Diego: A great Irish defense eats Middies.
"The Abyss"
In theaters: Divers encounter underwater aliens.
In San Diego: What the Middies will be staring into.
"Dead Calm"
In theaters: A murderer pirates a sailboat.
In San Diego: The Navy cheering section.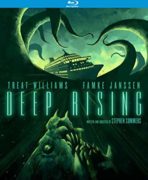 "Deep Rising"
In San Diego: Irish Rising
"Moby Dick"
In San Diego: A cut-blocker
"All Is Lost"
In San Diego: The Story of the Navy Midshipmen
"A Night to Remember"
In San Diego: The Story of the Fighting Irish
EFS CSC
Latest posts by Father Sorin
(see all)