I've had multiple drafts and versions of this post permeating my brain for months. Ever since I announced the end of HLS, I've wondered how I would put a bow on my decade-plus long involvement in this site.
Like most things HLS, the end didn't go as planned. I've already been called out on our Discord for wrapping up the podcast earlier than announced. It turns out when Notre Dame has a historical collapse, one last episode after recapping that mess doesn't make a whole lot of sense, especially if your hosts just had their hearts ripped out of them one final time.
Even that episode didn't end as planned. In the "post-credit" picks, Eddie delivered breaking news that delivered the final, and fitting, kick to the sports-junk we needed to say goodbye.
Jokes aside, this is a bittersweet end for me, personally. My HLS tenure has lasted just a bit longer than my relationship with my wife and, in an all-time upset, didn't end it. Truth be told, she's the one to thank for how long this run went. All those times I've tried to quit or take a reduced role here–yeah, she's the one that gave me the "go get 'em" to keep me coming back.
This time around, she couldn't talk me out of it. Frankly, this time around, I'm not sure she tried too hard either!
It's definitely time to say goodbye and saying goodbye to something that's taken up over a quarter of your life is a real weird thing, especially when you still enjoy doing it. However, what I quickly began to enjoy far less was worrying about my kids getting to sleep so I could run down and podcast/stream, how I could fit my Extra Life efforts into football season, what I would need to do to catch up on football when my kids had weekend events/birthday parties, trying to find the time to date my own wife during football season, how I balance everything with my job, etc.
Couple all that with the fact that, in order to be truly successful in this racket, you have to work your ass off to optimize SEO, find advertising partners, market the hell out of your stuff, and have a solid social media plan. That game has absolutely passed me by. When you realize the game has passed you by, it's time to hang 'em up.
I still love writing and creating content. I'm really excited to see what I can do with my Patreon (which only costs a measly $1/month to sign up for) now that the constraints of a football schedule or super-focused content are gone. I'm also excited to see the heights that I can take Gamin' 4 Aven with a more sustainable streaming schedule and focus to keep building my Twitch community and hitting my $20K fundraising goal this year.
I love the community that we've built. I want to keep building it through these efforts. That's why the HLS Discord isn't going anywhere. In fact, my dream is to have all my community efforts combine into one happy family. I've spent way too long and tried far too hard to separate all my various efforts. That won't be happening any more because the truth of the matter is that the HLS community is the foundation that I've built both my Patreon and Extra Life efforts on.
As long as I can pay the bills, this site will stay up to serve as an archive of all our work as it's quite the time capsule of the Weis and BK eras. I'm looking forward to other sites and podcasts bringing in the content for the Freeman era and I'm beyond excited to consume it as just a fan.
I want to thank MQ and Biscuit for reaching out back in what seems another lifetime ago to write for HLS. And when MQ stepped down, I want to thank Biscuit for trusting me with the reigns of the thing that he and MQ built.
I want to thank everyone that contributed to HLS in any way, shape or form–even Poot. We got to develop our own unique style and brand and went through countless iterations of what we wanted HLS to be and grow into. Every single person that came through here turned HLS into it's final form that we say goodbye to today and I can't thank y'all enough.
I want to thank my family, especially my wonderful wife for encouraging me on this whole journey. I said it before, but everyone owes Mrs. Tex all the thanks in the world. She is my rock and helped me push forward when I thought I was done on more than one occasion. I've had family members listen to this show and then somehow spread the word to people. Even my kids were proud of what I did despite having very little idea of what I actually did when they were asleep–probably for the best, honestly.
And, of course, I want to thank each and every person that read, watched, or listened to anything that we did here. Without you, we're screaming into the void. When NDN decided to stop linking us, it could've (and probably should've) killed us right then and there. Instead, we doubled-down and focused on you, the Loyal Readers. It was the best decision we ever made and I'm walking away from HLS more proud than I was when we had over one million pageviews. We got to finish this thing out on our own terms because of you.
It's been an amazing ride, but I'm ready to get off. I can't wait to have drinks with y'all at tailgates in the future–even the awful drinks that your donations to charity provide.
See you, Space Cowboy…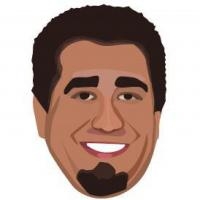 Latest posts by Ryan Ritter
(see all)