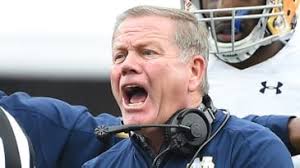 Surely Notre Dame is worthy of entry into the College Football Playoffs.
Yet, facing the results of last night's games, what more can the Irish do to prove their worthiness?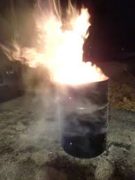 Trial by Fire
A 50-gallon drum of burning refuse and offal is placed before Brian Kelly. He reaches in and pulls out the remnants of Michigan's Revenge Tour. If Kelly is uninjured, then he is worthy to lead his team into the playoffs. If he also pulls any remnant of Michigan's pride, he's a miracle-worker.
Trial by Combat
One player from Notre Dame and one player from another team, selected at random, are closed in a 9' by 12' room and given two beds, two chairs, two desks, and two wardrobes. They may attack each other with any of these implements. If the Irish player walks out of the room under his own power, carrying either the sink or the radiator he has wrenched out of the wall, both he and Notre Dame are deemed worthy to enter the playoffs. Notre Dame players will have an advantage in this contest, because it's also called "Freshman year in Dillon, Alumni, and Zahm."
Witch Dunking
The Leprechaun is hurled into St. Mary's Lake. If he sinks, he was good and the Irish are worthy of a playoff spot. If he floats, he is evil and Notre Dame's season is over. Sorry to cheer against you little fella, but here's hoping your green tuxedo and genie shoes are lined with lead. And don't worry – we've got plenty more short, feisty, hirsute men on campus.
Duel
Clark Lea and Dave Clawson (Wake Forest's head coach who scored the most points on the Irish this season with 27) are each given a rapier, and then clash until one is touched…or stabbed a little bit…three times. However, while the blade of Clawson's sword is 26.01 inches long, Lea's blade is 33.59 inches long, reflecting the difference in time of possession. In the alternative, each man is given a blowgun and, standing 10 yards apart, they use the strength of their lungs to shoot darts at each other. Clawson has only 398 darts, but Lea gets 566 darts, commensurate with total yards in the game. Either way, when Clark Lea wins, Notre Dame is acknowledged as being a worthy playoff team, and Dave Clawson has the distinction of being the only man left bleeding in the wake of the Irish twice in one season.
Tial by Poison
Brian Kelly has to watch the entire compilation of ESPN's coverage of Notre Dame from the entire season, without a single break. If he doesn't soil himself or go insane with rage, the Irish go to the playoffs.
The Bridge Troll
In order to prove that Notre Dame is worthy of competing in the playoffs, two Irish captains must answer three complex and tricky questions. Drue Tranquill (majored in mechanical engineering) and Sam Mustipher (majored in computer science) are presented with the three queries. Since actual hunched green dwarves who live under bridges are in short supply, the questions will be written by a substitute troll – Desmond Howard (majored in…communications).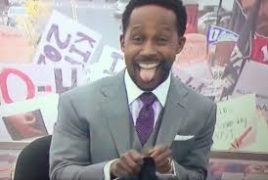 EFS CSC
Latest posts by Father Sorin
(see all)