It was the best of seasons, it was the worst of seasons; it was a game of touchdowns, it was a game of turnovers; it was the inspiration for belief, it was the cause of incredulity; it was the season of Light, it was the season of Darkness; it was the autumn of hope, it was the winter of despair; we had a playoff berth before us, we had a second-tier bowl before us; we were in Heaven on earth, we were in a cold, wet Stadium of defeat.
Since 1887, we've had worse seasons, but few as divergent as this one.  A fine defeatist platitude says, "These things happen."  But this is so true.  In Rockne's 11th season, he only had one more victory than his four losses.  Leahy's eighth season was flat, with only four wins, just as many losses, and a tie.  The Ear of Ara was marred by a 7-2-1 finish in the fifth year of his tenure.  In his penultimate year with the Irish, Devine managed only 7-4.  And in year nine, Holtz eked out but six wins, suffered five losses, and settled for one tie.
What's interesting is that Rockne's nadir came after three undefeated seasons and one championship, and it fell immediately before his two final undefeated championship seasons.  Leahy bottomed out after four championships, four undefeated seasons, and came in advance of a final undefeated effort.  Parseghian had one championship and one lossless season under his belt before he faltered, but came back with two more undefeated years and one more championship.  And Devine and Holtz were both national champions before they were brought low, Devine's crown blemished by one loss, and Holtz losing two crowns by dropping the last game of two regular seasons.
Thus, Brian Kelly and this team, though not doing well, have not done anything out of the ordinary – except in the manner that they have done it.  No team has ever stoked the fires of hope by starting with six straight wins, then thrown a urine-soaked blanket on that blaze with five losses.  If the offense hadn't been able to score a slightly more obscene amount of points than North Carolina, we'd be staring at the season-equivalent of a tie, a draw, a very stale stalemate.
People love to use the word EPIC – usually shouted in exultation or awe.  Read a damn darn Classical Epic, people!  Lots of heroes die; and even if they don't, they all suffer horrible, degrading defeats and losses.  Epics are long, in excess of 20 books; and they are not defined by the first five.  Everything turns out well after all the blood and death, but the hero must have courage, belief in himself, and hope.
Behold the epic comparisons:
* The Trojans lost to the Greeks, but founded Rome…just like we lost to the Trojans, but we look forward to vanquishing them when next they come here to Little Rome.
* Everett Golson made spectacular plays but had abysmal turnovers…just like Odysseys fought his way through the Mediterranean returning return home to his devoted wife, all the while cheating on her.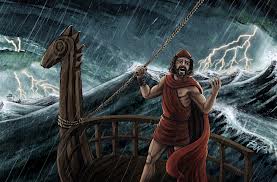 * Agamemnon defeated Priam but was axed to death in his bathtub…we shutout Michigan but got cut to pieces by USC.
* We lost many fine players to injury, even a captain…just like Achilles lost Patroclus, Aeneas lost Anchises, and Odysseus lost his whole crew.
* Dido fell on Aeneas' sword when the Trojan wouldn't marry her…just like that USC cheerleader was flattened by her own Trojan player.
* We escaped Navy like Odysseus escaped Poseidon, but both were costly victories; Hoke coached like he only had only one eye in the middle of his forehead; Sarkisian sounds like some sort of island monster (the Sarkisian devoured a whole sow in two bites!); and Odysseus' guide was blind…just like Brian Kelly went for two.
* The similarities go on and on, of course without the murder, idolatry, and incest – that would be the SEC.  My point is that the greatest stories in history have their dark moments.  Heroes have their flaws.  We had a good run, followed by a terrible fall.  But like our five greatest coaches, we still fight, and we march onward to victory.
I began this reflection with a literary echo of Dickens' epic A Tale of Two Cities.  The hero Charles Darnay escapes the bloodbath of the French Revolution to see a better day; but right now we're more like his identical counterpart Sydney Carton – young, talented but sloppy, and drunk.  Let's just try to avoid the Guillotine Bowl brought to you by Robespierre.
EFS CSC
Latest posts by Father Sorin
(see all)