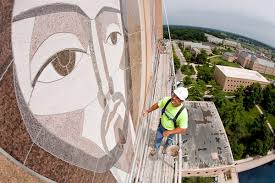 Icons never blink. I'm not talking about the things that show up on computer screens, or popular celebrities. I'm talking about real icons – deeply religious images. They constantly stare out at us; and they never blink.
Just as the word 'icon' is overused and improperly used, so, too, is the word 'iconic'. It seems everything today is described as 'iconic' – party songs, adventure films, sports stars. Yet none of these things demands contemplation, or touches the soul the way a real icon does.
However, you young men and women who will graduate from this University in little more than a day, have lived among icons for the last four years. A golden statue, a candle-lit cave, a log chapel. These are deeply religious sights to behold; but they are just a fraction of the icons that you have seen.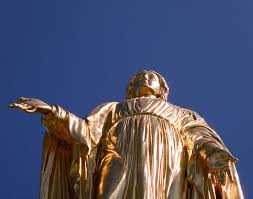 Close your eyes, and think of the images that you will never forget. The first time you met your best friend; the first time you met the love of your life. The first professor in the first class you walked into; the last professor with whom you shook hands after the last class of your collegiate career. Your rector – both when happy, and when angry. They first victory you celebrated in the Stadium, either in the stands or on the field; and soon, the final victory you will celebrate in the Stadium: your graduation. These are images imprinted on your memory that you can contemplate for the rest of your lives, and will never cease to touch your souls. They are your own, very personal icons.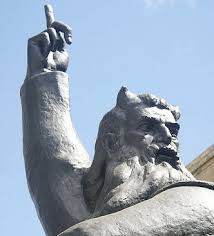 But the greatest, most classical icon at Notre Dame is the one that looms largest over the campus – the Lord as teacher, with his arms raised in prayer and celebration. And as he has beheld everything that has gone on, everything that you have gone through for the last four years, he has never blinked. He has seen the good and the bad, and he has never ceased to teach, pray, and celebrate through both. Take that image with you as you leave Notre Dame, and let it instruct you in your lives with family; in your work with colleagues; in your joys and your despairs.
Christ as Teacher is not only an icon, it is also a mosaic. One image made up of 6,700 pieces of granite. When you look at it, you can view the whole, or you can concentrate on just one small part. Soon you will be handed a single sheet called a Diploma. But consider how many pieces went into it over the past four years: how many people, how many classes, how many competitions, how many celebrations, how many victories, how much beauty, how much truth, how much life, sweetness, and hope. You take all of that with you into your future. Let each of those experiences – and the whole experience put together – be a source of contemplation. Let it all touch your soul, for then Notre Dame will truly have made a difference in your lives, and Notre Dame will truly be in your hearts forever.
In that way, Notre Dame itself is an icon comprised of so many pieces over so many years. As you walk out of the Stadium with your diplomas, look at Jesus as he looks at you. He will not avert his gaze. He will not blink. But as you leave this iconic place, Notre Dame will blink – Notre Dame will blink back a tear…a tear of joy…for you.
EFS CSC
Padre's book Father Sorin Says: The Founder Comments on Today's Notre Dame is available from the Hammes Notre Dame Bookstore and Amazon. Included are his farewell addresses to previous graduating classes.
Latest posts by Father Sorin
(see all)