Last weekend was that big football game which millions ignore to watch everything else that goes on around it. A lot of defense was played and a quarterback of mature years seemingly concluded his career on a high note. One of the several occurrences that people found more interesting than the game itself was the press conference during which the defeated quarterback was laconic, surly, and dismissive before dismissing himself from the press conference.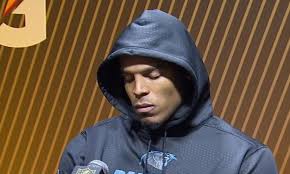 I'm told this fellow attended no fewer than three colleges. Though he learned about criminal justice at one of them, he obviously did not major in communication studies at any of them.
I understand that newspapermen can be a tough crowd. Plenty of Notre Dame officials and student-athletes have had to face the glare of the bright lights and the shouted questions of the rabble, defended by nothing more than a podium and their wits. As an educator, I will take this opportunity to show how one should handle the loyal opposition…er…I mean the media. I present to you a hypothetical press conference.
[We enter in medias res.*]
Coach Kelly's contract was just renewed for another five years. Since he hasn't won a championship, hasn't produced a Heisman winner, and lost his most recent bowl game to a far superior coach whom you couldn't lure to Notre Dame, isn't it clear that you've settled for annual mediocrity and given up on Irish football greatness?
You must have graduated from the University in the 1960s. Brian Kelly is an excellent coach. He has over 200 victories, 55 of them with the Fighting Irish. We competed for the National Championship in 2012, a season in which we were ranked first on the football field and first in graduation success rate. That had never been done before. He is a good family man, a pillar of the community, and a snappy dresser with a dazzling array of tartan sport coats. Though in the past he may have toyed with the idea of coaching a professional football team, he has come to appreciate what Ara Parseghian knew, Dan Devine experienced, and Lou Holtz learned the hard way – it's far more rewarding to stay at Notre Dame than to go anywhere else. The NFL isn't for everyone…just ask Nick Saban.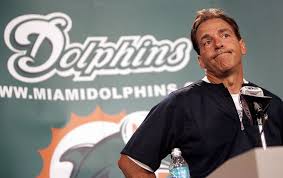 I have a follow-up screed. But Kelly obviously can't recruit. He had a lackluster class this year, falling far behind the likes of Alabama, Florida State, and even Michigan. By the way, did you see the glory and majesty that was Michigan's "Signing of the Stars?" You must admit that Jim Harbaugh is indeed touched with the purest magic.
Since there was no interrogative sentence in there, I can't really answer a question. But I can reflect on your flight of fancy. Coach Kelly recruits what he needs, and develops what he recruits. Isn't that the goal? Coach Kelly does not oversign, does not revoke scholarships, and does not deceive his players. They will have to work as hard in the classroom as on the field, and graduation is their ultimate goal. After all, this is Notre Dame, not Alabama.
Since I'm fixated and rude, I'll continue my panegyric to The Harbaugh, blessed be he. How could Notre Dame have fallen so far, that no less than Lou Holtz joined The Harbaugh on stage to serenade the Michigan recruits and fans with a ballad to the greatness of Big Blue? Clearly Notre Dame's shameless and dastardly cancellation of the series with Michigan caused one of its most devoted acolytes to convert to the one true faith in The Harbaugh, all praise and honor to him.
While you befoul yourself in ecstasy, let me point out once again, that scheduling difficulties on both sides of the Notre Dame-Michigan series necessitated a temporary hiatus. It is out of the ordinary that Notre Dame initiated this pause in the action, since it was Michigan that created the original 33-year rift after Fielding Yost became inconsolable in the face of his first defeat by Notre Dame. But Michigan fans really need to have some self-respect and stop acting like jilted lovers who hate their former paramours so much that they can't stop thinking and talking about them. Harbaugh should be happy that he has had the opportunity to get his (clay) feet under him without having to fight the Irish. The series will commence again, and Harbaugh will have his shot, since his electronic leash doesn't allow him to be farther than 50 feet from his Michigan keepers.
As for Lou Holtz, he was returning a favor as any man of integrity is expected to do. Michigan had him for a day, but since Holtz has a reservation in Cedar Grove, we have him for eternity. Besides which, Holtz was talking about his experience coaching against the Wolverines; he had no part in recruiting players for Michigan. He remains loyal to Notre Dame, but he is free to participate in events of his choosing. That said, I will not be joining in Jesuit Vocation Awareness Week.
Since my colleague from Ann Arbor has collapsed in a spittle-flecked trance, I'd like to redirect our focus to Notre Dame's real rival, USC. Pat Haden is stepping down as athletic director, meaning that the momentary stumble before Notre Dame in football will immediately return to a decade of Trojan victories. Ready?
Allow me to wish Pat Haden well. He is a gentleman and a scholar. For several years he called Notre Dame games from our press box along with that older Hammond lady who, I presume, is his wife. May they both have a happy retirement together. Pat did the best he could at USC, but he was truly like Daniel in the Liars' Den. I would need medical attention, too, if I tried to do that job. As for a replacement, I understand the Manziel fellow is looking for work these days. I know he doesn't have a college degree, but let's face it – USC athletics has never been about education. And Manziel's lifestyle would fit quite nicely with the USC campus ethos. In the alternative, Urban Meyer could take over as USC's athletic director, since he's been at Ohio State for four years, and that's far too long for him to remain at any dream job. Besides, if Urban left the Big Ten, Harbaugh would sleep better…in whichever recruit's bunk bed he is camping out.
A junior on the football team has just been elected Student Body President. How can he do both?
If Knute Rockne could teach chemistry; serve as athletic director; run the business office and the ticket office; coach track and football; design football equipment, uniforms, and the Stadium; write newspaper columns and books; broker stock and sell Studebakers, all while raising four children, I think our Robinson lad can make the Dean's List, make the catches to score the touchdowns, and faithfully execute the office of Student Body President all at once. That's why we recruit scholar-athletes – they're just more interesting.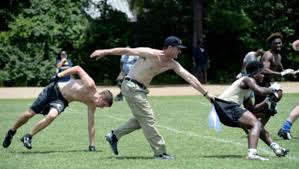 Back to Harbaugh. Michigan will be holding football practice over Spring Break in Florida. Isn't that a hoot! How brilliant of them! But the University of Florida is saying that's not fair. What's their problem, and why is Notre Dame so backward?
After a long and cold first half of the semester studying and keeping themselves fit, our scholar-athletes have earned a week's respite. The University of Florida is angry because it is school policy that Spring Break is for lewd and lascivious behavior, hospitalizations, and arrests, not football practice. And Harbaugh needs to get a life and let his players have their own – one of them is going to take out a restraining order against him sooner or later.
At a recent basketball game, your students stormed the court after defeating top-ranked North Carolina. But don't Notre Dame students rush the field and storm the court too much? Isn't it too dangerous?
It's a game, it's excitement – deal with it. If we have rules for when and how to spontaneously express emotion, we've really gone way too far (though I wouldn't put it past the Oberkommando der Student Affairs). Games are for cheering, yelling, and when you come from behind to win, running onto the court to celebrate. If you don't like that, betake yourself up to that quaint little club overlooking the court where you can enjoy a genteel aperitif and canapés without those obnoxious students and fans. And just wait until we open the Decadence Boxes in the Stadium addition – fainting couches and intravenous booze delivery will make it more silent that a church on Good Friday.
How can a supposedly Catholic school permit an event like the Keenan Revue which annually manages to insult everybody and crosses every boundary of taste and decorum?
It's vulgar, obscene, and bawdy. It's just what this place needs. For those offended, I have extra Holy Water to use as eye-wash and ear-rinse. I would make the Holy Oils available, but the dancing lads would just grease themselves up for that smutty kick-line. It's filth…but it's our kind of filth.
That's all the time I have for now. Your questions have been patronizing, condescending, and offensive. I have tried to respond in kind.
And now I'm going to drink a lot of Budweis cheap red wine.
EFS CSC
* This is Latin, students. You would be able to translate it if we still required you to study the great Classical Languages. If you don't think it's cool to study Classics, I would remind you that the Englishman who sang at halftime of the Super Bowl graduated with a degree in Latin and Greek…trusa illud in fistulam tuam et id fuma!
Padre's book Father Sorin Says: The Founder Comments on Today's Notre Dame, is available from the Hammes Notre Dame Bookstore and Amazon. Don't give it to a Michigan or USC fan…or may be you should…
Latest posts by Father Sorin
(see all)