Notre Dame has had a few spelling issues in the past and a member of the basketball team has just been added to the list of Notre Dame misspellings.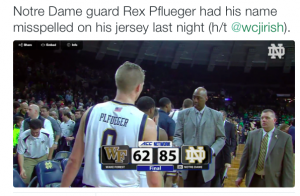 Rex Pflueger, Barstool ND's favorite basketball player and this week's Freshman Spotlight had the unfortunate experience of being an example of why we proofread things. (I don't necessarily follow this advice  ¯\_(ツ)_/¯, but I am also not as important as Under Armour) The best part is that it took until halftime for anyone on the team to notice (laughing crying emoji).

Well, I think Rex, also known as Charles Rex, deserves to have his name spelled right, and here is why. Rex hails from Mater Dei High School, where our beloved Joe Schmidt also came from. Rex, like any smart kid, picked Notre Dame over Cal, Washington State, A&M and SDSU. He is a 6-5 shooting guard that has already begun to see time on the court at Notre Dame. Pflueger has seen action in 16 of Notre Dame's 24 games. These games include time against Duke, Virginia Tech, where he had a career high 11 points after taking on the point guard role for an injured Demetrius Jackson. Rex Pflueger is not only an offensive threat raking in a total 40 pts and shooting 33% from beyond the 3-pt arc, Coach Brey also praises him for his defensive skills
Pflueger held BC guard Eli Carter to just 6 baskets from the field in the game at Boston College. Brey has referred to his defensive skills as textbook, moving his feet, chest up and quick hands. These skills allowed for other guys such as Steve Vasturia to have standout offensive performances. These type of dynamic guys off the bench are a part of the success that Notre Dame has been having on the court. Sitting at 8-4 in conference play and an impressive 17-7 overall, Notre Dame is only getting better the more confident players like Rex become.
We saw glimpses of this confidence as Rex hit his third 3 of the year to put Notre Dame up by 6pts in Cameron Indoor Stadium and ran down the court as if he has been swishing clutch 3s for years. Or his impressive defensive play against Boston College, where he began to find his role in the team. Though Pflueger has decent offensive stats, its on the defensive end where you really want to watch out for Rex. The freshman says he channels his aggression to the defense, with the a team that has not notoriously been known for its defense, a player like Rex is a welcoming.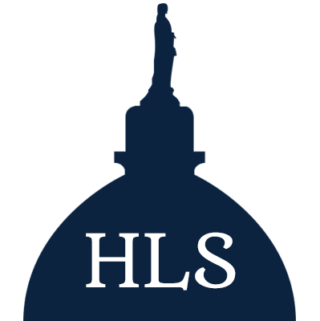 Latest posts by Grantland-X
(see all)