It's an upside down world lately.  I feel like Ferdinand and Isabella when Columbus came back.  I mean I feel bewildered, not greedy and despotic.  If I wanted a comparison for greedy and despotic, I'd use ESPN.  I am bewildered at the odd inversions and reversals of these times.  The football team had a mediocre season, while the basketball team is in the top ten.  The Joyce Center picks up its 600th victory, while the Stadium ended the season with two wrenching losses.  The Stadium is becoming a classroom building.  College football is becoming the NFL.  And we've got a Jesuit for Pope.
Confusing times such as these call for reflection.  And so, I address these conundrums, and like the pool in front of the Library (but with much less duck poop), I reflect:
Strange Signs in the Sky – Football in the descendant, Basketball in the ascendant
Well, I suppose I wouldn't say football is falling, but the season certainly fell apart.  There's always next season and the hope that brings; and at least we didn't have a Michigan season ("Michigan" now synonymous with "shambolic, laughably bad").  But where did this basketball team come from?  Were these Fighting Irish born under a star?  Teams from the East keep coming to see them, not to do homage, but to lose.  This team fights through adversity, comes from behind, never says die, and does it again and again.  These Irish make amazing baskets, play tough, and refuse to let up on themselves or their teammates even into overtime.  It must be said that the basketball team could only have learned these noble traits from the football team which, aside from having all the championships, is a full 11 years older than the basketball team, and therefore the athletic and spiritual mentor.
Even the basketball arena is doing better than the football Stadium.  Ned Joyce's big top has a winning percentage of .793 since the ringmaster opened it in 1968, while Notre Dame Stadium has a winning percentage of only .758 since Rockne built it in 1930.  So I say, well done, Ned; Stadium, get your act together.  I look forward to the Tournament, the only playoff system I like…because it's old and I have no choice.
A Mysterious Metamorphosis – When is a football stadium not a football stadium
As anyone knows who has tried to walk to a business class or a game in the Rev. Edmund P. Joyce, CSC, Athletic and Convocation Center, there is some sort of strip-mining operation going on around the Stadium.  Like an 80,000-seat caterpillar, the House the Rockne Built is become the House of Football, Anthropology, Psychology, Music, and Recreation – a collegiate butterfly of truly monumental proportions.  The project is…interesting; and since they've moved more dirt than it took to build the Panama Canal, the project is…inevitable.  So quit complaining.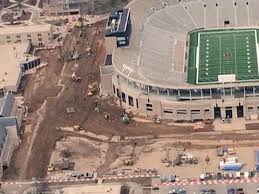 It's progress, people!  The Joyce Center isn't winning any beauty pageants (though it looks suggestively like something one of the contestants might wear), but it's a tremendous improvement over the old Fieldhouse.  That was a truss-roof warehouse with a castellated façade stuck onto it.  Today it would pass for a Camelot-themed restaurant, or a park where children play golf against moving windmills, clown mouths, and fake Medieval fortresses.  It was hot in spring and summer, cold in fall and winter, and had a cinder track for most of its history.  It was torn down over the protests of those who felt the campus was losing its tradition.  All that's left is a square block of bricks with a brass plaque, and no one knows why the patch around the Druid fountain is called Fieldhouse Mall.
Don't try to tell me that sticking classrooms and a student center onto the Stadium moves the "heart" of campus away from the Main Building and Sacred Heart.  That was done when they started building on my farm.  There are already classroom buildings next to and beyond the Stadium.  And good luck explaining the concept of a "heart of the campus" to any lad living in Carroll Hall.  If I had wanted the Main building to be the hub of a radiating wheel, I wouldn't have built it and the church on top of two waterholes (which REALLY did look like one).  Walk out of either building and you can roll down the hill, past the Grotto, and into the Lake.  Believe me, I saw a sophomore from New Jersey do it once.  The Main Building may have been the heart and entirety of campus at one time, but these days the only reason most students go in there is because they got caught making hooch in a dorm room; or because a lad got caught with Jane Hooch in his dorm room after midnight.  And most students don't even go to Sacred Heart on Sunday.  They wake up around noon, lie on a fainting couch eating cold pizza all day, and then at the appointed non-canonical hour, they go to the dorm worship space in their pajamas to blow up balloons and sing "Be Not Afraid."
Real versus Fantasy – The intrusion of professional football
All Americans are commanded to focus their attention on professional football for its annual halftime show surrounded by a final game.  Not satisfied with one weekend of fawning attention, the league has manufactured a sham controversy about withering footballs.  I know why the New England team took air out of their footballs – to prepare for Pete Carroll who loved that old trick at USC.  And when New England trots out the quarterback and the head coach to assure us they did nothing wrong, pardon me if I have trouble believing a Michigan man and the basta fellow who recommended Charlie Weis to us as a great hire.  I really don't care if there's too much air or not enough air in the footballs come Sunday.  I say we fill them with hydrogen like a German blimp and see what happens.
Yet, college football, with its shiny new playoff, continues to try to be more like professional football, because it's "The Real World."  When was the last time a college student wanted life to hurry up and become the real world?  You already have tyrannical bosses who impose unrealistic expectations and unreasonable deadlines; you already have noisy and nosy neighbors, and if you live in Cavanaugh you have a house next door full of ill-behaved children; you already pay too much rent for too little space, and if you live in Morrissey it's in a slum.  Besides, you can't drink in the library in the real world…most of the time.
If we want college football to be like the NFL, why don't we build an oversized municipal stadium housing decadent luxury boxes, charging obscene amounts of money for tickets, named for some product-sponsor, and slinging overpriced beer?  Hmmm…I don't think we'll sell naming rights, and I'll renew my annual appeal for Stadium beer sales.  My point is, with what goes on off the field in the NFL, which is a bit more serious than cheat-sheets and phantom ladyfriends, we at the collegiate level should not aspire to be more like the professional system – unless you're the SEC or FSU, in which case your scandals are already on par with the NFL, if not just a little worse.
The Hand of the Divine
With all these inversions, reversals, signs, and situations, we are clearly receiving a message from God.  Long ago, he used the Flood of Noah and the destruction of the Tower of Babel to communicate his disfavor.  Today, He is more subtle when he alerts us that He wants us to do His will.  To me the message is clear: He wants us to sacrifice the Jesuits on the altar of the Joyce Center next week, when Boston College falls to Irish Home Victory #601.
EFS CSC
Latest posts by Father Sorin
(see all)