The world is a very different place up in Ann Abhor Arbor.  The stadium is bigger, the fans are meaner, and the shade of yellow is urine-ier.  They even have an entirely different perspective on the world and all that's in it, as seen through their beady little giant-North-American-weasel eyes.  What follows, then, is the Irish-Wolverine rivalry, according to the Book of Michigan.
1879 – A devastating fire rages through Notre Dame's Main Building.  Young men from the University of Michigan rush to assist the firefighting efforts, by train, horse, and on foot (for they've always been extraordinary athletes).  Arriving in the nick of time, the Michigan men douse the flames, saving countless lives, as well as the surrounding campus buildings.  In profound gratitude for this valiant effort, Notre Dame agrees to form a weak and feeble football team for the express purpose of playing the University of Michigan every year in perpetuity, and losing to them each time.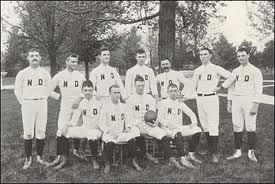 1887 – After years of shameful delays, Notre Dame finally forms a football team and sacrifices its boys to the extraordinary athletes of the University of Michigan squad.  As a consolation, the University of Michigan writes a check to Notre Dame, to pay for the recent "Maizeing" of the dome on the new Main Building.  The Holy Cross Priests perfidiously accept the money, but proceed to call it the Golden Dome.  Holy Double Cross (the only time Gordon Gee was right, if only he knew it).
1909 – Decades of tolerating the biting, scratching, eye-gouging, and hair-pulling of Notre Dame's weaklings, proved too much for University of Michigan head coach Fielding Yost, ranked #1 and poised to capture his ninth National Championship.  Yost orders his players to hold back, rather than use their extraordinary athletic prowess to hurt the Notre Dame gals boys.  As a result, Michigan loses its first game to Notre Dame.  Out of fear for what his players and fans might do to Notre Dame's players and fans in 1910, Yost takes the gentlemanly step of suspending the series in the name of sportsmanship.  He could have sought revenge, but he did not, for he was a true victor valiant.
1924 – Ranked #1 and poised to win his 24th National Championship, Fielding Yost is foiled by an upstart Norwegian named Knute Rockne who had been rejected for admission to the University of Michigan, but still maintained that he went to the more expensive and less prestigious Notre Dame of his own volition.  Rockne, a shameless self-promoter of the P.T. Barnum stripe, had orchestrated a media campaign of Biblical proportions with a complicit national press intent on selling more papers, and had managed (with press collusion) to steal a Rose Bowl berth from Michigan, where he easily defeated a senile Pop Warner and his remarkably unathletic Stanford Indians.
1927 – Ranked #1 and poised to win his 26th National Championship, Fielding Yost quits as head coach at Michigan, disgusted by the gutter tactics to which the nefarious Norwegian Rockne was now stooping.  Having decided to honor the waves of Irish immigrants helping to build America into a great industrial nation and a world power, Yost was within days of announcing that the University of Michigan football team would be known forever as the O'Wolverines.  In a shameless act of thievery, Rockne (and his accomplice Fr. Matthew Walsh, Congregation of Double Cross), made a hasty preemptive announcement that Notre Dame would henceforth be known as the significantly less-creative Fighting Irish.  Yost could take no more deceit from the impoverished school the University of Michigan had once saved from oblivion, only to have its extraordinary athletes dishonored so high-handedly.  This final act of betrayal would kill the great man…19 years later.
1931 – University of Michigan head coach Harry Kipke, ranked #1 and poised to win the Wolverines' 27th National Championship (Congress and President Coolidge had awarded Fielding Yost the 1927 Championship for his "extraordinary contributions to the sport of football and the development of extraordinary athletes," as well as in recognition of the bitter pill Notre Dame had forced him to swallow) is prepared to renew the Notre Dame-Michigan game, despite the fact that Michigan in all its glory needs no such charity match.  Kipke initiates talks with Knute Rockne, his protégé and dear friend, during which Kipke learns of Rockne's precipitous decision to entrust his personal safety to air travel.  In tears, Kipke rips up Rockne's plane ticket and gives him more than enough cash for train fare.  Rockne's arrogance would be his demise.
1939 – On the first day of September, as the University of Michigan and Notre Dame are about the play their first game in 30 years, on the hallowed turf of the 12-year-old but already historic Michigan Stadium, President Alexander Grant Ruthven is handed a letter by Notre Dame's Fr. John O'Hara cancelling the game and repudiating all ties with Michigan both now and forever, Amen.  O'Hara had taken the trouble to enclose the letter in a paper satchel full of dog excrement that he also set alight.  This act of treachery was a ripple on a very unstable pond – drawing encouragement from such double-dealing and arch tactics, Germany promptly invaded Poland, initiating the Second World War.  The University of Michigan has ever tried to make amends for its inadvertent role in this extraordinary disaster.  John O'Hara, CDC, was made a Cardinal.
1942 – In the spirit of peace-making, the University of Michigan agrees to play Notre Dame.  The Fighting Irish fall to the extraordinary Wolverine athletes.  Fielding Yost's sacrifice has been honored, all has been put to rights, a temporary armistice is declared on the Western Front so the Germans and French can listen to the game together on American Armed Forces Radio.  This is a blow stuck for the cause of righteousness and good.
1943 – Ranked #1 and poised to win the University of Michigan's umpteenth National Championship, head coach Fritz Crisler feels honor-bound to invite the mountebank Frank Leahy to the Big House for a rematch.  Not knowing that Leahy had already struck a backroom deal with the United States Navy to cream the best talent off the top of the swelling ranks of America's fighting sailors, Crisler sacrificed his extraordinary athletes to Leahy's longshoremen in the desperate hope that harmony could be achieved with Notre Dame, an institution that the University of Michigan had fostered from its foundation and loved dearly.  Crisler's dreams were smashed over a cackling Leahy's Irish knee.  Notre Dame had done it again.
1964 – University of Michigan President Harlan Hatcher has offered the head coaching position to a little-known and rather unsuccessful Armenian man named Ara Parseghian.  This was a gesture toward multiculturalism (of which the University of Michigan was a leader before its time) as well as a handout to a man in need of a job.  Fr. Ted Hesburgh, CDC, sensed that his parent-institution, the University of Michigan, was onto something.  Hesburgh hurried to waylay Parseghain en route  to Ann Arbor, and threatened the salvation of his Lutheran soul if he went to work for the University of Michigan.  (In Hesburgh's defense, it was all he could do, since no one has more money than the University of Michigan).  As a result, Parseghian went to work for Notre Dame, and promptly cancelled the 1964 game between his saviors from the University of Michigan and the shameful pirates from Notre Dame.  One must ask, how could Notre Dame do such a thing to a fellow Catholic institution like the University of Michigan.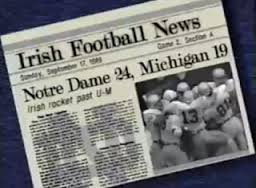 1978 – In a gesture of extraordinary magnanimity, the University of Michigan extends an olive branch to Notre Dame and offers to play the Fighting Irish again.  Notre Dame, having won just seven (7) National Championships in the modern era by playing such unworthy competition as the University of Southern California, Michigan State University, Purdue University, and the University of Pittsburgh, was in desperate need of a powerful rival — an opponent that had captured all of one (1) National Championship in the modern era.  If only some extraordinary team would come forward and lend its credibility and its assistance, Notre Dame might, just might, retain its relevance in college football.  The University of Michigan answered that call for its beloved Notre Dame and the two team have played twice a year ever since…until…
2012 – It should have come as no surprise that, after putting Notre Dame back on its feet in 1978; helping them to their 1988 Championship; granting them their legendary 1989, 1990, and 1993 seasons; willingly losing Davie once, and Willingham and Weis twice each; the University of Michigan would, once again, be betrayed by Notre Dame.  A bag of flaming dog pooh being insufficient for the highfalutin and utterly Machiavellian Jack Swarbrick, he wrapped the rejection letter around the hilt of a stiletto and tried to slip the blade between David Brandon's ribs.  For shame, Notre Dame!  The University of Michigan will never play you again…until you're ready to…which is totally cool…you know, whenever you want…just call.
EFS CSC
Latest posts by Father Sorin
(see all)