The football players, some hall staff, and a few other students are already here.  In one week the freshmen arrive, followed shortly by the rest of the undergraduates.  Here's a back-to-school list of supplies to have on hand for the coming year.
Football Players
You should have settled in by now, and the Guglielmino Merchandise Emporium will outfit you with everything from shorts to shoes to plenty of uniforms (which seem to increase in number and variety every year…blue, gold, white, green, chrome, pink).  It might be nice if the Guglielmino Equipment Warehouse could also find one of those gauntlet sleds that works both forward and backward; but if not, we can get the Engineers to design one, or the Theologians to borrow one from the Spanish Inquisition.  You'll also need:
Lots of music and something on which to play it very loud directly into your ears.  Even when you get to 12-0 (and you will) there's still quite a bit of unpleasant noise and chatter you'll want to drown out.
A considerate roommate or friend who knows how to play a mean game of Gin-Rummy or Hearts.  Between classes and practices and games, you'll need the constructive distraction.  Just don't gamble for money – use something of absolutely no value, like Dining Hall fish sticks.
A Rosary.  Catholic lads, you know it's always good to be on the Coach's good side.  Well, you'd better be on the boss's good side to; and around these parts, that's The BVM.  Non-Catholic lads, keep a Rosary in your pocket, and when you get yourself into a bit of trouble with an angry Rector, just casually pull it out and your troubles will melt away into a friendly pat on the shoulder (this works for Catholic lads, too).
The kind of determination to run into a gauntlet sled that you know to be backwards, simply because you were ordered to, and still move the thing a foot-and-a-half forward.  You will only find this in the depths of your heart and soul.
Freshmen
You will invariably show up with far too much stuff.  Send about 1/3 of it home.  It will be hard enough living in your shoebox with another human, much less with both of you wedged in there surrounded by all your earthly possessions like a dead Egyptian king.  But keep these: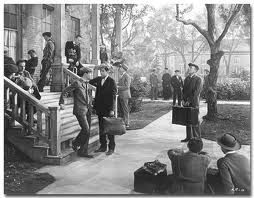 A weeping towel.  Whether from joy, laughter, anger, frustration, or sorrow, it happens freshman year.  Deal with it privately and clean yourself up.
An iron constitution.  Just wait until you start eating three squares a day in the Dining Hall.  Or drinking the cheapest canned swill available locally.  Or eating at one of those all-night troughs in South Bend after filling up on cheap canned swill.  Learn to choke it all down and keep it down, because neither your Rector nor the other residents of your section want to see it again late Saturday night/early Sunday morning.
The physical stamina to be a morning person.  Because whether you have to be up or not, you'll be wide awake every day when that ROTC guy down the hall and the architecture major next door rise at 5:00 to get a head-start on the day…and have a full volume conversation in the hallway, in the bathroom, and directly outside your door.  You'll also be wide awake at 7:00 on Saturdays, when the Victory March blasts at full volume from two doors down…over and over and over again.
Patience in abundant supply.  This life will be very different from your last 18 years.  So keep a Rosary, too.
Upperclassmen
Kindness in abundant supply.  Be nice to your new brothers and sisters, the freshmen.  This isn't easy for them, so don't make it harder
Everything – whatever that was – that you brought to every single game last season.  Just like getting an A on a paper, the next one you write is that much harder.  No resting, no complacency, no cockiness.  You bring your A games to all the games.  No questions.
A handsome business suit.  It's never too early to start the process of getting that good job…especially if you want to be able to afford alumni-priced football tickets.  Besides, you'll need to dress soberly when you appear in front of angry administrators.  We all know that, after a year of learning the ropes, you always push the limits a little too far.  And on that note, keep a Rosary, too.
Lots of interesting wall hangings and other decorations.  Now that you've moved up from the mail-slot rooms of freshman year, decorate you vastly increased space with taste and decorum.  Nothing is more crass than using beer boxes to spell out vulgarities on your walls.  And nothing will land you in front of that angry administrator faster than getting caught stealing a campus sign (especially if it says "Corby" "Basilica" "Jenkins" or "Hesburgh").
Alumni and Fans
Yes, you're coming back, too.  So be prepared with the following:
Something light, attractive, and plastic.  It's football season.  You will be rained upon at least once.  It may be a torrential, Biblical downpour – or just a grey, persistent drizzle.  But you might as well have something on hand a little more dignified than a 50-gallon garbage bag.  You're alumni now, not Zahm streakers.
A strong heart.  You're a little older now, and the ticker may not be what it once was.  You saw what last season was like, so do your cardio exercises.  No one wants you leaving the Stadium boots first.  Bring that Rosary just in case.
Phantom whistles.  If these really exist, then they theoretically worked once.  So to be safe, have the essence of one with you at all metaphysical times.
But whatever you do, don't bring bags.
EFS CSC
Latest posts by Father Sorin
(see all)