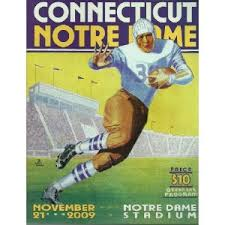 Send three volleys of cheers on high for our Seniors! Hurrah! Hurrah! Hooray! As final exams end today, so begins your last week at Notre Dame. Be proud. Be gracious. Be generous. Be humble. But above all, be happy! For you have achieved something great. And you have achieved it together. When you arrived here as a herd of freshmen in 2009, did you think that in your Senior year you would see your classmates lead your football team to an undefeated season and a #1 ranking? Probably not. And so you have learned something – you have learned to believe. You see, we use football not just as a diversion, we use it as a teaching device. That's the only way to be #1 on the field and #1 where we are now…graduation.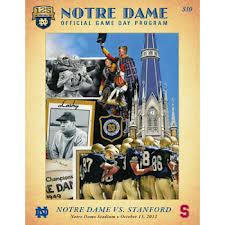 What, then, did you learn on the field and in the stands over the past four years? You learned that the only way to achieve victory is through very hard work, every single time. You learned that success is not instant – it is gradual and it requires both dedication and change. And you learned that to any goal which you ardently desire, you must devote your intelligence, your courage, and your strength.
In the classroom, which you have occupied far longer than the Stadium, and which you have shared not just with your classmates from the football team, but from every one of our tremendously successful teams, you have learned to think and to reason, to calculate and to deduce. In the classroom you learned to use your mind; in the stadiums and arenas, you learned to use your heart. And that is why, when you graduate, you wear a mortarboard on your head and a black robe across your chest. You are clothed in the uniform of achievement and victory.
But this cap-and-gown is really the Shamrock Series uniform of your life – it's pretty funny looking, it's comprised of a combination of odd colors, and you only wear it once. It also leaves out something essential…it leaves out your hands. You've learned to use your intelligence and your courage, your mind and your heart. But what about your strength? That's in your hands. Hands that will write, compose, and design; hands that will care, heal, and cure; hands that will instruct, admonish, and encourage; hands that will pile up treasures and give away gifts; hands that will hold your children or be anointed with the oils of holy orders.
And it is onto your hand that is placed the most important symbol of Notre Dame graduation: The Ring. A beautiful ring that at graduation is taken off, flipped around, and put back on for the rest of your life. Our Lady's Golden Dome on one side; Our Life, Our Sweetness, and Our Hope on the other; sprinkled throughout with the Irish symbol of blessing, the shamrock. It is not a symbol of graduation – it is a symbol of life.
Whenever you have the chance, look at the ring of an older alumnus. It is nicked and dinged, and there are chips missing here and there. So, too, will your life be marked by tests and trials, failures and losses. But these blemishes do not diminish the overall beauty of the ring; they make the ring unique to the wearer. And neither will these travails diminish the overwhelming beauty of your life; they will make it your life.
Whenever you have the chance, look at the ring of an ancient alumnus. It has been made smooth by age and years of hard wearing. All the sharp features are gone, along with all the scratches and scars, and it shines brightly all over. Let that happen to your life, too.
Make no mistake, your hands haven't spent all of the last four years bent to work or folded in prayer. Your hands have caught footballs on the quad and held beer cans at parties. Your hands have clapped when your teams have won and when your friends have made fools of themselves in ridiculous situations. Your hands have stashed things in pockets, and executed pranks and dirty tricks. Your ring doesn't somehow consecrate all these exploits, but it reminds you of all these good times that you've enjoyed under the Dome etched in its side – and in your hearts forever.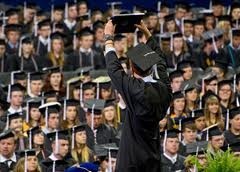 When you arrived here as a herd of freshmen in 2009, we said, "Welcome to Notre Dame!" As you graduate in 2013, we say, "Welcome to your lives!" No matter where you're going, whether it's across the country or around the world, you won't be far. Because this place will always be here. And a good part of you will always be here…forever.
EFS CSC
Latest posts by Father Sorin
(see all)