Even though it's Advent, a time of sober preparation, and finals, a time of wailing and gnashing of teeth, people are already becoming sentimental and excited about Christmas.  Maybe not Alabama students, since Tuscaloosa proudly calls itself Druid City (in which case we wish them a happy Winter Solstice).  Even though it's traditional to give presents on the Feast of the Nativity, the gift we are all hoping for won't come until January 7.  We'll just pretend that there were actually four Magi bearing gold, frankincense, myrrh, and cut glass.
In order to pass the intervening month in a joyous spirit, especially for those holed-up in the library during finals week, I have taken the liberty of reimagining an old Christmas song with some inspiring figures, making it wholly Notre Dame's own.  I haven't tried to force this into a singable meter – I'll leave that for some creative students passing their "reading days" in a local tavern.  So even if this doesn't get your toe tapping, it should lift your spirits as we eagerly anticipate the glorious festival of our salvation, the National Championship…oh, and Christmas.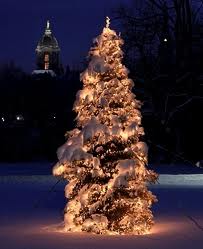 Sung to the Tune of The Victory March The Twelve Days of Christmas – sort of – you know, "On the first day of Christmas, the Irish gave to me:"
12 Regular Season Victories
If you had asked a good number of "experts" and "journalists" in August of 2012, this entry should have been 12 losses…or at least six…but certainly five.  The Mayan Jaguar Priests didn't disappear – they work as sports broadcasters now.
11 National Championships
That's 11 undisputed, hands-down American college football titles.  Alabama lists something like 34, but that's because they claim championships awarded by such groups as the Daughters of the Confederacy Chapter of Toad Suck, Arkansas.  And as we all know, they're not very good as activities like counting.
10 Unbroken Commandments
No one is saying our lads are perfect.  As Catholics, we know very well how much we all sin (except the BVM).  But this is a figurative reminder that we continue to try very hard to produce good football players and Good football players, who go to class, avoid evil, and graduate.  And they certainly don't covet any neighbors' wives.
9 Different Decades at  #1
This is not some numerical manipulation or stretching of facts (see Alabama, Toad Suck, AR, above).  This reflects the fact that since the 1920s, Notre Dame has been the nation's #1 team at least once a decade in every 10-year sequence, except from 2000-2010…and we will never speak of that again.  Besides, the BVM appreciates whenever I can work in a Rosary plug.
8 Undefeated, Untied Seasons
Brian Kelly and his lads have already achieved something that's even more rare than an undefeated season.  They never even tied an opponent.  Of course, that has more to do with the rules change which instituted a bizarre trench-warfare overtime system that more so resembles two boxers squaring up to punch each other below the belt until one goes down than it does a tiebreaker.  But the fact remains that this Irish squad would have had two ties on its record, but instead slugged it out to pick up two wins…and caused their fans to age several decades in the process.
7 Heisman Trophies
This number is subject to change very shortly.  All that's required for this entry to move up to eight, is a fit of honesty on the part of some voters.
6 Awards for Manti
I'm still not clear on how our big Hawaiian lad got to Northern Indiana, but with all these commemorative sculptures, we'll have to pay some serious shipping charges to get him home.  Hawaii has given the Church two Saints in the last three years – and Hawaii has given Notre Dame one big hero.
5 Championship-Winning Coaches
This number is subject to change in one month.  What's nice for Brian Kelly is that his Notre Dame "Dad" and "Grandpa" are still around to celebrate this with him.  Though I don't think Lou or Ara would be eager to sit Brian on their knee and tell him stories about winning a championship, I'm sure they have shared their encouragement with the new kid.  And maybe they'll take him fishing come spring when the lakes thaw.
4 Bear Bryant Losses
A legendary figure in American college football, he was responsible for six of Alabama's championships that are real, not fever dreams.  But Bear Bryant never beat the Irish.  Not once.  Just ask Grandpa Ara.
3 French Priests
Let's not lose sight of how we all got here.  If it weren't for Fr. Basil Moreau and yours truly, there would be nothing to celebrate – literally.  And my nephew Fr. Auguste Lemonnier makes three Frenchmen.  The rest of the presidents have been Irish.  Except Ted Hesburgh who is a Luxembourger.  Which is close to France, but not close enough.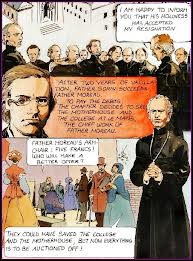 2 Mascots
Keep in mind that this will only be the Leprechaun's fifth championship.  That's not to say the little elf hasn't earned it.  But all those Irish Terriers pulled their weight for the first seven championships, most famously Clashmore Mike.  Sure they smelled a bit, made a filthy mess, and were difficult to train.  But the dogs didn't bite as hard as the Leprechaun.
1 Crystal Football
As trophies go, it's not the most majestic.  It looks like it should be full of jellybeans or cigarette butts.  But it's easy to hoist above one's head.  Over the next month perhaps Papa Lou can lend Brian, Manti, Tyler, Kapron, and Zack his crystal football so they can practice the victory lift.
EFS CSC
Latest posts by Father Sorin
(see all)