Just when I think I've run out of material to praise Manti Te'o, he goes off and makes history.
At last night's College Football Award Ceremony, Manti Te'o moved his total post-season award count this year to six, making him the most decorated college football player of all time. The man he passed was Charles Woodson (Bayou's post yesterday was a little prophetic, no?) who won five awards in a single season. Woodson's five includes the Heisman, which Te'o still has a shot at on Saturday. Te'o's collection of awards includes the following:
Butkus Award – Best Linebacker
Rotary Lombardi Award – Best Defensive Lineman/Linebacker
Bronko Nagurski Trophy – Best Defensive Player in the Nation
Walter Camp Player of the Year Award
Chuck Bednarik Award – Best Defensive Player in the Nation
Maxwell Award – Best Overall Player in the Nation
And, yes, despite all this, there is a very good chance that Manti Te'o will lose the Heisman. I'd like to say that I don't care. I'd like to say it's simply funny that there are Heisman voters that left the most decorated collegiate football player in history off their ballots. However, I'd be lying.
I still stand by the claim I made last week: Te'o is the only logical Heisman choice. I can now let the list of accolades speak for themselves. Scoreboard, y'all.
It's simply a sham that people paid to follow college football are blind to Te'o's accomplishments. As a blogger, one of the biggest knocks that we (unjustifiably) receive is that we simply serve to regurgitate stats, that we are the nerds of college football, and fail to use the "eye test" and actually "see" what is going on during the game. And yet, when push comes to shove, Te'o's "lackluster" stats are given as the sole reason why they won't even consider him for the award.
However, come to think of it, these are the same people that didn't give Notre Dame a snowball's chance in hell for a decent season, much less an undefeated one. These are the same people that were convinced that Michigan State would embarrass us…then Michigan, then Stanford, then OU, then USC, and now Alabama.
Perhaps they need to take an eye test of their own…
The bottom line though is that Manti Te'o did this week just what the he and the rest of the Fighting Irish have done all season long: proven doubters wrong. And just like he has done every week, Te'o has accepted every award and accolade with the same humility and perspective that he has after every win.
Manti Te'o, the best player in the nation, still has his eyes on the crystal prize and will once again lead his team to rise to his level…simply the best.
The Roundup
The opposite end of the Notre Dame click-bait spectrum is upon us. Now that we are on top, time for the repeated and lazy attempts to tear us down. One Foot Down eviscerates one of the latest attempts. For hilarity sake, just take a look at the other end of the spectrum that they addressed during the preseason as well.
GIFs however: Fair and Balanced. There are only two possible outcomes for this game, and GIFs are unable to lie.
I believe by Alabama standards, we can claim a national title. This seems legit enough, no?
Shaw's mysterious phantom whistle found? The plot thickens!
I'm sure everyone is taking this ACC show of unity seriously. There is no one laughing at this. No, not at all.
ESPN, go home, you're drunk. That isn't The Diaco.
USC, go home, you're even drunker. I'm not even sure how in the hell you let this happen.
This New Year's Day, dedicate a TV to the NBC Sports Network. Starting at noon, there will be ten hours of Notre Dame football programming. Awesome.
I have to keep reading this story because I'm still not convinced it happened yet. I mean seriously, Bert Bielema is the coach of Arkansas, what world am I living in now?
By the time you click this next link, you should have an accurate Heisman preditction. If you don't, it's not my fault, StiffarmTrophy.com said their projection would be live Friday morning so I'm sticking with it (The F5 key is your friend)
Put These This Game on Your Radar
Army/Navy, 3:00pm EST, CBS – Hey, look, there is actual college football going on. It is also the only college football going on, so enjoy what you can get!
The Beer
You know what, whatever it is, grab a six pack in honor of Te'o's six awards. Then, grab one more, but make it a tall boy, 40, or something that comes in a larger bottle like a Chimay, in honor of the potential seventh trophy, the Heisman.
Don't worry, we'll save something for that crystal trophy next month.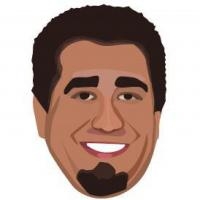 Latest posts by Ryan Ritter
(see all)