I haven't had to perform too many theological gymnastics in order to accept that we start this year's Football March to Victory on a Sunday. Yes, it is The Lord's Day. But you can go to Mass on Saturday evening and it still counts. The Lord is just happy to see you, and He appreciates that you stopped in for a visit. Besides, we don't take the Bible literally. If we did, there would be a lot of eyes plucked out for looking at filthy images (like USC and Alabama playing with each other), and a lot of sinful hands cut off (like those of any receiver or ball carrier who scores against us).* Although, come Sunday, I will have no trouble with sacrificing cattle; and I wouldn't mind if The Lord strikes the people who worship a cow with a plague (a plague of Irish touchdowns, that is).**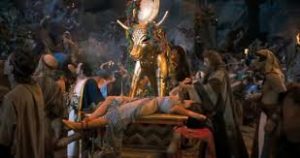 But those last two are references from the Old Testament, which was really just the warm-up act for the New Testament headliner. And after Him came the sequels…whom we know as the Saints. Interestingly enough, the Church kicks off its canonization season also on this Sunday. Canonization is the process by which the Church declares someone a Saint. Many people do not properly understand the canonization process – they're called Catholics. Even more people have no idea what it is or how it works. So, seizing upon this happy coincidence of our season opener falling on the same day as several canonizations, I will explain the process of declaring a Saint in terms everyone can appreciate: College Football.
Becoming a Saint and Winning Championships
Step 1 This is really critical: you have to be dead. Sounds morbid…literally. But you can't go to heaven unless you die first – real simple. This is just like the off-season. The previous season, whether good or bad, is laid to rest in January, and is either celebrated or mourned. But we have faith that the new season will come again in September. And it might just be heaven.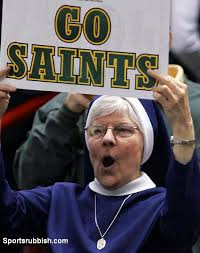 Step 2 Wait five years. This is so that the Church can determine whether a person has an enduring reputation for holiness. This is like the media deliberating about the enduring significance or relevance of a given team, and whether or not that team has a chance at winning the Championship. However, recent Popes have waived this five year waiting period, making it rather arbitrary…just like the media's judgments.
Step 3 Opening of the cause for beatification and canonization; at this point the person is called a Servant of God. Just like being ranked in the preseason polls.
Step 4 The informative process, when stories about the person, writings, important actions, are all gathered and considered. The regular season begins – is the team living up to the preseason praise, the early ranking.
Step 5 Evaluation of this information by the Congregation for the Causes of Saints. The College Football Playoff Selection Committee. And they're just as secretive and opaque as each other. And their decisions are often just as inscrutable. And sometimes swayed by undue influence and politics.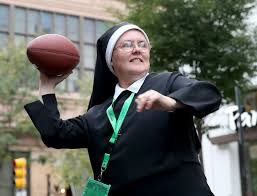 Step 6 Declaration of Heroic Virtue, meaning the person led a remarkably holy life and is now considered Venerable. No one really knows what is taken into consideration and what isn't. No one really knows what exactly is required to be declared Venerable. Congregation – Venerable; Committee – ranked.
Step 7 Declaration of a miracles. If a person is really in heaven and really tight with God, he can ask The Boss for favors. This is proof that the person is worthy of the title Blessed. On the other side of the equation, if a team beats an opponent ranked significantly higher and does so in spectacular fashion, they move into the Top Ten (and it's often miraculous).
I pause here to note an anomaly – some would say an inequality – in the process of canonization. The majority of people need two miracles to be canonized. But some only need one. For instance, if a person has been martyred for the faith, only one miracle is required to be declared a Saint. If a person merely led an extraordinarily holy life, two miracles are required for canonization. But not in every case – some holy folks get in with only one miracle…just because. Sure, if you got killed for Jesus, you deserve a break. But sometimes living a long and arduously holy life is a lot harder. It's not mine to judge. I simply point out that if a team is in the SEC, it only takes…
Step 8 The Congregation votes to recommend that the Pope canonize a person, just as the Committee votes on the four teams to enter the playoffs. The Congregation does not proclaim a person to be a Saint, just as the Committee does not declare the Champion…though they so desperately want to.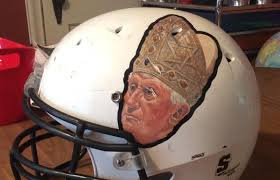 Step 9 Pope thinks about it = semifinals.
Step 10 Canonization = Champion.
For four people, Sunday is their championship in Rome. For the Fighting Irish, the process is underway, but swings into high gear in Texas on the same day. Though we're not fighting for canonization, there is one last similarity: certain Saints are called Athleta Christi Nobilis – Noble Champions of The Lord.
EFS CSC
*These are both in Chapter 5 of Matthew. If Jesus was capable of miracles, he was also capable of metaphors.
**Solomon sacrificed 22,000 cattle. We only need to sacrifice a few Longhorns. God was really pis upset with the Hebrews who worshiped the Golden Calf; we don't hate the worshipers of Bevo, but that's not going to stop us ruining their day…and their season.
Padre's book Father Sorin Says: The Founder Comments on Today's Notre Dame is available in the Hammes Notre Dame Bookstore or from Amazon. Like the Old Testament, it talks a lot about smiting enemies…and occasionally tells you how.
Latest posts by Father Sorin
(see all)