An errant flyer was slipped under my door recently. It was a series of lists from the Office of Housing, instructing incoming freshmen in "What to Bring to Campus." I found this amusing, because the Office of Housing used to be Brother Paul the Hermit; and "What to Bring to Campus" was "Whatever You Can Fit into Four Saddle Bags or One Steamer Trunk." So I found these lists…quaint:
– Shower Caddy: This better not mean a fellow who carries your soap into the scrub room with you. Come to think of it, how much are you taking to bathe, such that you need a carrying basket. Soap and shampoo can be handled manually; and if you are thinking of bringing a thing called a luffa or a pouf, don't – they look filthy and probably should be incorporated into parietals somehow.
– Shower Shoes: Unless your hall is carpeted with rusty nails and razor blades, just walk into and out of the bathroom. If you're worried about contracting some sort of foot fungus, perform a community service and carry a bottle of bleach with you for a quick washdown of the shower floor. In that case, you may have a toiletry basket; but don't confuse the shampoo and the bleach.
When this was a strong and proud institution of life-lesson-learning, none of these items was necessary. We just marched the lads down to the lake, shoved them in, and threw bars of lard soap at them. We hung towels in the trees and went back to work. Later, if there was an extra towel left…we said prayers…and maybe got out the shovels.
– Quarters (for laundry): I've seen those machines that eat coins in exchange for returning a pile of wet clothes – by which I mean the dryers. If you intend to bring quarters for your laundry, pack an extra steamer trunk full of them so you can cover your first two weeks. Said machines are not what we would call…hmmm…economical or efficient. I'm no accountant, but I would suggest bringing paper money and converting it to coinage once arrived on campus – call me old fashioned. But do bring at least one roll of quarters, should you be choosing to visit some of South Bend's finer public houses and boozing kens. Not for purchases, for packing a proper punch.
– Personal Hygiene Items: Absolutely. August and September are sultry, jungle-ish months. The University magazine may have a column called "Seen and Heard," but no one here wants material for one called "Smelt."
– School Supplies: Really? We're going to specify a shower caddy and shower shoes, but then just throw in there a vague 'school supplies'? Are we a university or a beauty parlor?
– Laptop/Cellphone and Chargers: No idea. I sincerely hope, barring birth accident or catastrophic injury, everyone has a lap with a top (and sides and a bottom for that matter). Telephones of any sort are an occasion of sin for college students; the kind that have cells could eventually develop tissues and organs, and then we're back into including them in parietals.
Organizing Your Room

– Pillows/Pillow Cases – Bed Sheets: We used to provide these. The pillows were good for sleeping upon, and holding the door open in a stiff breeze. The sheets not only covered the bed, but served as highly effective exfoliating and depilatory aids – hence no need for a shower caddy when going to the washroom.
– Comforter/Blankets: If we actually have to tell an incoming freshman to bring a blanket, refund his deposit because we've made a terrible mistake. Furthermore, the Comforter is the Holy Spirit – you don't bring him to Notre Dame, He brings you to Notre Dame.
– Basic Cleaning Supplies: This would only apply to my loyal daughters. Lads, don't bother bringing them, because I know you'll never use them (though you could barter them to your sister dorm for beer money).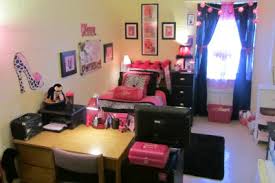 – Masking Tape for Posters: Again, is this an essential detail? If I'm a new student reading this, I'm more interested in whether I have living quarters or a broom closet. Besides which, we sell a whole variety of lamps on campus – I'm pretty sure tape and all sorts of adhesives can be found locally.
– Fan: Notre Dame attracts 80,000 fans six times a Fall like moths to a flame. We've got this covered.
Check with Roommates
Here are listed: mini-fridge, television, stereo, video game systems, carpet (how the hell heck does that fit with the previous items), furniture/futons, and stackable crates. You know, that stuff. We'll specify masking tape over sellotape, and insist on shower caddies and night lights, but when it comes to food storage, seating, and floor-coverings apparently anything goes. And who needs that other kind of tape – measuring tape.
– Microwaves, Hot Plates, Toasters, Coffee Pots: Anything that makes fire. Wish I had thought of creating this rule in 1878.
– Air Conditioners: You must learn that, thanks to the Original Sin of our parents Adam and Eve, there is injustice in the world. Some of you will be given air conditioning; some will live in halls "with character." Cancer happens, too – this is your first lesson in an unfair world.
– Nails: Only the maintenance department may have these…and centurions (but they only get three).
– Candles, Incense: You don't have to bring them because we've got plenty at Sacred Heart and the Grotto. You just have to visit – repeatedly.
– Hoverboards: We don't allow these nifty gadgets that magically coast along the roadways and spontaneously burst into flame. So give them as a going-away gift to your friends, especially if they are soon to enroll at Texas, Michigan State, Miami, USC, BC, FSU, Michigan…
EFS CSC
One essential item for all students coming to campus is Padre's book –  Father Sorin Says: The Founder Comments on Today's Notre Dame. But you don't have to bring it – the book is available in the Hammes Notre Dame Bookstore and from the industrious women-warriors at Amazon (that's who works there, right?)
Latest posts by Father Sorin
(see all)