The Irish Illustrated staff collectively ranked the top Irish "rookies" based on who they felt would have the best Notre Dame careers. My top 10 list differed from theirs, so let's take a closer look:
1. Brandon Wimbush (II Staff: #2)
If you consider the question, you'll notice it's a little tricky.
"Who among the three dozen will have the best careers at Notre Dame?"
Brandon Wimbush is a quarterback with all the tools: strong arm, fleet of foot and accurate. I'm not certain that he's going to demonstrate that talent at Notre Dame, however.
Here's what the quarterback depth chart could look like in 2017 (in alphabetical order):
IAN BOOK – Redshirt freshman; 4 years eligibility remaining
AVERY DAVIS – True freshman; 4 years eligibility remaining
DESHONE KIZER – Redshirt junior; 2 years eligibility remaining
BRANDON WIMBUSH – Redshirt sophomore; 3 years eligibility remaining
MALIK ZAIRE – 5th year; 1 year eligibility remaining
I put Wimbush at No. 1 because I'm betting he gets two years as a starter. Here's my guess: Kizer beats Zaire for the starting job this year and does well enough to declare for the NFL Draft. Zaire graduates and transfers to another school for a one-year shot at making an impression on NFL teams. Wimbush starts 2017 and beats out Davis, Book and true freshman Phil Jurkovec to be chief signal caller in 2018 as well. Is this an optimistic view of Notre Dame football that does not include quarterbacks getting injured or struggling? You bet it is.
2. Tommy Kraemer (II Staff: #3)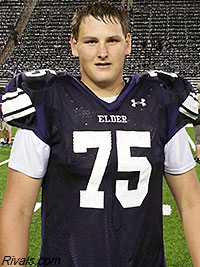 Tommy Kraemer is a five-star offensive lineman who enters Notre Dame with more hype than Ronnie Stanley, who just got picked sixth overall in the NFL Draft. The 6-foot-5, 310 pound right tackle is praised for his "outstanding wide base, combined with a low pad level while showing balance every step of the way." He's also impressed scouts for his ability to "sustain and finish his blocks" and his "comfortability" with playing either the right or left side.
I picked Kraemer because the decks have been cleared for him to make an immediate impact. Stanley and Nick Martin are in the NFL. Steve Elmer has left football to join the business world. Mike McGlinchey and Quenton Nelson probably have the left side locked down, but the middle and right is still an open competition. I see Kraemer pushing Alex Bars, Sam Mustipher and Hunter Bivin and Tristen Hoge and making the two-deep at some point in the 2016 season. It's a guarantee if there's injury to one of the six "incumbents" mentioned.
3. Shaun Crawford (II Staff: #1)
I really like Shaun Crawford. I like his hustle. I like his doggedness to play as hard as he could during the spring game although he was supposed to be taking it easy. He always seems to be where the ball is going to be – and half the time it seems like he's sticking his hand out before the ball can even get to the receiver. After tearing his ACL his freshman season, Crawford dedicated himself to studying film and learning the playbook. I like that he didn't lose focus.
Here's what concerns me about Shaun Crawford. He's 5-foot-9, which is small in a position where getting vertical is essential. And he's a largely unknown commodity, having never played a down of real college football. I'm almost 5-foot-9 myself, so I always root for the little guys. Crawford will be no exception. But for the Irish Illustrated staff to say he'll have the best career out of three dozen (plus) guys? I think that's a tad too optimistic.
4. Corey Holmes (II Staff: Unranked)
If the Irish Illustrated guys are too high on Crawford, then they are definitely too low on Corey Holmes. Now removed from the shadow of Will Fuller and Chris Brown, Holmes is poised to have a break out year. I've written extensively on why I believe Holmes should start this year, and that was before we learned he clocked a 4.41 second 40-yard dash and jumped 41 inches vertically (which is 7 inches higher than Will Fuller at the NFL Combine).
I'm expecting Holmes to be the Irish's No. 1 or No. 2 receiver for the next two years. The beat writers are higher on Torii Hunter Jr. – and many still like the attributes of Equanimeous St. Brown. But Holmes has remained healthy, unlike Hunter and St. Brown, and he's my fourth pick for a great Notre Dame career.
5. Donte Vaughn (II Staff: #10)
I love Donte Vaughn because he is so freakin' tall for a cornerback. Six-foot-three?! He's as tall as Richard Sherman, with beautiful long limbs that can frustrate wide receivers trying to get a jump off the line. Forget about the end zone corner fade. Unless he stumbles or is slow to make a redirect, Vaughn is going to have a good chance in any jump ball situation.
Even if Vaughn doesn't develop the loose hips or backpedal needed to excel at cornerback, he could easily find a home at either safety or outside linebacker. I'd love to see him develop as a guy who can just neutralize a team's best receiver, however.
6. Daelin Hayes (II Staff: #4)
I honestly considered putting freshman defensive end Daelin Hayes at the top of this list. I also strongly considered leaving him off the list entirely.
Hayes' high school career can be summed up in one phrase: brief flashes of brilliance. The 6-foot-4, 250 pound power pass rusher attended four high schools and saw limited action because of two shoulder injuries, a custody battle and some transfer rules. When he did play, people were impressed with his "innate quickness," "low center of gravity," and mental toughness.
Hayes wore a no-contact jersey throughout Notre Dame's spring practice, as he was still recovering from shoulder surgery. Writers were impressed with what little they saw of Hayes during drills. Notre Dame desperately needs a pass rush to complement whatever Isaac Rochell can produce from the other end. Look for a healthy Hayes to push junior Andrew Trumbetti for playing time.
7. Devin Studstill (II Staff: #8)
Max Redfield once quipped that learning Mandarin Chinese was easier than understanding the full complexities of Brian VanGorder's defense. To my knowledge, Devin Studstill doesn't know a lick of the world's most popular language. But the 6-foot, 190 pound product ingested enough of the Notre Dame scheme to take first team reps away from Redfield this spring.
Although VanGorder denied promoting Studstill to put a fire under Redfield, I still think the safety position is the senior's to lose. Redfield was nursing a minor ankle injury this spring, which hopefully won't extend into the summer.
Besides Studstill's ability to interpret the scheme and translate it to others, he's been praised for his excellent ball location skills. There's a lot of bodies in the defensive backfield. But, so far, Studstill is standing shoulders above the rest.
8. Chase Claypool (II Staff: #7)
Chase Claypool is a guy with tremendous upside who hasn't had the opportunity to prove himself against the best competition. He runs a respectable 4.6 second 40-yard-dash for a man that is 6-foot-5, 215 pounds. It'll be interesting to see where he shakes out. He could be a tight end or a wide receiver. Or, if neither pans out, he may make a respectable linebacker. Claypool has been able to rely on his physical gifts in a weaker Canadian high school league, so he's got room to improve – especially when it comes to route running. But because of his versatility, his size and his hands, he makes my list.
9. Jay Hayes (II Staff: Unranked)
We've come a very long way from Jay Hayes tweeting in frustration over his perceived lack of advancement on the defensive line. With Grant Blankenship's future very much in doubt, Hayes has one less competitor at the weak-side defensive end position. Hayes provides more power than speed, which will likely force him to split reps – at least initially – with the quicker Andrew Trumbetti. Daelin Hayes could compete for playing time here or slide into Rochell's spot for the 2017 season.
Hayes is one of the bigger, more jovial presences on the team. Surely moving from defensive tackle to defensive end has been tough on him. But he's got three more seasons of eligibility left to prove himself as a presence to be reckoned with on the line.
10. Troy Pride Jr. (II Staff: #5)
I put Troy Pride Jr. at the #10 position mostly for his achievements not on the football field, but in track and field. Pride took home 4 South Carolina Class AAA track titles last month, including the 100-, 200- and 400-meter dash events. His fourth medal was in the 4-by-100 relay event.
Pride Jr. was listed at 160 pounds when he committed in December, but seems to have added about 15 pounds since then. He's average height for a cornerback at 6 feet, but I'm worried it'll take him a little while to adjust to his newer, beefier frame. It's going to be a necessity, though, if he wants to win those physical matchups at the line.
By including Crawford, Vaughn, Studstill and Pride in my "top rookies" list, I'm almost assuredly wrong about someone in defensive backfield. But, hey, let's hope they all work out!
TIDBITS
Irish Illustrated put freshman wide receiver Kevin "K.J." Stepherson at #6 on their list and freshman offensive tackle Liam Eichenberg at #9.
So who is on your list? Here are the candidates to consider, per Irish Illustrated:
Redshirt sophomores Brandon Wimbush, Justin Brent, Jay Hayes and Corey Holmes
10 redshirt-freshmen from 2015: Josh Barajas, Asmar Bilal, Miles Boykin, Shaun Crawford, Micah Dew-Treadway, Tristen Hoge, Trevor Ruhland, Elijah Taylor, Brandon Tiassum, and Ashton White.
The 23 players in the class of 2016.
Leave your rankings in the comments below.
Latest posts by andrewwinn
(see all)