"Hamilton" is the smash Broadway musical that has garnered a Grammy, a Pulitzer Prize and 16 Tony nominations. Since the hip-hop musical (listen here) about our the founder of our nation's financial system is currently on repeat in my house, I decided to combine my two loves and ask: Which Notre Dame football player would I cast in each "Hamilton" role?
I don't know anything about each player's rapping and singing skills, so instead I'm going to assign players based on how similar their personal traits are to each character in the musical.
GEORGE WASHINGTON
"Here comes the general!"
Senior Isaac Rochell is a likely pick for captain of the 2016 Notre Dame football team, which makes him the perfect person to play our first commander-in-chief.
Washington prioritized the health of the country more than his own ambition. In the musical, he's assured in his convictions and has a strong sense of ethics that he will not violate. Hamilton looks up to Washington, and the general responds in kind by putting Hamilton under his wing.
With the graduation of Sheldon Day and Romeo Okwara, Rochell has stepped into a leadership role on the defense. Rochell is also looking to make his mark off the field, securing an internship with Street Bean Coffee. It's a nonprofit that helps young, homeless individuals receive job training they need to become employed and improve their situation.
Rochell, like Washington, recognizes the platform that he has been given and intends to make full use of it for the greater good.
THOMAS JEFFERSON
I'll have sophomore defensive tackle Jerry Tillery play the role of Thomas Jefferson.
Jefferson rivals Hamilton in intellect. He's well-traveled, having spent several years in France as an American diplomat. If there's a word that comes to mind, it's ambitious. Jefferson drafted a version of the Declaration of Independence, served as Secretary of State during Washington's tenure and later became vice president and president of the United States.
Ambition is also a characteristic of Tillery. He has designs to be a doctor and a professional football player.
"Plenty of people have done it before me," Tillery told NDInsider.com last year. "I don't think I'm the first one with those aspirations. I'm handling the coursework, and I'm doing pretty well on the field. Why can't I have both?"
Tillery is an avowed supporter of Hillary Clinton and seems very interested in political discourse, having served as campaign manager on a student body ticket that ultimately fell short. He's also traveled to Ireland and Germany during his brief breaks from the gridiron.
ELIZA SCHUYLER HAMILTON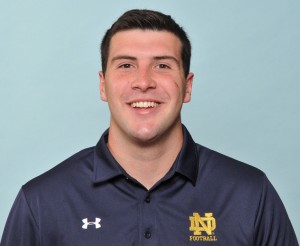 Redshirt junior tight end Nic Weishar is my pick for this role. Eliza was Hamilton's wife, a kind-hearted, moralistic woman who prioritized family over self. She had a well defined sense of purpose, throwing herself into the founding of New York's first private orphanage.
Weishar helped establish The Andrew Weishar Foundation, a charity in memory of his brother. Andrew, a victim of colorectal cancer, wanted his family to "pay forward" the kindness and generosity he experienced while fighting the disease. The foundation provides financial donations to families who have a member battling cancer to pay bills, take a vacation or whatever they deem appropriate.
The foundation throws an annual WeishFest in Chicago to bring awareness of the charity and to raise funds. About two dozen of Weishar's teammates attended last year's music festival and signed autograph for attendees.
ANGELICA SCHUYLER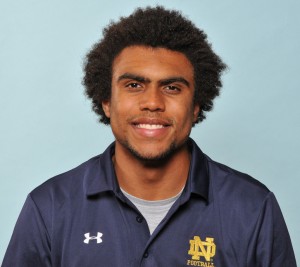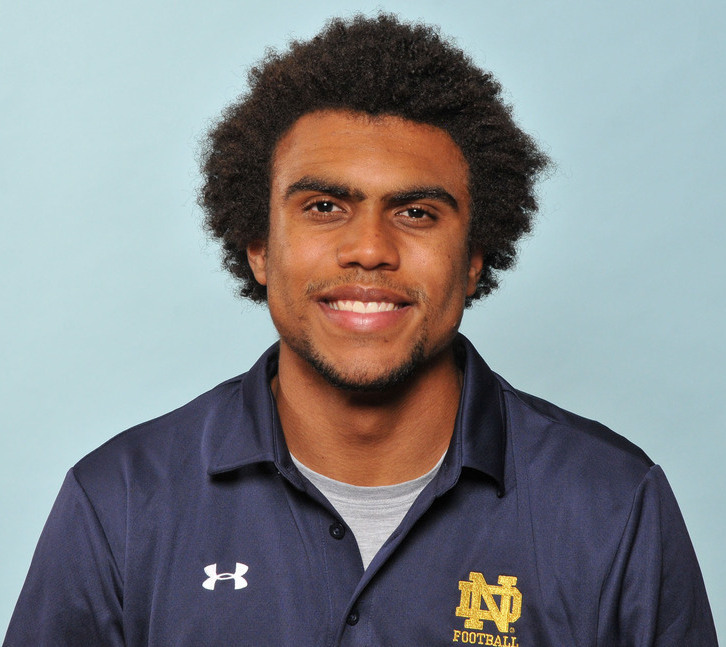 I choose senior wide receiver Corey Robinson for the role of Hamilton's sister-in-law. If you've heard the musical, you know Angelica has the wattage of Beyoncé. She is a strong, witty, independent woman who is an equal to many men in intelligence and foresight. Angelica is also very well read and, from her introduction onward, is "looking for a mind at work."
Robinson typifies many of these characteristics. The university's student body president, Robinson matches his on-field achievements with excellence in the classroom. Robinson has started a non-profit, composed an album's worth of songs and briefly considered leaving school early to help the homeless of Brazil.
Robinson is an obvious choice for the role of Angelica.
AARON BURR
My choice for Hamilton's chief adversary and our county's third vice president is redshirt junior DeShone Kizer. Unlike the outspoken Hamilton, Burr is decidedly more reserved. Burr, an artful and intelligent man, is a man of fewer words. But don't mistake his silence for a lack of ambition. Burr definitely wants to be in the mix and to get ahead. Burr is also a man who is proud of his accomplishments and wouldn't stand for anyone slighting them.
I see a lot of these attributes in Kizer, who is more soft-spoken than his counterpart at quarterback. Like Burr, Kizer didn't exactly know what he wanted – until opportunity presented itself. Both made the most of it when given their shot.
ALEXANDER HAMILTON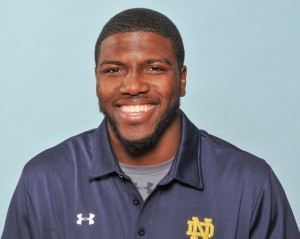 My choice for the protagonist of the show is senior quarterback Malik Zaire. The musical is a story of an ambitious, driven individual who surprises adversaries who continually underestimate him. Hamilton is a leader, unafraid to offer his opinion even when it may be politically advantageous to hang back and see which way the winds blow. The Founding Father was obsessed with leaving his mark on the young country and being remembered long after his political career ended.
It's no coincidence that I've cast Kizer in the Burr role and Zaire in the Hamilton role. Burr and Hamilton were friendly, although they approached similar challenges in different ways. Hamilton and Burr began to grow apart when Burr defeated Hamilton's father-in-law for a U.S. Senate seat. Hamilton would vigorously campaign against Burr whenever the latter sought political office. Their acrimony was settled on the dueling grounds, with Burr fatally wounding Hamilton.
OTHER ROLES
Jarron Jones as James Madison – frequent collaborator with Jefferson (Tillery).
Corey Holmes as Lafayette – Who is faster? Holmes on the field or Lafayette with the raps?
Torii Hunter Jr. as Hercules Mulligan – Smooth, fun fellows who can command a presence
Cole Luke as King George III – Ruler of an island; keeps close tabs on enemies
Thank you to Lin-Manuel Miranda for inspiration.
Latest posts by andrewwinn
(see all)