If you attended last weekend's Blue-Gold Game, you experienced what we on campus experience on a daily basis: The Project. Most work stopped so fans could enter the Stadium. Otherwise, the sounds, the juddering, the shouts – it's like living next to a tramp steamer that just hit the rocks…and then backed up and hit the rocks again, and again, and again. Anyone walking around the Stadium, or sitting therein, will have realized that The Project is well on its way to completion. Anyone who understands how The Project came about, knows that it was well on its way to completion, well before it was ever announced as a "proposal under consideration."
I am no longer the President of the University. I have seen 15 successors come and go, and one is still sitting in my chair. I know well the burdens these men have carried, since I carried them first. I oversaw many projects in my years as President; but I'm ambivalent on this one. Still, I understand how it came to pass. I speak neither of myself nor of any of my successors. I simply use the character of Father as an explanatory tool.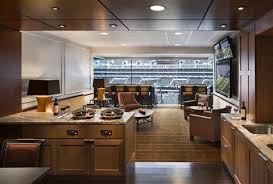 Father woke up one night in a sweat. Not because he was panicked, but because he lives in one of the old halls with a radiator that clangs like a trolley and kicks out heat like the boiler on a locomotive. But he also had something on his mind. He needed more seats in the Stadium. Being a philosophical sort, Father knew that the problem stemmed from Notre Dame Football's evangelical nature. A man says to an Alum, "I love Notre Dame football," the Alum says, "We shall go." A man says to an Alum, "I hate Notre Dame football," the Alum says, "I shall change your heart by taking you there." An Alum owns a company and is told he should have a retreat with his top management; he says, "We shall go to a home game." An Alum owns a huge company, and he says to himself, "I must keep my many corporate clients happy – I shall take them all to home games." But these people and Alumni of a certain…ehem…age, are not really the sort you want near the field, because they don't…what's the word…care or cheer. Father has been told the answer: Luxury boxes.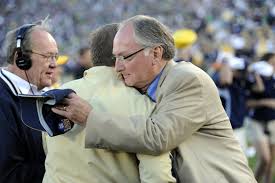 Father has learned this from a wise man who brings him messages. We'll call that man the Savvy One. The Savvy One has told Father that he can address the evangelical issue with luxury boxes, and he can satisfy another need: a real big movie screen. The coach is a demanding little redhead (though no worse than Rockne), and it is the Savvy One who keeps him happy. Coach wants a big screen, because it's hard to convince a young man to play here when his grade school had more modern scoreboards. The problem is, at Notre Dame, if it ain't broke, don't fix it; if it does break, have the guy who donated it fix it for free; and if it's too expensive to fix, leave it, and call it 'Tradition.' But even Father knows these scoreboards go beyond old-school, past retro-chic, and right into dumpy.
Father knows he can't sell luxury and an enormous television. Oh, someone will pay for them; but there will be that whole 'the money could go to something better' whine from several different groups. Heck, Ted wouldn't let Ned build the arena until he got his library first. If Father wants his Stadium additions, he'll have to put them in pretext…er…context. Father asks himself, 'What else do we need,' or if he's being honest, 'How can I bury/hide this?' Father knows that for a long time, there's been a need for a new Student Center. The current one is a 19th Century science hall (see discussion about 'tradition' above). There were plans to build a new hotel-spa-conference-center-megaplex and make the Morris Inn into a second student center. But the Alumni put their cumulative foot down, because when they return, they want to stay as close to the dorms as possible…even though when they lived in dorms they hated it and couldn't wait to move out. Father also needs new exercise facilities, so his athletes can have the good ones all to themselves, and the rest of the students can have cheap new ones. But Father can't build any more buildings on the parking lots, because as much as Joe Dillon Hall wants to look like an Adonis while he's a student, once he turns into an alumnus, he'll curse a blue streak if you make him walk 15 extra feet from his car to the Stadium. And then there are the green people. They're not tree people, because you can plant a thousand trees, but if you occupy a couple hundred square feet of grass with a building, 'Killing Fields' doesn't just apply to Pol Pot. So Father will put the luxury boxes into a student center that he will build onto the Stadium – no parking spaces or grass killed, and Alumni will fall all over themselves to pay for it, because it's ever so close to the Holy Grail…having your name on the Stadium.
Father knows he's only half way there. He's got a lot more luxatoriums to hide, and if the professors don't get a piece of the pie, the F-word will come out: Football Factory. "So who wants some shiny new classrooms," asks Father. It's been 25 years since the Arts and Letters money-pit was thrown a bone. The other half of the luxos will be buried in…first come, first served…sold! Anthropsychchurchmusic. None of these make any money so they can't pay for their own buildings. But stick those buildings onto the Stadium and the things pay for themselves. Digital media? Not sure what that is, but take your floors. Exhibition, conference, entertainment space – we'll make room. Hel Heck, thinks Father: I have to hide that swimming-pool-sized television somewhere.
Father looks at it and…sure it's a little big, but so are wedding cakes, and people love wedding cakes…it actually accomplishes everything, and everyone gets something out of it.
Now, I say I'm ambivalent because of a few things:
– It's a bit pricey. The Project costs more than it took to build and run the University for the first 50 years…combined. I understand – inflation, progress, we don't make our own bricks anymore, "building safety codes," and all that. Plus, I shoved sleeping quarters, dining facilities, classrooms, and offices into the Main Building all at once, and that beast cost a mint in its day.
– Why do we need a skyscraper student center? When students asked for an activities center when I was President, I told them to go play on the lawn or swim in the lake. You want to work out? Chop wood, lift heavy rocks. Why do student clubs need offices? Meet in an empty classroom (we will soon have five-times more empty classrooms at the end of each day). Although, having a club office is good life training, since students can go to the office, sit around, talk, eat, do anything but work – just like a regular office.
– Why do Arts and Letters subjects need fancy new 'teaching spaces'? I could teach philosophy or Latin in a wooded glen…AND DID. You make do with what you have. Besides, this is Arts and Letters; all the fancy picture machines and gizmos we put in those classrooms are just another way to lull students to sleep during lecture.
– Finally, why does anyone feel the need to pretend that this is a thoughtful way to get more use out of the Stadium and bring the campus together at a …Crosspurpose …Crosswise …Criscross …StationoftheCross? It might be outsized, ostentatious, and expensive, but The Project meets a lot of needs. Enough said. We needed it – we built it. Call it whatever you want. If it doesn't work out, Father will simply call it, "The House That Jack Built."
EFS CSC
Padre's book Father Sorin Says: The Founder Comments on Today's Notre Dame is available from the Hammes Notre Dame Bookstore and Amazon. If you read it and like it, tell a friend. If you read it and hate it, you must have gone to Michigan or USC.
Latest posts by Father Sorin
(see all)