Ask 10 Notre Dame fans and you might get 10 different answers. Their opinion may be influenced by the player's NFL performance or penalized for not living up to expectations.
I've developed a simple and easy formula to determine who was the greatest quarterback in Notre Dame history (minimum 10 starts).
I measure a quarterback by his completion percentage, his total yards, his yards per attempt, his touchdown percentage, his interception percentage and the number of fourth quarter comebacks. I also assign a bonus point for each national championship won or major bowl victory. (Sorry, fans. No points for a victory in the Ragu Tomato Sauce Bowl.)
This may be where there's some controversy. I used who I felt was the greatest quarterback in each decade of Notre Dame football from 1960 to 2010 to develop a standard. I used Terry Hanratty (60s), Tom Clements (70s), Tony Rice (80s), Rick Mirer (90s) and Brady Quinn (00s).
You certainly could argue a different quarterback for each decade, but I believe it wouldn't change the results significantly.
By averaging each player's career, the following standard is developed:
Completion percentage: 55%
Yards: 2,051
Yards per attempt: 7.8
TD percentage: 4.9%
Interception percentage: 4.7%
4th quarter comebacks: 3
Here's how you complete the measurement. (No slide rule necessary!)
For yards, take a quarterback's career yardage, average it and divide that average by 2,051. If their interception percentage is below 4.7, you add the difference to get their score to 4.7. If it over, you penalize the player by taking the different out of their final score.
I'll show you how the formula works by using a player outside the Top 10. Some of you may recall Matt LoVecchio, a starter during the Bob Davie era. Matt came in and helped lead the Irish to a Fiesta Bowl berth, during which the Irish subsequently got pummeled. (This foreshadowed that Davie was probably better off at ESPN or at New Mexico.)
Here are LoVecchio's numbers:
Completion percentage: 55%
Yards: 634
Yards per attempt: 6.5
TD percentage: 6.2%
INT percentage: 2.6%
4th quarter comebacks: 0.
Remember to divide each of his numbers versus the standard and then add the totals together. Then to arrive at his final score, divide it by the number of categories (six).
Completion percentage: 1 (55/55)
Yards: .31 (634/2051)
Yards per attempt: .83 (6.5/7.8)
TD%: 1.27 (6.2 – 4.9)
INT%: .45 (1 – (2.6 / 4.7))
4th Quarter comebacks: 0
Total score: 3.86
Matt LoVechhio Rating: 3.86 / 6 = 64
My baseline score is 100, so a 64 is a below average rating for a Notre Dame quarterback. I didn't compile this project to highlight below average play to conjure up memories of the somewhat lean post-Holtz years.
So here are your Top 10 signal callers in Notre Dame history:
#10 John Huarte
Record as a starting QB: 9-2
Rating: 79
Huarte was a one-year wonder in Ara's first year, guiding the Irish to a 9-1 mark and narrowly missing the National Championship. He went on to the win the Heisman.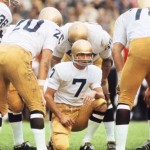 #9 Joe Theismann
Record as a starting QB: 20-2-3
Rating: 83
One major bowl win to his credit and a somewhat high interception percentage keeps Joe further down in the ratings than some may agree with.
#8 Tony Rice
Record as a starting QB: 28-3
Rating: 95
Rice was the last quarterback to pilot the Irish to a national title. He also has a higher winning percentage than anyone on the list.
#7 Tom Clements
Record as a starting QB: 29-5
Rating: 100
Clements has a national championship and a major bowl victory to his credit, but not much in the way of passing numbers. Again, some may argue/question if his placement is too low.
#6 Jimmy Clausen
Record as a Starting QB: 14-17
Rating: 111
Only quarterback with a losing record on the list. Clausen has incredible passing numbers. To be fair, a leaky defense and questionable decision making by Charlie Weis probably cost him several wins.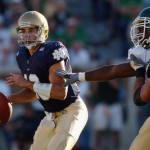 #5 Brady Quinn
Record as Starting QB: 29-17
Rating: 111
I loved watching Brady Quinn play. Quinn has the most starts on this list, with standout signature moments against Michigan State and UCLA.
#4 Ron Powlus
Record as a Starting QB: 28-16-1
Rating: 113
Although much maligned by press and fans alike, numbers show that Powlus had a more than solid career. Detractors will point to his zero bowl wins. Powlus authored seven fourth quarter comebacks during his career at ND, the most on this list.
#3 Jarious Jackson
Record as a Starting QB: 14-9
Rating: 114
Excellent passing numbers and five fourth quarter comebacks place Jackson surprisingly into the Top 3.
#2 Joe Montana
Record as a Starting QB: 20-5
Rating: 127
Montana is the gold standard for starting quarterbacks at Notre Dame. A national championship, epic comebacks, bowl victories place Joe Cool near the top.
#1 Rick Mirer
Record as a Starting QB: 28-7-1
Rating: 137
The passing numbers combined with bowl victories place Mirer at the top. Some will point to his poor NFL career. For this list, it is irrelevant. (But he makes a pretty good bottle of wine!)
So you have your Top 10.
Some may argue that they don't like the standard being used or with the results. What I've simply done here is use numbers to attempt to quantify rankings rather than anecdotal evidence or the blatherings of beer-fueled relatives at a summer cookout. I placed no bias into the rankings the numbers are the numbers. For what it's worth, my childhood favorite Steve Beuerlein rates a 78 — sadly missing the list.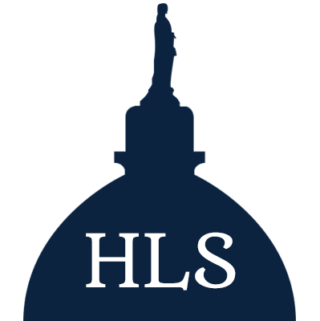 Latest posts by Jimmy Grant
(see all)