A generous fellow named Murphy has just endowed the men's basketball coachship. This goes along with previous endowments for the women's basketball coachship, the lacrosse coachship, and of course, the football coachship. The defensive backs coachship is also endowed, and even the athletic directorship. Some people think this is crass, that only professorships should be endowed. I don't have any problem with setting money aside to pay coaches, since it frees up funds to be used elsewhere. But I do agree that there should be limits and rules. Consider: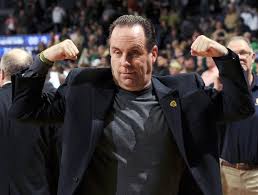 We will endow professors, deans, officials, and coaches; but we won't endow the president. Believe me, whoever that poor fellow is, he spends a lot of time hearing people tell him, "I pay your salary." If we endowed the presidency, that would literally be true for one lucky alumnus (and one unlucky CSC). On the converse, though one man can tell the football coach, "I pay your salary," the coach can respond, "No – you paid it once, and you can't take the money back." And when an alumnus throws this in his face: "Do you know how much money I give," the coach can respond, "I'm not sure, but I know none of it goes in my pocket."
We will accept donations for a building and name it for the benefactor; but we won't place anyone's name on the Main Building or the Grotto. Even though the one, like an aging diva, has required a lot of work over the years, and the other needs some touching-up after the occasional ivy fire, only The BVM gets her name on either. We'll mount plaques here and there, just like in Sacred Heart – but entire holy places don't get anyone's name. Look at the Stadium: technically it has never had a name other than Notre Dame Stadium. But we do plaques, we named the gates, and now we're giving it a Duncan and a Corbett pillow on either side to bolster it in comfort, and something yet-to-be-named as a footrest.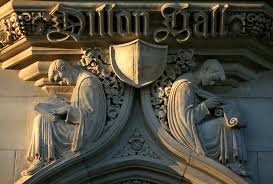 We will name halls for people and families; but we won't take the name off later*…except if you're a priest or professor no one remembers. The Lemonnier Library is now Bond Hall, and the Hoynes College of Law is now Crowley Hall. You see, Fr. Lemonnier and Prof. Hoynes didn't pony up any cash. This is of immediate concern for Walsh and Badin, two antique penitentiaries in need of entire inside-out reconstructions. Tom, Steph, it's nothing personal, but you might want to buy your personalized sweatshirts now because they may not be around for much longer. And look out, Dillon, Lyons, Howard, Carroll, Corby, Cavanaugh, Farley, Nieuwland, Rockne, Joyce, and Hesburgh – you could be bought out.** I leave Morrissey and Zahm off the list because though Andy and John would love to get their names off those two flophouses, no one would want to take credit.
We will create colleges, schools, institutes, centers, and programs in donors' names; but we won't study just anything. For instance, we have an institute for Irish Studies (Keough-Naughton to be precise). But we would never have a program in Michigan Studies. Well, I suppose we might study the State of Michigan, but that would fall under the Philosophy Department, since the program would ask such imponderable questions as "Why two peninsulas," "Who was Ann Arbor and what did she do to deserve this," "Why haven't Michigan State fans fully evolved." I mean we would never have a program in Wolverine Studies – who needs to learn more about a gluttonous, blood-crazed weasel when we can observe one froth and snarl in its filthy habitat six times each Fall. And we wouldn't even have an endowed chair of USC Studies…though if we did, it would be more appropriate to make it an endowed mattress instead.
We will accept endowments from alumni, friends, and fans; but we won't take money from just anybody. There is a long-standing rumor that we refused a donation from the Chicago priest who wrote smut. What would it have endowed – a chair in bodice-ripper cassock-ripper literature? We won't accept donations from individuals who made their money in unseemly ventures; so no gifts from arms dealers, Big Ten officials, or Jesuits. And we won't accept benefaction from foreign despots; hence nothing from the President of the NCAA, the President of ESPN, or the Pope.
I firmly believe that if we stay within these sensible and straightforward boundaries, and if we respect a few simple exclusions, then anything or anyone can be…well…endowed.
EFS CSC
*Yes, I know what happened with the Band Building.
**No one is touching the hall with my name or St. Edward's. Even though I didn't hand over an envelope full of gold certificates, it's called "but for causation." That is, but for me dragging my French butt derriere to Northern Indiana, no one would have had the chance to name anything but a musty log cabin and two muddy lakes (which used to look like one in winter).
Padre's book Father Sorin Says: The Founder Comments on Today's Notre Dame is available from the Hammes Notre Dame Bookstore and Amazon. It should be given as a thank-you gift to all donors and benefactors, and as an April 1st gift to friends who foolishly support other teams.
Latest posts by Father Sorin
(see all)