In this season of giving, in what I'm told is now a Year of Mercy, the Alumni Association is giving away lanterns to people who "Be the Light." I'm not sure if this is a command, a wish, or slang. But vague grammar aside, it is a very nice idea to send lanterns to those who light up your days and nights. I would have loved it if someone had sent me a lantern or two around Christmas of 1842 – my log cabin was quite dark and things growled outside the door at night, seeking entry and food. I have since learned that these were not the feral dogs I feared, but packs of Indiana squirrels (which I learned to fear more). Since by Christmas of 1842, my University was one day shy of just a month old, there was no Alumni Association; so we had to get our own lanterns. They said "Be the Pioneer."
There are lots of people I'd like to send a lantern to this Christmas. But, alas, I am not an Alumnus of Notre Dame, so I don't qualify for the project (you can't found a place and graduate from it). Not to be deterred, I'll list my lantern recipients here, so that they know they are in my thoughts on this Feast of the Nativity.
Every Student Preparing for Finals: You will need a lantern while you study late at night. Its dancing flame will give you the fire of inspiration as you prepare for your examinations. Your lanterns will say "Be the Curve-Buster."
The Entire Football Team: They finished the season with 10 wins, and only down four points. They accomplished that despite the fact that dozens of players broke like fine bone china dropped from the top of the Library. The lantern can light and warm the dark winter practices as the lads prepare to do a Fiesta Bowl hat dance all over Ohio State. The football lads will receive lanterns saying "Be the Victor."
All the Injured Football Lads: They were badly hurt, worked hard to heal, and never gave up on themselves or their teammates. These lanterns will say "Be the Nutrition" so no more body parts break or rip next year.
Any Football Lad Thinking of Leaving Early: Their lanterns will say "Be the Graduate" or "Be the National Champion."
All the Basketball Lads: Their lanterns will say "Be the Final Four."
All the Professors Preparing to Grade Finals: "Be Gentle."
All Parents Welcoming Sons and Daughters Home for Christmas Break: "Be Prepared."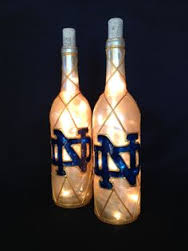 Trinitas Cellars: These folks are making Notre Dame wine. If it's suitable for consecration, I will need several cases for Mass and…discretionary holiday use. Their lantern will say "Be my Vintner."
All Students, Alumni, and Fans Attending the Fiesta Bowl: "Be Loud" for the older ones; "Behave" for the younger ones.
Urban Meyer: He finally gets to coach [against] his dream team. But, though this is supposed to be the Year of Mercy, Urban isn't going to find any of that in his stocking or under his tree…or in the Fiesta Bowl. His lantern will say "Be Gone."
Atlantic Coast Conference Officials: They need a lantern because they obviously have a very difficult time seeing clearly. Their lantern will say "Be Retired."
Stanford: I got out my trusty axe, Brother Choppy CSC, and I cut down the biggest evergreen I could find. I didn't want to be late getting my Christmas tree up, so I went-a-cutting when we were out in California. It only took me six seconds (rage or irony?). Then I dragged that redwood halfway across the continent to Northern Indiana. Their lantern will say "Be the Fuel," since the tree will become a big, welcoming bonfire in October. I should also send a lantern to that clown who runs around in a tree suit on the sidelines; Brother Choppy might have taken a few practice swipes at him. His lantern will say "Beware."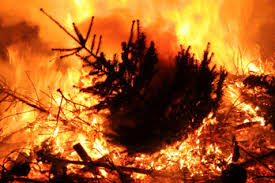 My Brothers in Holy Cross: It's not easy being a CSC at Christmas. There's only so many sweaters and coffee mugs you can handle (thank God we don't wear ties). CSCs work hard as teachers, rectors, chaplains, and guides – sometimes all at once. This can be very trying and exhausting, but it is a service very much needed. The days between Christmas and the Epiphany should be a time for my fellow CSCs to relax and refresh; so their lanterns will say "Be Cool."
The BVM: She doesn't really need a lantern, but the first Christmas was a pretty big deal and it wouldn't have happened without Her. She always looks after us throughout the year, so Her lantern will say "Be There for Us (please)."
I know the sheer number of lanterns I want to send would break the bank for the Alumni Association. Thus, I hereby authorize the Association to take freely from Sorin Society contributions. And to all you loyal readers during this Christmas season, no matter what your situation or challenges, remember to "Be Happy."
EFS CSC
Padre's book, Father Sorin Says: The Founder Comments on Today's Notre Dame, is available from the Hammes Notre Dame Bookstore or from Amazon. It can fit in a stocking or under a Christmas tree for good Irish students, parents, alumni, and fans. It can also substitute in place of a foul-smelling lump of coal for fans of other teams.
Latest posts by Father Sorin
(see all)