And so for all but the Seniors, it's time to go home.  Not that the Land of Our Lady isn't home, too.  I mean it's time to go to your original homes – land of private bedrooms and non-abrasive toilet paper.  Sure, usually there are two rectors, one male and one female; and the dining fare selections are significantly more limited at mealtimes (by the way, if you complain about the food, you can expect to take a spatula to the face).  But it's home…for three months, and then you can come back to this magical place.
All in all, I think our 170th year was pretty good.  Freshmen made it through their first two semesters and are now Sophomores.  Sophomores are now half-way through college.  Juniors are now Seniors.  And Seniors are soon to be part of one of the most exclusive clubs in the world – Alumni.  Just remember Seniors, in this club you have to pay dues regularly and on time, and there really is no limit on how much you can (and should) pay.
One recurring theme I heard on campus throughout the year was, "No Regrets."  This was sometimes written with As instead of Es in certain places; for this and the Fig Thing, I blame the Englush Depurtmint.  Yet, the sentiment behind a statement like No Regrets is one by which I have always abided.  Don't get me wrong; you should have remorse and contrition for your sins.  But regrets are ultimately useless and, in the extreme, crippling.  Sure, there are things we all could have done differently: you could have studied more for that test, worked harder, made more friends, and drank less.  I could have put better fire-protection measures in the Main Building.  Still, I do not now nor have I ever regretted the destruction of 1879, for it was an opportunity to build a bigger and better edifice, one capped with a giant golden footstool for the BVM.
Some sick German sociopath once said, "Was ihn nicht umbringt, macht ihn starker," which means, "What does not kill him makes him stronger."  Only a German could formulate a noble sentiment like No Regrets in such a crude fashion.  Having had trouble a few years back with a malarial swamp on campus, I can tell you that this is medically true, since the lads who made it were pretty well immune to damn near everything – even Brother Paul's squirrel-surprise-stew.  Still, for those of you who had a great year, as much as for those of you who had a year that was a little rough-around-the-edges, let me share some sentiments that are a bit less Teutonic and don't involve killing.
Reflections on No Regrets.
Spend less time sitting with your anxieties and more time running with your hopes.  Whether you have many years ahead of you or just a few, you're not the one keeping that schedule.  Do everything you can to make your dreams into realities in the present, and always maintain hope in your heart for your future.  But leave the past to rest in peace.  No Regrets.
Spend less time being frustrated by your limitations and more time being inspired by your potential.  You may not be good at a particular position, but you're on the team for a reason; someone saw great potential in you – so see it in yourself.  You may not be good as an engineer or a philosopher, but Aquinas never built a bridge and Brunel never wrote a Summa.  Marvel at the gifts God has given you and dismiss the frustrations you are imposing on yourself.  No Regrets.
Spend less time pondering how you failed and more time imagining what remains possible for you.  Tests come back with Fs, relationships fall apart, friends turn away, and sometimes you disappoint – both others and yourself.  These are failures.  But they are never the end.  There is always something else, something new, something different that is possible for you.  Look to that shining star as you navigate yourself out of the night of your failure.  But never drop anchor. No Regrets.
If you didn't have a good year for one or many reasons, don't worry: You have the capability to make next year not just better, but stellar.  However, that will only happen if you have hope and you believe in yourself and what is possible and how you will make it happen.  No Regrets.
If you had a spectacular year, don't relent, don't relax.  It is always possible to do better at everything.  There is no upward limit to your potential, even if it feels like you have done everything right.  That is the deception of complacency.  Keep realizing what you are capable of, and strive to help others realize their own potentials.  No Regrets.
Just look at me!  I wanted to be a missionary in China.  I was sent to America.  I wanted to found a mission for the Potawatomi.  I built a school for…the Irish.  Perhaps, somewhere deep in my heart – especially when it's 10-below and windy, or 95 and humid – I think I could have found a more favorable location than Northern Indiana.  But this is precisely where my Chinese and missionary dreams ended and where the University of Notre Dame du Lac began.  No Regrets.
Many millennia ago, the Good Book tells us, a man named Lot left his home with divine instructions never to look back.  He obeyed; his wife did not.  She was turned into a pillar of salt.  Now, I'm not saying you will become a saline sculpture.  But never let regret or the fear of failure or the complacency of success turn you into an immobile statue.  Have hope, move forward, live!  With No Regrets.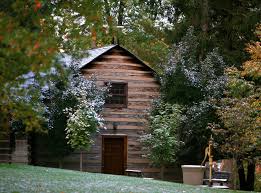 So enjoy your time at your original homes.  It will be brief, so make the most of it.  Be kind to those of your friends no so blessed as to attend Our University, for they must suffer much.  Be respectful of your little mother, or your Great Mother, the BVM, will have words with you.  And remember: You never really leave Notre Dame, nor does Notre Dame ever leave you.
EFS CSC
Latest posts by Father Sorin
(see all)