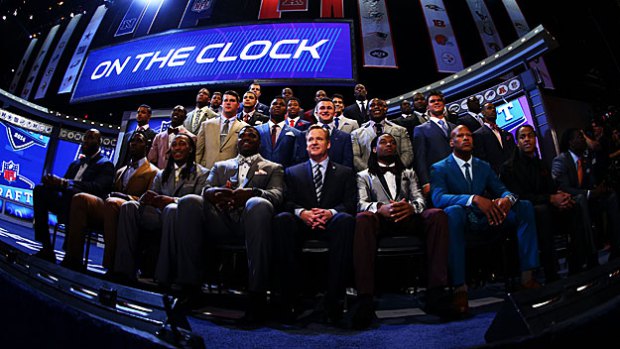 As we gather with our families today to celebrate our mothers, I not only reflect on what my own mother has done for me over the years through her love and sacrifice … but I also reflect on all that Our Lady has done for me. I think about who I am today as a person, and how much of that is due in part to the time I spent in the shadows of Our Lady on top of the Dome. I grew, changed and developed into the woman I am today as a result of the not only my studies but also the experiences that I received during my time at the University of Notre Dame.
As I watched the NFL draft over the last few days, I thought about the eight young Fighting Irish men who now know where their immediate futures will be taking them.  Who now take the knowledge, skills and values that they have learned at Our Lady's University and will have a chance to shine with the best of them.
Eight men from the University of Notre Dame were selected in this years NFL Draft, tied for second with Alabama who also had eight men drafted, and only one behind LSU who had nine men drafted. This is the second year in a row that LSU had the most players selected in the NFL draft.
Here's your Notre Dame Draft scorecard:
Round 1, Pick 16 – Zach Martin to the Dallas Cowboys
Round 2, Pick 14 – Stephon Tuitt to the Pittsburgh Steelers
Round 2, Pick 20 – Troy Niklas to the Arizona Cardinals
Round 3, Pick 19 – Louis Nix to the Houston Texans
Round 3, Pick 25 – Chris Watt to the San Diego Chargers
Round 4, Pick 39 – Prince Shembo to the Atlanta Falcons
Round 6, Pick 11 – Bennett Jackson to the NY Giants
Round 6, Pick 13 – TJ Jones to the Detroit Lions
I am so proud of these young men that will now go on to represent Our Lady's University both on and off the field. They will showcase not only their football skills, but their values and character in how they lead their lives as Notre Dame men. And in twenty plus years we will all look forward to reading their "Where are they now?" stories.
Okay, now go give your mom a big hug and thank her for all that she's done for you!
Cheers & GO Irish!