The Revelation of the 86th meeting between Notre Dame and USC, which The BVM gave unto him, to show unto his Irish, things which must shortly come to pass; and She sent and signified it by a really freaky dream unto Her servant Edward.  Blessed are they who read this, and they who hear the words of this prophecy, and who believe those things that are written herein: FOR THE TIME IS AT HAND.
I, Edward, who also am your founder, and your companion in tribulation, was in the most beautiful corner of Northern Indiana that is called Notre Dame.  I was in a nap on the day before the High Holy Day (football Saturday), and heard behind me a great voice like a trumpet circle, saying: "We are the Irish!" And I turned to see the one that spoke to me.  And being turned, I saw an army of gold helmets; and in the midst of the gold helmets, one like unto and Irish Bostonian, clothed with a rather tight-fitting garment (perhaps a bit too tight around the chest).  His face was red like a flame of fire, and his voice like the sound of the waters of two naturally spring-fed lakes…or something like that.  And he laid his right hand on me and said unto me, "Fear not!  I am the first coach to beat USC after eight straight losses.  Fighting Irish football was dead, but is alive, and will be alive for evermore!"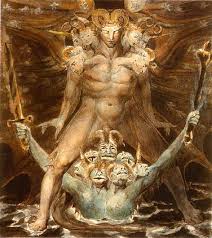 And when he had finished his testimony, a beast ascended from out of a bottomless pit called Southern California and made war on the Irish.  And there was war in Notre Dame Stadium: Brian and his lads fought against the beast; and the beast fought and prevailed not!  And neither was USC's place found in Heaven…er…Notre Dame Stadium any more.  And the great beast was cast out.
And I saw a new Notre Dame Stadium!  For the old Stadium had passed away, and there were no more home losses to USC.  And I, Edward, saw the holy arena, the New Stadium, coming down from Heaven, prepared as a bride adorned for her husband…which was totally weird, because I never thought of the Stadium as a woman, and if that's the case, is the Stadium breaking parietals with the Joyce Center…but anyway…
And I heard a great voice out of Heaven saying, "Behold!  Every tear shall be wiped away.  There shall be no more loss, nor sorrow, nor crying, neither shall there be any more pain.  For the former things have passed away, and USC has been beaten in OUR HOUSE!"
*****
So this is why I will never again eat Dining Hall Cajun and wash it down with off-campus Jungle Juice.  It was a wild dream – one might call it a revelation.  But it will come true.  GO IRISH!
EFS CSC
Latest posts by Father Sorin
(see all)