I'm not nearly as upset about this forthcoming Notre Dame perfume as most people might think.  You must remember that the every Main Building I every built (including the one I burned) housed not only my Presidential office, but also dormitories for the lads.  That's right – I worked 16-hour days behind a desk and under the miasma generated by hard-working student bodies.  That's why I had a strict, twice-weekly bathing rule, as well as an unbreakable 4:00 Saturday foot-washing command.  Even with today's abundant running water and fruity soaps, one need only stand next to a football player after practice or a game to realize that lads these days still aren't made of roses.
So I welcome a distinctive Notre Dame scent if it can help cover some of the more earthy, human undertones that assault the nose in a community of 8,000 living and breathing late-teenage, early-20s scholar-athletes.  My only concern is what it might smell like and what ingredients will be used to create the essence.  Permit me to offer some suggestions:
Eau du Lac – An alluring combination of Main Building Magnolias, a hint of beeswax from Grotto candles, with a fresh and watery base of the Lakes.  For men or women, this fragrance will enhance a person's attractiveness and appeal…until Midnight, at which point it begins to reek of fetid ditch rot and utterly repels the opposite sex.
Irish Leather – A rugged, manly scent that combines tanned and oiled pig skin with touches of worn redwood from the Stadium bleachers and freshly cut bluegrass from the field.  On Irish fans, this balm not only smells great, but it rejuvenates the skin give a person that healthy glow.  On any other fans, it burns like fire.
Re-Joyce – A warm smell best suited for winter or cold-weather wear, this couples a bold essence of varnish with scents of laundered collarless shirts and the vaguest suggestion of popcorn.  Splash this on in the morning and it will last you well into the evening and night – even through five overtimes.
Kelly Green – Surprisingly, this is for the lady, since it is an intense fragrance that can cause a group of large, muscular men not only to take notice of you, but to hang on your every word.  This can be worn day-to-day, or it can be a reliable fallback option – your next perfume in.  It comes in a distinctively colored box: Paqui Pink.
Le Nix – It smells overpoweringly of chocolate.  Only for wear by big men.
Nostalgique – Made especially for Alumni, it is actually simple distilled water.  But put in on, and it smells sooooo good, the best thing you've ever smelled or ever will smell, and it smells just like you've always remembered it.
In keeping with the notion of olfactory campus beautification, perhaps we could have a line for the residence halls: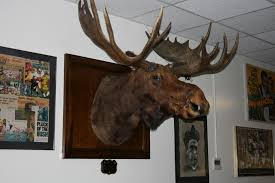 Moose Musk – A rich, woodsy scent that combines the essence of a wooly pelt with northern evergreen.  Good for covering sweaty shoe, never-changed sheet, and Sunday morning bathroom.  Best for lads of Dillon or Zahm, but when too many wearers are in the same room on a Friday night, fights can and will break out.
Lyonnaise – A fragrance that captures the breeze off St. Mary's Lake in Spring and couples it with a sandy, beachy-volley-bally undertone.  And, strangely enough, it has a hint of caramelized onion about it.
Morris C – This cologne immediately reminds the wearer of walking into an old, established gentlemen's club, with elements of leather wingback chair, well-thumbed books, and a suggestion of fine cigar smoke.  But be careful, just a drop will fill a very small room with its scent.  And it can also be used for unblocking drains, luring and killing cockroaches, and providing a contact high like a good three-beer buzz.
Karol – It's supposedly an amazing, exhilarating, enchanting fragrance, but almost no one – save for a handful of lads – has ever smelled it.  Besides which, nobody knows where or how to find it.
Siegfried's Folly – To be worn by both women and men, this scent has a Teutonic essence and an operatic intensity.  Upon first waft, it smells of beautiful Edelweiss blossom, but then it turns to rugged Grunewald pine.  And it makes you want to invade and conquer Knott and all the Pasquerillas.
As I understand it, other colleges and universities already have their own perfumes, with more in development:
Texas A&M – I'm not sure what this would smell like, but it won't smell like College Station and no one on campus will recognize its scent.
Alabama – Eau de Deer Antler.
Michigan – Ahhh, there's nothing quite so refreshing as the smell of North America's largest weasel in summer rut.
USC – Sulfur, tar, burning hair, and fornication.
Boston College – Heresy.
When it comes right down to it, I really don't care what the perfumiers put into each bottle of Notre Dame's new scent, just so long as it smells overwhelmingly like one and only one thing: VICTORY.
EFS CSC   
Latest posts by Father Sorin
(see all)