"By the waters of Miami, there we sat down and wept, when we remembered Notre Dame."
This is why, in our wisdom, we make you all take philosophy and theology, whether you like it or not.  This is why you have to know a little something about what's written in the Good Book, in order to be given a diploma written by our University.  Read the above quotation – obviously it's derived from Psalm 137 (even the Freshmen recognized that, right?).  But there are some important differences: first, Miami is substituted for Babylon, though I detected very few dissimilarities between the original den of sin and iniquity in Mesopotamia and the bordello on South Beach; second, after a hard day of tailgating in the southern sun, our fans passed out more than sat down; and third, we were lamenting the first and only loss of the entire season, not the utter destruction of Notre Dame and the enslavement of all our students.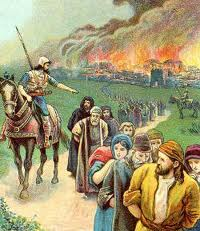 You have to be a philosopher about these things, not a tragedian.  One of the two teams was going to walk away from that game with a loss (ever since they did away with that fascinating conundrum, the tie).  The defeat we were handed was heavy; but be philosophical – it could have been much worse.  You only have to look at Alabama's previous victim opponent in a championship game to see that we scored two touchdowns more than the zero achieved by Louisiana State.
The strength of Alabama in recent years has given rise to much popular discussion of a "dynasty."  Dynasties are for Pharaohs, not football teams.  Alabama just happens to be particularly strong when other opponents (but not Texas A&M) are relatively weak.  Unlike pharaonic dynasties that lasted hundreds of years, Alabama is more like the Germans – powerful bullies who rise up occasionally and roll over everyone in sight, until they're resoundingly beaten again and subside into a decade-or-so of sulky weakness.
Looking at our 12 victories from our undefeated regular season (an activity in which Alabama cannot indulge),  a mystic might be inclined to say we saved up all of our opponents' scoring for one devastating game, in effect taking 12 small wins in exchange for one big loss.  That may sooth wounded pride, and if Buddha had played football that might be called karma. We have mystics in Catholicism, but not samsara – each game is won or lost in its own 60 minutes, and fortune or disaster are not traded fluidly among present and future events.  Of course, being Catholic, our mystics asks what sins we committed so badly to be given a 42-14 penance.  But look, you self-flagellating mystics, those 12 victories are still there and aren't going anywhere.
If you want to blame any supervening force for a January loss, then join with me in my manic hatred for the witchery that is the BCS (in my opinion, properly written without the "C").  Under the old bowl system, Alabama and Notre Dame could very well have played different opponents.  If both won, the matter of #1 would be left up to the voters in the polls.  Of course, Notre Dame would remain the only undefeated team, and Alabama would still have a suppurating wound named Aggie.  The polls could have been unanimous or split.  Crimson Tide fans could fantasize about what it would have been like had they gotten at shot at the Fighting Irish (whilst all the time claiming their 37th national title).  Notre Dame would argue that we deal in reality, not fever dreams, and the lively debate would rage.  Those days were so much more exciting!  And isn't debate what we do in universities?  Aren't theories what we develop and argue with passion?  Those who lack creativity or mental vigor are much happier with this dry and definitive system the BCS claims to provide, having taken the matter out of the hands of fickle voters.  Except for the fact that getting to their glorious final game is entirely dependent on voters who adamantly refused to rank Notre Dame #1 until there was no other alternative.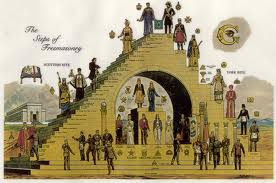 Yet, it is of no value to blame the BCS – why not blame the Freemasons (it's the same group, after all…literally).  The weak, the spoiled, the self-indulgent, and the slaves to rage all want to blame someone.  So we look to the Old Testament, which is a series of books about blame.  Moses would blame the people for worshiping a golden calf – or in the case of our fans, an aluminum can.  Joshua would blame lack of preparation, though we had ample time and the band provided plenty of trumpets.  David would blame himself for his infidelity…oh, let's not discuss unfaithful, straying leaders at just this moment.  So we turn to the New Testament: Matthew would blame the Pharisees, Mark would blame the Scribes, Paul would blame Peter, Peter would blame the cock, everyone would blame the Romans, and John the Divine was just batshi crazy.
But what everyone in the New Testament can agree on is that until the Second Coming, we live in a fallen world where we all sin and bad things happen to good people and nothing has any business being perfect.  And so what do I say about an unblemished season ending in an unsightly bowl bruise – "If it were all gone, I should not give up!  I came here as a young man and dreamed of building a great university in honor of Our Lady.  But I built it too small, and she had to burn it to the ground to make the point.  So, tomorrow as soon as the bricks cool, we will rebuild it bigger and better than ever!"
Well, the bricks have cooled now.  It's time to start rebuilding.
Besides,  I blame the Jesuits.
EFS CSC
Latest posts by Father Sorin
(see all)