How perfect it is for the long victory march to arrive at this place, at this time, with these men!  How fitting to face the fiercest foe, the blackest blight of the dark decade now left behind!  Twelve is an ancient number of perfection – and perfect the Fighting Irish will be, as no other team in the land!  With one more struggle, with one more heroic charge, with one more win Notre Dame will have climbed to the summit of an undefeated season.
But one enemy stands in the way – and let him!  For to achieve this zenith without defeating the adversary who dragged us down to the nadir would fail to be a climax.  This is the opponent that has cheated and abased and maligned the Irish for too many long years.  This is the opponent that has handed the Irish more defeats and robbed them of more championships than any other.  Yes, this is the final battle against the last, worst, most desperate and despicable rival of them all.
Whatever may come tomorrow, there will be one more game.  But not this year.  It will be against a powerful opponent.  But not this one.  We must finish what we started here and now with a signal victory that signifies our days are getting longer, our sun is shining brighter, Notre Dame is triumphant once again and golden is our fame.
And these men can do it.  For these men have done it.  They have beaten this, their archrival, on their field, before their fans, as part of this long and arduous trek back up the mountain.  This coach has done it.  He has outmaneuvered and outwitted his most outrageously duplicitous opposite number at this time of year on just this sort of night.
But what is more – so very much more – is that this team, leader and lads alike, has battled against eleven formidable foes, through games that have stretched well beyond their allotted time, in stadiums friendly and hostile, in daylight and darkness, in masterful performances and determined bids to win on the final play.  And they have never lost.
For this team has never failed to believe.  When nearly all others did not believe that this very result was even possible, this team, leader and lads alike, never gave up and never faltered in their boundless hope.  But why would they?  Their University was founded on nothing more and nothing less than a daring hope.  These men of Notre Dame represent to the nation the hope that educational and athletic excellence can and do march hand in hand.  But they do so with humility, not arrogance.  This is not a group of chest-thumpers and big-talkers.  This is a group that has worked and struggled and lost – only to return again and again, year after year to the battle, armed with that most indomitable weapon: Hope.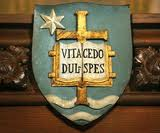 We are so close now to tasting the sweetness of ultimate, conclusive victory.  Perhaps we are already enjoying a foretaste of that incomparable confection.  But let us not forget that the bitter bile of loss lies not far away if we fail to defeat this enemy which has caused us to taste the foul tang of failure too often.  The team must fight on every down, capitalize on every opportunity, deny every advantage to the adversary.  The Irish faithful in the coliseum tomorrow night must cheer and support the team with full hearts and full voices – as must every student, alumnus, and believer around the country, if all of us are to taste the sweetness of victory.
For this is the life we have chosen.  To believe in an ideal.  To hope against the odds.  To remain loyal when all others have fallen away.  Notre Dame is reviled when its fortunes fade.  Notre Dame is doubted when its lot improves.  But not by those who believe, never by those who hope, for whom life is not one endless progression of success building upon success, but a tempering, harrowing march that makes the ultimate victory worth the fight, and makes the fight that much more heroic.
And so we have arrived at this place, at this time, with these men.  We would have it no other way.  Let the charge sound and let the battle be joined!  Let the hope that first created Notre Dame 170 years ago surge in every loyal heart! 
Nostra Domina Victoriae, Ora Pro Nobis!
EFS CSC
Latest posts by Father Sorin
(see all)