My love of the Irish stretches all the way back to 1842, when I first undertook my little Indiana adventure. My only helpers were the BVM and six Irish Brothers of Holy Cross. Every day, they worked hard with their hands, and prayed hard on their knees. They were also a foul-tempered and vindictive bunch, so I made real sure I stayed on their good side.
In addition to sprucing up the Log Chapel, my first goal was getting a farm going to support us. The first thing my little Irish Brothers did was build a still. I wasn't going to complain, because it was clear from the beginning that I was not going to be able to plant a French vineyard on the Indiana tundra. Besides, the Irish "punch" made the back-breaking toil easier and significantly more enjoyable. There's a reason the Irish call whiskey "the water of life."
To start out, my Irish Brothers and I had very little in common, other than a deep love of Holy Church, an unshakable belief in our mission, and a searing hatred for the British. And none of us spoke a lick of English. The Irish spoke something that sounded like a combination of praying and spitting which they claimed was English. But, really the only time they used the word "English" it was preceded by a shockingly obscene gerund.
But we worked together very well, even though we came to America for very different reasons. I wanted to bring rigorous French education to the untamed forests of the American heartland. The Irish were escaping Victorian society with its religious and sexual oppression–hence the whole parietals thing (they sold me on it).
Once we all spoke good American English, this sharp-tongued Frenchman discovered one of the greatest virtues of the Irish. You simply cannot offend them. If you don't chide and insult Irishmen, they think you don't like them. Hence, when the need finally came for a mascot, the Fighting Irish was a perfect fit opponents and enemies can say whatever they want about the Irish, and we take it all as a compliment. And they really do fight dirty when necessary; just ask the fur traders who were trying to poach on my land, or the local drunks who were trying to get poached on the Brothers' homemade whiskey.
Since the Irish as a people are attracted to holy things, revel in each other's company, and breed like some sort of nesting woodland creature, it was not long at all before my French university was quite literally taken over by the Sons of Erin. My first successor as President was Fr. Patrick "Red Cheeks" Dillon. In fact, all the lads who followed me as President were Irishmen, except for my sister's kid Auguste Lemmonier. Poor little Augie, he died after only two years in office. I don't blame the Irish, but Augie liked sailing, rowing, and the local Hibernian hooch– a most unfortunate combination. And then there's Ted Hesburgh who didn't turn out too bad for a Luxembourger (though his lovely mother was a Murphy).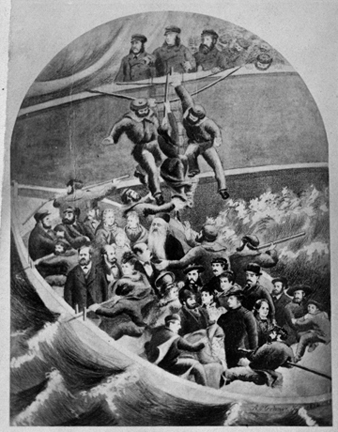 The very country of Ireland even saved my life once in 1875 when the steamer I was on nearly foundered after sailing out of France. We were welcomed into the Irish port of Queenstown with lots of Port, Sherry, and plenty of the "Water of Life". It was a joy to visit the land that had given me the six Brothers who built my university–hell, it was a joy just to be alive after that doomed cruise. Though we'll never know what nearly sent us to the bottom, I strongly suspect the answers includes the letters S and J.
And so we come to St. Patrick's Day, as we inevitably do every year. Whether we can evacuate the students from campus in time is another matter entirely. I have always chosen to characterize my students' behavior on St. Patrick's Day as an exuberant celebration of their Holy Patron. The Indiana State Police have often disagreed with this assessment. So it is best that on March 17, Notre dame spreads its Irish cheer across the country–literally. Roughly 10,000 "cheerful" lads and lassies who are all Irish, if not by blood, then because they are loyal sons and daughters. And may I remind my fine young men and women: you will be back under my Dome on Monday–the pubs will be closed, but the Confessional will be open.
EFS CSC
Latest posts by Father Sorin
(see all)