Last year, I decided that the HLS Podcast needed to do something different to differentiate Shane & I from the crowd. The first phase of this was establishing a Twitch channel.
I saw the live-streaming platform branching out into non-gaming endeavors like the NBA G-League and even Pro Wrestling. So why not college football? I'm definitely not the only one that felt this way as a certain society of banners recently did the same thing.
While I'm not sure if we were the first college football podcast or site to try their hand at Twitch, I'm about 80% sure we were the first Notre Dame-centric one. I'm definitely sure that we are the only ones that decided use the NCAA '14 video game as our medium to preview upcoming Notre Dame games.
The NCAA Sim quickly took on a life of it's own. It became appointment viewing to the point that I've been asked repeatedly when the 2019 Sims would start back up. Loyal Viewers have even asked for a Fall Camp Sim. In response, I've joked that all Sim practices are closed to the media.
And then a buddy of mine said he'd be willing to purchase a "media pass" via a donation to something near and dear to my heart, Extra Life.
If you click on the "Charity" item in the main menu above, you will be directed to my Extra Life page, Gamin' 4 Aven. If the name Aven sounds familiar to you, it's because I requested the help of the Notre Dame family for donations to the Savin' Aven fund as he fought Leukemia.
Aven lost that battle on October 10, 2015. He was two years old.
Fast forward a year later and I decided to do my first ever Extra Life campaign in his honor to benefit the hospital that cared for him. That's the short version of this story, the longer one can be found here.
I raised $856 that first year. Last year, this happened:
So, yeah, this means quite a bit to me and my goal is to raise $6,000 this year. Any opportunity to drum up donations is absolutely of interest to me.
Here's what we're going to do: starting this morning, any donation of $5 or more to my Extra Life Campaign will grant you an exclusive "media pass" for a Fall Camp Sim, airing live Thursday, August 22 at 9pm CT/10pm ET in a private YouTube stream (since we aren't cool enough for Twitch VIP streams yet). If you can't make that date, no worries, the video will remain on our channel exclusive to donors only.
Emails will be sent out prior to kickoff for the link to the stream.
The top ten donors will receive VIP status on our Twitch channel. Beyond getting the use of our subscription-only emojis, you get the satisfaction of a badge of honor in the chat that will remain for the rest of the year.
As far as who virtual ND will play, that's up to donors as well. Make a comment on your donation for the opponent you'd like to see. Every dollar counts as a single vote. If for some reason, you want to throw down $100 to watch Notre Dame stick it to Lane Kiffin and FAU, then by all means, let's get weird.
If that all isn't enough incentive, keep in mind that I drink absolutely terrible things for every $500 raised. As of this writing, I'm $482 away from $2,500 raised. If we hit it, I'll do the next drink on my list on the private stream…and then I will have to do it again on my next public fundraising stream.
Let's raise some money to help kids kick cancer's ass and have some virtual ND football fun while we are at it. Go donate, spread the word, and let's the sim hype train rolling.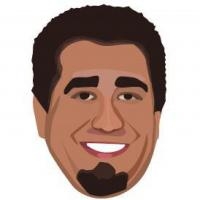 Latest posts by Ryan Ritter
(see all)