The following is a guest post from HLS Alumna, Molly Vallari, whose fashion sense is better than the entire HLS staff combined.
As a self-proclaimed fashionista the already exciting start of football season is, in my opinion, made even better by alternate uniform reveals. It's also made more exciting by the usually passionate disapproval of Irish fans who tend to be very comfortable with the traditional and status quo.
Watching the meltdowns is Twitter GOLD.
It's important to preface this write-up with the fact that Notre Dame's uniforms have often been, well, traditional and the same. Navy jerseys, gold pants, gold helmet.
Tradition.
This adherence to tradition makes it a bit difficult for those tasked with designing alternate, or throwback, jerseys to do their job. After all, is it really a throwback if your uniform never really changes?
That being said, having seen the uniforms for Notre Dame's Senior Day matchup against Boston College I do think Under Armour took a bit of a lazy shortcut on their throwback uniform design. At first glance, the uniform isn't awful. In fact, it's pretty good…if it were marketed as their everyday-home-uniform.
It's not. It's an alternate.
The idea behind the uniform is for it to be a nod to the jerseys worn during the 1988 season by the team that would go on to win the national championship. Super cool idea (who doesn't love the idea of mixing old and new and giving a nod to a successful team of the past!?), poor execution.
As I mentioned, Notre Dame's uniforms are iconic and haven't undergone many major changes, so it was crucial for Under Armour to highlight the most defining elements of the 1988 uniforms, and I think they missed the mark. The 1988 uniforms were mesh, the numbers were squared off and boxy, the ND logos on the shoulders were two defined letters, not an intertwined design, where the "N" was outlined separately and pasted on top of the "D", the pants and helmets were a bit of a different gold then they are now, and the cleats were back.
Let's evaluate.
Under Armour tried to hit the highlights with black cleats and a mesh number–well, mesh look-alike–it's not mesh at all, it's an overlay that looks like mesh, and a lighter gold pant. Nice try, good effort but huge opportunities were missed in my eyes.
The entire jersey not being mesh seems like a huge miss as well as the different font and design of the ND logos on the shoulders. Of course, throwbacks are supposed to be a nod to the old and not an exact copy, so I'd be fine with either a similar numeric font style or the same old ND logo, but going rogue on both makes them seem almost too similar to the modern day Under Armour designed uniforms to call them a throwback.
I expect the fact Under Armour didn't stray too far from the usual will please most fans (as will the sideline gear), but I'm definitely hoping for a bit more creativity and excitement from the Shamrock Series uniforms. Green jerseys circa 1977, anyone? *crossing my fingers*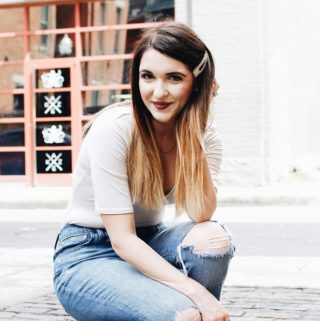 Latest posts by Molly Villari
(see all)