It's an annual tradition that puts my name in between Pete Sampson and Tim O'Malley: Inside the Irish's countdown of the top 25 players on the Irish Roster. HLS was once again asked to be a part of thirteen Notre Dame reporting outlets to vote and I was happy to once again represent our little corner of the internet.
Now that Douglas Farmer has unveiled the consensus top 25, much like last year, I was ready to defend my picks and hot ranking takes…except I don't think I really need to.
This was perhaps the toughest year to rank the Irish roster and for the best reasons. When I looked back on the consensus rankings, I really didn't have much of a problem with any variance and was surprised how much I was in line with this little Irish think-tank.
Top 25 Irish for 2019
| HLS Rank | Player | Consensus | Delta |
| --- | --- | --- | --- |
| 25 | Kyle Hamilton | NR | n/a |
| 24 | Kevin Austin | NR | n/a |
| 23 | Houston Griffith | NR | n/a |
| 22 | Kurt Hinish | 16 | -6 |
| 21 | Tony Jones Jr. | 22 | 1 |
| 20 | Myron Tagovalioa-Amosa | 17 | -3 |
| 19 | Michael Young | 21 | 2 |
| 18 | Tommy Kraemer | 13 | -5 |
| 17 | Ade Ogundeji | 24 | 7 |
| 16 | Aaron Banks | 15 | -1 |
| 15 | Shaun Crawford | 23 | 8 |
| 14 | Asmar Bilal | 19 | 5 |
| 13 | Robert Hainsey | 12 | -1 |
| 12 | Chris Finke | 8 | -4 |
| 11 | Daelin Hayes | 14 | 3 |
| 10 | Cole Kmet | 10 | 0 |
| 9 | Chase Claypool | 5 | -4 |
| 8 | Liam Eichenberg | 8 | 0 |
| 7 | Jalen Elliott | 7 | 0 |
| 6 | Troy Pride Jr. | 6 | 0 |
| 5 | Jafar Armstrong | 11 | 6 |
| 4 | Alohi Gilman | 4 | 0 |
| 3 | Ian Book | 2 | -1 |
| 2 | Khalid Kareem | 3 | 1 |
| 1 | Julian Okwara | 1 | 0 |
Consensus Top 25, HLS Unranked
#25 Jayson Ademilola – Ademilola was in a group of five players that just missed my ballot. Really, this was more of a matter of "should I really rank another D-lineman over someone else?" than anything. Yeah, the big guys up front are indeed that good and I already felt like ranked damn near the whole two-deep and that's just really wild to say.
#20 Jeremiah Owusu-Kormamoah – The downside to this year's ballot is that we didn't get the benefit of practice reports or film to watch before we submitted our ballots. Owusu-Kormamoah was absolutely on my radar being the first true rover recruited, but just didn't have much data on him. I'm quite happy that people more plugged in where already in on him before the reports that he is progressing as hoped so far early in fall camp.
#18 Jarrett Patterson – Patterson was also in my group of five players that I just left off. At the end of the day, again, I didn't have enough data even though internal scuttlebutt was already rather high on him. Another case of me deciding to take a shot on someone else.
HLS Top 25, Consensus Unranked
Kyle Hamilton (HLS #25) – I believe that this is the first time that I've ever done this exercise and only put in one freshman. This is also the first time that my "bottom" three in my ranking were the only ones that didn't make it. This is also the first time that I believe I've grossly under-ranked a freshman.
Unless y'all have been living under a rock, Kyle Hamilton is the damn truth. Ryan Harris dropped by our annual ND Dallas Kickoff event, had the crowd repeat his name over and over, and then said he was going to win a Heisman.
You know what, I wouldn't doubt it.
Kevin Austin (HLS #24) – I wasn't the only one that had Austin, who is this year's double-secret-probation award winner much like Kevin Stepherson and Dexter Williams before him, on their ballot. While I don't think he's going to make a Dex-like impact when he finally gets some touches, this kid has loads of talent.
I'm just hoping he gets out of the dog house enough to flash it. Even if he doesn't, the crew of Chase Claypool, Michael Young, and Chris Finke (all consensus top 25) will be more than enough firepower.
Houston Griffith (HLS #23) – I only worry that Griffith is lost the Kyle Hamilton shuffle right now. There's good talent there, but it's a matter of figuring out where to put him and, right now, my gut is the focus is getting Hamilton on to the field first.
Don't sleep on Griffith though, I'm still expecting a big impact from him before he leaves ND.
Closing Thoughts
How in the world was Jafar Armstrong (Consensus #11, HLS #5) rated so low?! My best guess is there is both a concern of durability from last year's injury and the fact that he's a converted WR.
From where I sit, Jafar is a key cog in the Irish offense not just on the ground, but in the passing game as well. Only Dexter Williams had more receptions than Jafar did last season and that kind of a reliable target is key in a spread offense to counter…let's say a strong front seven of an SEC East favorite on the road.
The biggest variance I had with the crowd was with Shaun Crawford (Consensus #23, HLS #15) which I somewhat expected, but perhaps not with an eight-spot difference. Yes, I understand the health concerns, but that wasn't the ask. It's if they play, who's got the talent.
Bottom line: Crawford makes plays.
In the two games he saw action in 2016, Crawford had a pick. In 2017, he had two INTs, a forced fumble that prevented a Sparty TD (and basically was the turning point in the game), had another fumble recovery against BC, and had 1.5 sacks and 1.5 TFLs to boot.
He's not going to be the standout stud in the secondary, but there's a reason why he's cross-training at nickel and safety right now: ND wants him on the field.
I'm happy to see I'm not on an island this year in ranking Asmar Bilal (Consensus #19, HLS #14), but I'm going to keep stumping for him like I did last season. People see the shifting in positions as a downside of "hasn't found a fit", but I see "Bilal plays his way into the starting lineup."
The only returning players with more TFL in 2018 than Bilal are Khalid Kareem and Julian Okwara–not too shabby for playing a position that's a linebacker/safety hybrid that wasn't his "natural" position.
Finally, I would like to take a victory lap from 2018 in being one of the four that had the courage to rank Ian Book (Consensus #2, HLS #3) in their top 25. The only thing I regret was not being the one that had him ranked the highest last season.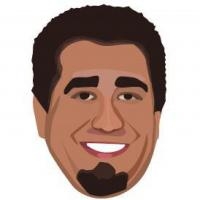 Latest posts by Ryan Ritter
(see all)