"Defeat may serve as well as victory to shake the soul and let the glory out." So said Edwin Markham, the poet. And as the Irish defeat yet another ranked opponent by more than 20 points, climbing yet higher in the rankings themselves, perhaps it's appropriate to ask whether a one-point loss to Georgia was better than a two-point victory that night. For truly, it served to shake the team, and their triumphs since then have indeed been glorious; but would they be in the same place today had they not faced defeat and escaped with a tenuous victory?
Certainly Brian Kelly doesn't necessarily think so. He's the first to note that every game for the rest of the regular season is the equivalent of a playoff. The Irish have no cushion, no safety net. Not only does Notre Dame have no choice but to win, the team must win decisively if it is to be invited to that bowl-game-cum-tournament hybrid presided over by secretive arbiters who seem ever to need more persuasion of a team's worthiness.
Certainly Josh Adams is the first to assert that any achievement on the part of any individual player is actually the product of the whole team striving together. And that is not limited to the players. The team of coaches assembled in preparation for this season has brought out some extraordinary performances not just by many Irish athletes, but by all the Irish athletes together. Once again Notre Dame is physically strong and playing truly smart football.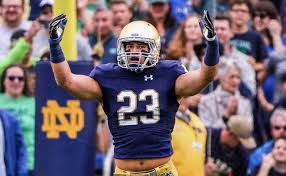 Certainly Drue Tranquill was the first to state that the Irish are not a collection of standouts, but a group. And it was a group that wanted the victory over Georgia very much, but were denied. With great foresight, Tranquill expressed sincere sympathy for the remaining opponents the Irish would face, because in the wake of the defeat, every one of them would be punished – in the regular season, and now it seems increasingly likely, in the playoffs.
There can be no flagging, no relaxation, no lack of every effort. That one loss ensured this. "Adversity has the effect of eliciting talents which, under prosperous conditions, might have remained dormant." So said Ara Parseghian, the champion.
EFS CSC
Latest posts by Father Sorin
(see all)