For the 175th anniversary, they're "retracing" my route from Vincennes to Notre Dame. I'm flattered…I guess. They're doing it in late August – Indiana in late August. You know, dangerous heat, violent monsoons, and tornado season. I wouldn't have undertaken the journey in August! Are they going to cart in mosquitoes carrying Yellow Fever to complete the effect? And by the way, the hellacious trek from New York to Vincennes was much more harrowing that the last 270 miles through pancake-flat Indiana (sorry, it wasn't 300 miles). Don't get me wrong, it was no 11-day walk in the park. In fact, we didn't walk much; we had an oxcart and an old stagecoach. But it was bitterly cold and snowy for late November, and there was a lot of cursing…in Franglish and whatever the hel heck the four Irish Brothers spoke. They're calling this commemorative trip "The Notre Dame Trail."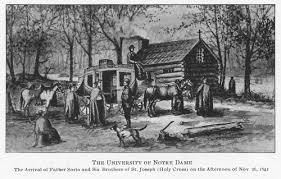 Reverse the third and fourth letters, and this football season could aptly be dubbed "The Notre Dame Trial." Let's compare and contrast, shall we:
11 days, 270 miles: The weather was so bad we only made five miles the first day. The team only won a single game in the first four outings. Don't tell me a journey of a thousand miles begins with a single step – it takes a whole hel heck of a lot more than that: preparation, planning, conviction, desire, zeal. We've had some of those to varying degrees; but now with a second victory under our cumulative belts, we need to have all of them, all at once, for every game from here on out.
Cold, Wind, Snow, and Ice: And tomorrow at noon, a hurricane. The elements were hard during the journey; the extremities and the skin suffered – and I didn't have any of those fruity creams that people use to "moisturize" these days. Every game will bring its own unique hardships. But if we are to make it through this Notre Dame Trial, every hardship must be met with courage and overcome with tenacity. If you're going to the game tomorrow, wrap yourself in a garbage bag and wear hip-waders.
Beat-Up Old Equipment: We have to recover from injuries faster and we have to stay healthy. If we're going to make it, physical damage must be avoided at all costs, and all non-life-threatening injuries must be remedied as quickly as possible. Any off the field injuries will be treated as treason.
$310.00: Not a princely sum, but in 1842, nothing to sneeze at. Still, the money had to be used wisely. We have plenty of talent on the team; the issue is using that talent effectively. At certain points in recent games I have looked at our bursars (read: coaches) and realized that if they were managing my $310, we would have been stuck in a frozen swamp in the middle of Indiana, with mule that could perform magic tricks and opossum jerky. You have seven more games – coach to win, not to dazzle.
Rivers and Streams: May not seem like a big deal to most, but none of us could swim. I'll just make a broad reference to the defense and leave it at that. Watching three Frenchmen and four Paddy Irishmen freak out while wading through rushing, 34-degree, waist-deep water is somewhat similar to watching our defense sometimes. But we made it, and so can they.
I don't know who is planning to walk the Notre Dame Trail. My advice is, "Don't do it." I do know the team that is now going through the Notre Dame Trial. Believe me, "You can do it."
EFS CSC
Padre's book, Father Sorin Says: The Founder Comments on Today's Notre Dame, is available from the Hammes Notre Dame Bookstore or Amazon. But you don't have to walk several hundred miles to got it.
Latest posts by Father Sorin
(see all)