The Agricultural College of the State of Michigan is coming to town for a football game. Well, that was their first name; but they soon changed it to State Agricultural College. Realizing that this was dangerously vague – how would the students know which state's agricultural college they were attending – the name was tightened up to Michigan Agricultural College. But there's so much more to Michigan than growing cherries and Christmas trees; so the name was elaborated to Michigan State College of Agriculture and Applied Science (what science and to whom they were applying it was also left vague). Having hit puberty in 1955, the college matured into Michigan State University of Agriculture and Applied Science. Since that's just a lot to put on letterhead and sweatshirts (and, let's face it, a lot for the students to remember…and spell), in 1964 it became simpleton simply Michigan State University – just in time for Ara Parseghian to beat the Spartans 34-7.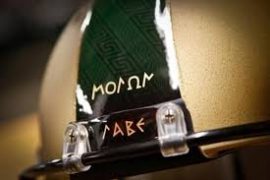 But, true to form, Spartans wasn't their first name. As an agricultural college, they first competed as the Aggies. This was changed to the erudite and witty "Michigan Staters," begging the question "What does a Stater do" – state the matter clearly, or change states of matter? The problem was solved after another week-long symposium of the greatest minds in applied science, who lighted upon "The Michigan State Sport Ons." Aside from ending a team name in a preposition, this causes one to ask "Is there a sport-off;" either way, Sport Ons or Sport Offs just sound dirty. The solution was presented by local restaurateurs who hailed from Sparta in Greece. Thus were born the Michigan State Caterers – soon changed again to the Michigan State Spartans.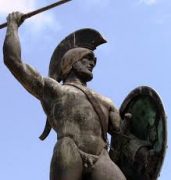 Ever since then, the Spartans have reveled in their tenuous Greek heritage. Recently, they have included a phrase on their uniforms and helmets: μολὼν λαβέ. This is where it gets complicated. The words are obviously ancient Greek, although the Michigan State players usually think it's some kind of factory printing error. Pronounced like "molṑn labé" (causing Michigan State players to think they have an unsightly mole somewhere on their bodies) the phrase translates literally to "having arrived, take." Legendarily, it was addressed by Leonidas, king of the Spartans, to Xerxes, Shahanshah of Persia. Xerxes had arrived in Greece for a little pillage and rapine. The Spartans stood in his way. Thus, "Molon Labe" is the ancient equivalent of "Come and Get It!"
And, oh my, the Persians did. Long story short: The Athenians defeated the Persians at Marathon (you've heard of that); the Persians went home, vowed revenge, and came back; the Spartans met them in September of 480bc at Thermopylae, a narrow pass in the mountains; Leonidas said "come and get it," and over the course of three days, the Persians slaughtered the Spartans to a man.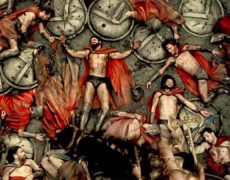 Don't put that phrase on my uniform! Sure, even though it was a strategic defeat, it was inspirational. But there are no parallels to the Michigan State Spartans – at least none that they should celebrate. First, they are invading Notre Dame, Indiana, not defending East Lansing, Michigan (because, really, who would want to). They are the aggressors; the inspirational advantage is with the Irish. Second, the Persian forces numbered some 100,000, while there were only 300 Spartans in the battle…along with 400 Thebans and 700 Thespians, who never get any credit except for dazzling stage performances. Either way, the Spartans were greatly outnumbered, just like the Irish, of whom there are 12,000; opposing are the forces of Michigan State, a top ten university – by size – with 50,000. Third, you can't win for losing in football. Nor will it be inspirational for their fans if Michigan State holds the Irish scoreless for three quarters, while also scoring nothing, and then lets Notre Dame win 56-0 in the fourth (however, I do invite them to employ this very strategy). Finally, in ancient Greece everyone hated the Spartans. They enslaved local non-Spartans, and they fought destructive wars with Athens, Corinth, Argos, and Thebes, that ultimately resulted in their own decline. Wait…this sounds just like the Big 10; and come to think of it, you know you're universally loathed when even the University of Michigan hates you. So maybe there is at least one parallel.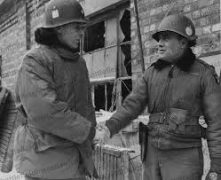 I understand what the Michigan State Spartans are going for with Molon Labe – Come and Get It. It's similar to General Anthony McAuliffe in command of the American 101st Airborne Division in the Second World War. As the Germans surrounded him during the Battle of the Bulge, the enemy commander offered McAuliffe the opportunity to surrender or be annihilated along with all of his troops. McAuliffe's response read: "To the German Commander. NUTS! The American Commander." That's the kind of laconic bravery that is remembered through the ages. But it also helps that, unlike the Spartans, the Americans won.
And Anthony Clement McAuliffe was Irish Catholic.
So if Michigan State wants to say "μολὼν λαβέ," I say "NUTS!" With a 48-28-1 record in our favor, if the Spartans think they're going to beat the Irish, then they really are nuts. And later this season, when we include a phrase on our uniforms and helmets, it won't be the last words of a defeated king; it will be the words that have inspired, and will continue to inspire for generations, in war and in peace: God, Country, Notre Dame.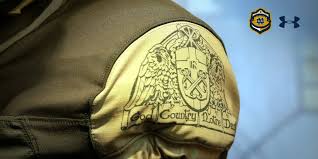 EFS CSC
Padre's book Father Sorin Says: The Founder Comments on Today's Notre Dame is available on campus at the Hammes Notre Dame Bookstore, and from the ancient Greek warrior-ladies at Amazon. It's a must-read for every Fighting Irish fan; and it's a try-to-read for Michigan State fans.
Latest posts by Father Sorin
(see all)