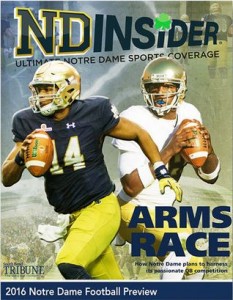 The South Bend Tribune's 96-page preview of Notre Dame's football team is an invaluable resource for the Irish fan looking to get informed before the 2016 football season kicks off Sept. 4.
Mike Vorel wrote the magazine's cover story, "Avoiding A Split Decision," on the quarterback competition between redshirt sophomore DeShone Kizer and redshirt senior Malik Zaire. Vorel interviewed former Texas head coach Mack Brown, former Notre Dame quarterbacks Joe Theismann and Brady Quinn and ESPN's Austin Ward, who covered a similar competition at Ohio State last season. These experts have all previously endured summer-long speculation on who starts and who sits, and know how the student athletes will be evaluated, what intangibles will give one the lead over the other and importance of establishing an identity around the player ultimately chosen.
Brown's probably got the most interesting tidbit, in explaining to Vorel how Vince Young got the starting nod at Texas in 2003.
Chance Mock was the No. 1 passing efficiency quarterback in the country, but we were really young up front and we couldn't pass protect. … Chance wasn't a great runner. So we put Vince Young in when we had the No. 1 passing efficiency quarterback in the country, because we needed to run the ball. We just couldn't throw. Then we won 30 games and lost two. Was it fair to Chance? Probably not. But it was the best thing at that time for our football team.
Eric Hansen, the Tribune's ND Football Insider, writes about middle linebacker Nyles Morgan, who was blocked from playing time by captain Joe Schmidt. Now that Schmidt has graduated, great things are expected of Morgan at the middle linebacker position. Morgan, from Crete, Ill., told Hansen:
Even though I was playing behind him, people assumed we had bad blood, but I loved Joe. If I had a question, Joe would answer it anytime.
I love Hansen's writing style, especially when he described Morgan's practice partner, Quenton Nelson, as a "garage with arms and a snarl."
In a separate article, Shane Walton shares with Hansen what he sees from the current Notre Dame secondary. Walton, a 2002 graduate, is the Irish's last All-American at cornerback. Will this be the year that senior Max Redfield consistently displays the talent that earned him five stars from recruiting services in high school?
Hansen also got an one-on-one interview with Coach Brian Kelly, including his insights on quarterback gurus, academic suspensions and playing the Shamrock Series overseas. Tyler James, the Tribune's football recruiting expert, offers a piece on the risks and rewards of offering scholarships to three-star recruits. He also talks to three of the recruiting world's most respected analysts about how Notre Dame can become a consistent top 10 powerhouse.
The magazine also includes smaller stories written by Vorel, Hansen, James and Tribune columnist Al Lesar about freshman quarterback Ian Book, senior running back Tarean Folston, sophomore wide receiver Equanimeous St. Brown, nose-guard-turned-tight-end Jacob Matuska, junior offensive guard Alex Bars, junior defensive tackle Jay Hayes, sophomore linebacker Asmar Bilal, freshman safety Jalen Elliott, redshirt freshman cornerback Shaun Crawford and fifth-year senior long snapper Scott Daly. There's also a preview of all 12 teams on Notre Dame's 2016 schedule.
Lesar has a lead-off column that, frankly, befuddled me. He argued that, in light of a "dead heat," that Kelly should pick Zaire because he is "brash," the "biggest talker" and has "attitude" and "swagger."
Trailing Michigan State by five with four minutes to play and the ball at the Irish 20, the Notre Dame offense won't be able to look at a blueprint of how to mount a comeback. It's going to take a unit determined to get the job done, led by a guy who defines the word moxie. He might not always have the most accurate passes or the most seamless execution, but Zaire isn't timid about improvising his way to a successful outcome.
Perhaps Lesar missed last year's Virginia and Temple games?
The digital edition contains audio and video segments that just can't be included with the magazine. I'd definitely recommend paying the $4.99 for the digital version, although I'd do so only if you have an iPad or comparatively sized tablet. Even with a generous text size, it's impossible to read the stories on an iPhone without zooming in, which in turn makes scrolling a hassle. If you're old school, the magazine is available for $9.95 on local racks in the South Bend area. (It costs $12.95 for a mailed copy.) I'll definitely be dog-earing my copy as the season progresses.
Buy the digital version (Android or Apple) and the hard copy here.
Disclosure: The South Bend Tribune provided Her Loyal Sons with a complimentary hard copy. I paid for the digital version.
Latest posts by andrewwinn
(see all)