There's been a lot of talk in the last few days about the debate among the candidates who want to be President. I was President and I didn't have to debate anybody for the position – I just had to buy the land, build the buildings, bring in students, burn it down, start over…you know, those sort of things. When I retired, I became Superior General so I could give the President orders. I highly recommend this course of action to those seeking higher office. The only debate I had while I was President was over gilding the Dome. When I didn't get my way, I moved to Saint Mary's until the board agreed. Tell me, what color is that Dome? Again, highly recommended strategy.
But the whole idea of all these candidates debating issues and working toward one office caused me to consider the parallels to football (aren't there always parallels to football or religion). And so I looked at several of our opponents and pondered what they would be like, were they Presidential candidates. I do this in the nation's interest and in the spirit of patriotism.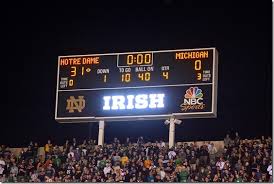 First, some have already bowed-out of the race:
Texas – Walked a bit too softly and forgot to carry his big stick…while talking too loudly.
Virginia – The General Lee of the race. Played rough, left destruction in his path, but still lost.
Michigan – Lost the last primary. Moved to a small South American dictatorship.
Then, there are those who are still in the race:
Massachusetts – Thinks he's an East Coast elite. Talks with a clinched jaw…a glass jaw.
Clemson – Can take a punch, but can't deliver one.
Navy – A true patriot, but not enough missiles in his arsenal.
USC – Lying, cheating, philanderer with anger issues. He offends more voters than he attracts.
Temple – Small-time politician with small-time chances.
Pittsburgh – Always stays in the race too long, but usually gets kicked when he's up.
Wake Forest – Genteel fellow, more interested in tee-times than kick-offs.
Boston College – Agent of the Evil Empire.
Stanford – Thinks way too highly of himself and is often delusional. Sore loser.
And that leaves tomorrow's opponent:
Georgia Tech – Floats like a bee, but stings like a butterfly.
In this theoretical political scenario, the Irish win the primary and advance to the general election. It's impossible to tell who the opposing party's candidate might be, but there's a good chance it will be a Southerner known for arrogance and corruption. I'll leave you to fill in that blank.
EFS CSC
Editor's Note – Father Sorin Says: The Founder Comments on Today's Notre Dame is currently available in the Hammes Notre Dame Bookstore and on Amazon.
Latest posts by Father Sorin
(see all)