I don't watch a lot of television, primarily because I have yet to be convinced that it's not largely the work of the devil. But every now and then I pass by a working television machine and something catches my eye. Most recently, I saw a promotion for some carnival-esque sideshow called "Best Time Ever." Well, Freshmen, let me tell you that NBC is blatantly lying. THAT is not 'the best time ever'.  You are now experiencing The Best Time Ever – brought to you by ND.
If you don't believe me, just look at the legions of Alumni desperately clawing their way back to Our Lady's campus for any reason, real or imagined. If you don't believe me, just watch the Seniors becoming progressively weepy all year as The End approaches; graduation should be a joyous event – at Notre Dame it is treated as a nonconsensual expulsion.
Now I'm not saying every path you take here will be lined with primroses. In fact, once the cold weather sets in, the groundskeepers replace the flowers with decorative cabbages that have a distinct lavatorial scent. Perhaps that is an apt metaphor in itself: Some of the paths you take will not be all that pleasant. So let me speak to a few important facts of life at Notre Dame.  I will not call it advice, because by now you are all topped off and even overflowing with advice…most of which is useless. My statements bear immeasurably more weight because, quite simply, I founded this place – I was there, I did that. Thus, here's just a snippet of what I have seen over the years since 1842; and remember, I have literally seen it all.
<Light> In a modern dormitory, you have ample space and year-round climate-control. <Shadow> It's all rather plastic and contrived – face, it the hall that bears my name was the first in the country with private rooms; everything that has followed is a cheap knock-off. But the structure does not make the man or the woman, and these new halls have all the spirit and energy as the Victorian prison hulks elsewhere on campus.
<Light> In an older, historic dormitory, you live steeped in tradition and you sleep where American heroes and national legends have slept before. <Shadow> You live in a broom-closet crossed with a sweat-lodge (yes, even in winter, what with the blacksmith's forge radiators, those little rooms are hot). The hall that bears my name was state-of-the-art when it was opened; but keep in mind, in 1888 most people relieved themselves in a shed in the backyard, and tailgating was done behind the business-end of a horse. Still you're living history for four years.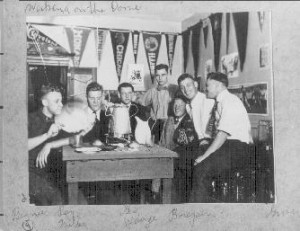 <Light> You get to live with Sophomores, Juniors, and Seniors in a layer-cake of camaraderie and harmony. You get to learn from their experience and let them give you a leg up in this adventure called college. <Shadow> It's not always camaraderie and harmony. For a little while you will be treated as pets to be toyed with and teased (all in good fun, mind you). So be ready to wake up to the Victory March played at 194 decibels, at 7:00am sharp, on six Saturday mornings this fall, not far from your door, and therefore not far from your bed which is ever-so-close to your door. And don't open the door too quickly when you hear a firm knocking upon it – there's every good chance a garbage can full of ice-water is tipped precariously against it.
<Light> You have the opportunity to study a vast spectrum of fascinating, enriching, and challenging subjects under the tutelage of some of the nation's greatest minds and most adept educators. <Shadow>Some classes start at 8:20 in the morning, others at 5:05 in the evening. It's college – deal with it…and don't be late…and don't dress like you're going to a mud-caked, beer-soaked music festival in a field (sleeves, pant-legs, and shoes that don't belong in a shower, please).
<Light> It's one of America's most beautiful places, with ancient trees, spring-fed lakes, lush lawns, and landmark edifices. It is literally picture-perfect in late summer and the early half of autumn. <Shadow> December, January, February, and March (well, not really shadow, because there's no sun by which to see a shadow, even if there weren't rain in your eyes, or your eyes weren't frozen shut). After all, this is Northern Indiana, not Southern California – THANK CHRIST ON HIS THRONE!
<Light> You can have three square meals a day just footsteps from you door. Any dish your heart desires is served to you on a platter and you dine with your closest new friends. <Shadow> I'm not exactly sure…I don't know…It's not clear where the food comes from. And <Shadow> Lent. Get real comfortable with deepfried fish pucks and cod wearing relish-drag.
<Light> This is not Catholic Disneyland – it's the BVM's vacation home, and she often brings Her Son along with Her. When she's not appearing, prophesying, healing, and generally intercessing around the world, She relaxes here with you, Her loyal sons and daughters. <Shadow> She sees you when [you're supposed to be] sleeping; She knows when you're awake [and what you're doing]. She knows exactly how you've been bad or good…but She always supports and forgives.
At this time of year, I am reminded of the words of an eminently wise man, written in the 18th Century. I paraphrase, for though he was Irish, alas, he was not Catholic:
'Look more upon the bright side of your condition, and less upon the dark side. Consider what you enjoy, rather than what you want. Let this give you great comfort, and have pity on those discontented people who cannot enjoy comfortably what God has given them, because they see and covet something that He has not given them. All of our discontents about what we want, spring from want of thankfulness for what we have.'
Besides, you have nothing to covet or want. You are now having The Best Time Ever. And seven times a year, it's broadcast on NBC.
EFS CSC

Editor's Note – Father Sorin Says: The Founder Comments on Today's Notre Dame is being published by Corby Books and is scheduled to be available in the Hammes Bookstore and on Amazon on August 24.
Latest posts by Father Sorin
(see all)