It's important to remember that all of our greatest football coaches kept their most precious players at home…literally.  Each man who has led the Fighting Irish to first place in the rankings has been a father first and foremost.  I don't mean to suggest any element of competition, but no one beats Frank Leahy and his brood of eight, though Dan Devine's clan comes close at seven.  Knute Rockne and Lou Holtz had something in common besides winning a National Championship – both men fathered four.  And Brian Kelly takes after Ara Parseghian with three children.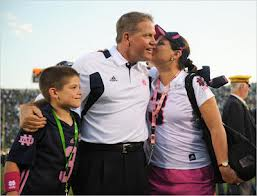 My own cher vieux papa sired nine of us little Sorins.  We didn't have Father's Day in France, but I think it's a noble American custom to set aside a day and celebrate dear-old-dad.  Though I have no children of my own, I count my loyal sons and daughters by the tens of thousands.  And that brings me to an important reminder for you all: Don't forget the Holy Cross Fathers this Father's Day.  After all, it was the CSCs who, sacrificing family of their own, gave birth to and raised this University (with The BVM, of course).  And the CSCs continue as the fathers of Notre Dame to this day.  So if you had a favorite Father Rector, Father Professor, or Father AlwaysCheerfulontheQuad, if you have been inspired by a particular Father Chaplain or Father President, or if you're just grateful to all the Fathers, here are some gift ideas for the deserving CSC on this Father's Day.
Spiritual Bouquet – No one's really sure what this is, so if you tell Father that you've arranged one for him with your prayers, he'll be happy.
Pagan Baby – I'm told this is no longer considered "Politically Correct"…whatever that means.  So just give a couple dollars to the CSC missions – with or without the punch-up boxing match.
A National Championship – Any sport will do, but a football National Championship would be an extra special gift for Father.  And don't tell me only the players can give this – everyone contributes to the effort with hearts, and hands, and voices.
Don't Give Money – Father has a vow of poverty and would just have to turn the cash in to his Superior…but I don't think Canon Law says anything about gift certificates.
Nothing in Black – If you're giving clothing to a CSC, make it colorful.  Black gets quite monotonous after a while, and it's hot in the summer, and it shows dust and dirt, and it just doesn't pop.
Promises of Good Behavior – Lads, this applies to you and your life in the dorms come August.  Tell Father he can pick one Friday or Saturday during the school year, and you'll all pool your resources of self-restraint and give him a peaceful, no damage, no rule violation, no bathroom disaster, no hassle evening-night-morning.  He'll weep tears of joy and thanksgiving.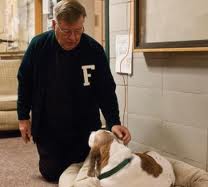 Fine Wine or Spirits – If you can't behave, lads, at least give Father something to take the edge off living with a hundred-odd louts and ruffians.
New Breviary – If you're unfamiliar with this item, it's the book of prayers a priest goes through every day of the year.  By the end of football season, Father's is worn through and all prayed out.  So get him a spare.
A Glow-in-the-Dark BVM – Those things are just so cool.  If you can get one for each Corby Car, that would be fantastic.
Rosary – Can never have too many.
Or you can just write Father a note thanking him for his service to Notre Dame.  Trust me, he'll really appreciate it…and a National Championship – I'm serious about that one.
EFS CSC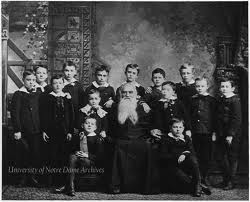 Latest posts by Father Sorin
(see all)