At this very moment, Notre Dame students are packing their bags and preparing to depart Our Lady's campus – not because they didn't get enough playing time, but because it's time to play.  Spring Break has once again woken up, staggered onto the calendar, and with a bleary wink and a louche wave, beckoned our students to join in the revelries of its vernal rites.  This doesn't upset me as much as some might think…primarily because it doesn't occur in sight of the Lady on the Dome.  Besides, young men and women need time to relax, unwind, and enjoy frivolous activities.  But remember, loyal lads and lasses, what you do on Spring Break might be frivolous, but it is not inconsequential.  So for your sake (and the University's) I have prepared what Classicists would call and extended analogy.  You find these literary devices in Classical Epic; and if you want your Spring Break to be an epic classic, take these lessons to heart.
How a good Spring Break is like a good Notre Dame Football Game
There will be beer, wine, and booze.  But you can't get so carried away tailgating that you miss the big game.  The focus is always the game, not the parking lot binge.  Let the spirits put you in the spirit; but you don't want to end up petting the asphalt or the hotel room carpet while your team is out winning the day.
There is no alcohol in the Stadium…officially.  This is just a practical measure to give you a reason to slow down on the drink so you can drink in the spectacle before you.  Like the student section, if you want to have a good time and be an asset to your team, you must be standing the whole time.  Go ahead and have a tipple if it arrives in small quantities and is hidden in a discrete plastic cup.  And that's another thing – for both the Stadium and Spring Break, for your safety, make sure all cups and dishes are good Julius Nieuwland rubber or durable plastic.
Cheer.  Be loud.  Jump up and down.  But don't start pile-ups or fights.  Small town police are like Stadium ushers: they inherently dislike students and they carry manhole-cover-sized chips on their shoulders.  They have a little too much authority and far too little restraint.  Just like the Stadium, these "resort" towns where you go to blow off steam don't really accommodate 80,000 ginned-up college kids and other fanatics comfortably.  Don't give the usher-cops a reason to throw you out.  Oh, and remember, unlike the ushers, small town police all pack heat.
If you're going to be stripping off major pieces of clothing, paint your body.  Not necessarily with blue, gold, and green watercolors, but with that oil which saves you from baking like "chicken pieces" under the Dining Hall warming lamps.  As for your clothing, wear your Fighting Irish shirts, shorts, shoes, sunglasses, hats, headbands, visors, swimsuits, shower thongs, boxers, briefs, boxerbriefs (did I miss anything, Bookstore?) with pride for your school and our teams.  But please, don't all wear the same shirt – that just reinforces that suspicion that Notre Dame is a cult not a college.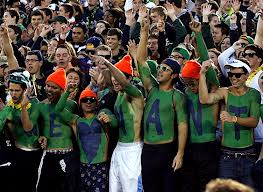 Throw decorum to the wind and dance.  In fact, be your own cheerleaders.  Get each other into the celebratory mood.  Give yourselves an exciting activity-goal each day, and exult when you achieve it.  Celebrate reef swimming like it's converting a third down, parasailing like it's a field goal, and cliff diving like it's a touchdown.  You won't have large men in skirts and bearded elves to dance with…and if you do, go home – you're either hallucinating or you're in a very bad place.
Take lots of photos of what going on around you.  Just like you capture the winning numbers on the scoreboard, or the scene on the field as the team runs out, collect memorable pictures of these vacation moments.  But if you're going to be in snapshots, make sure you're not doing anything…ahem…compromising.  You have your dignity, soon you will have an employer, and one day you will have children.  Don't give any of the three photographic evidence for abandoning you.  And don't take pictures of others doing anything…ahem…compromising.  You don't want one photo to be the cause of losing a friendship or your front teeth.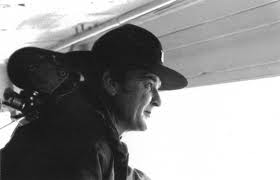 In the fourth quarter of any day on Spring Break, if you hear a folksy, avuncular voice from above give you safety advice, take it (and hope it's not from a State Trooper standing over you).
Don't let losers bother you.  Just like the 2012 season, the losers all go to other schools, they only hang around for a couple of hours, and then they go away embarrassed.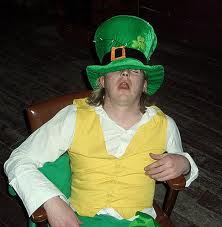 Just like a good Notre Dame football game, this Spring Break will end with a spectacular Irish celebration – St. Patrick's Day.  Show your Irish pride, even if it's adoptive.  You are the only students in the country who can claim the title Irish; just like post-game celebrations, revel in your Irishness.  But get all the wild Irish partying out of your system, because unlike Football Saturdays, there is no Recovery Sunday.  You're all due back in class on Monday.  Think of Spring Break like one long away-game in California, or Florida, or Hawaii; when it's all over, we want you back home in Indiana.
And as for THAT subject which must be addressed in any discussion of Spring Break – fortunately the football analogy allows me to mention it without upsetting my delicate sensibilities. Well, here goes…there are no parietals in the Stadium, but we expect that you would not be breaking the Spirit of Parietals in the midst of a football game (though nothing surprises me anymore).  So too, there are no parietals on Spring Break, but the Spirit of Parietals should at least travel with you somewhere in the back of your mind.  Loyal daughters, let the Spirit of Parietals appear to you as that excellent Mr. Bob Diaco.  Let him coach you in always playing tough defense.  Even if it's a four-down goal-line stand.  Just like Coach Diaco, shut the other guys down in the Red Zone.  And for you loyal sons, remember the Fighting Irish example of 2012 – low scoring affairs can be great victories.  Certainly don't run-up the score; that is ungentlemanly both in the Stadium and on Spring Break.
Above all, never forget that just like every Notre Dame home football game, during Spring Break, Jesus is watching the whole time.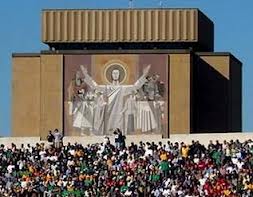 EFS CSC
Latest posts by Father Sorin
(see all)