Unless you live under a rock, you've heard about THE, as in Ohio State trying to copyright the word, chicken sandwich from Popeyes. I had heard about this fast food culinary masterpiece before Shane talked about it on the podcast.
Despite the title, I'm not here to gush about it. It's good. I miss it. I downloaded the app to be notified when it's back.
I'm more amazed about how this damn thing took off. A combination of social media, mainstream media coverage, and word of mouth watched a fast food debut item turn into this:
Popeyes, a chicken joint whose regulars know there is a better than zero chance they will be out of fried chicken when you step up to the counter, is now rethinking how they are supplying the whole thing to prevent future shortages. The irony is delicious (and spicy).
I had this thing twice in it's limited initial run. The first time, I was the only one in line. The second, just two days later, was a 30 minute wait.
As much as I love this piece of fried chicken heaven, let's be real here: it's just a properly cooked chicken breast with spicy mayo. It's simple, but it's perfect.
Opening weekend of college football is like chicken sandwich mania to me. Millions upon millions flock to it. Consume it like it could disappear at any moment. They will scream at their cable providers if the ACC Network, a thing never in existence a few months ago, isn't available because they couldn't see Clemson dismantle Georgia Tech live.
Two nights of games–the majority of which would barely move the needle in the middle of the season? The wait is well worth it for the small morsels of marquee matchups or insane moments college football is known for.
The craze will dwindle, but the addicts will return, front and center, ready for more regardless if the main event is missing. There's still more delicious grub on the menu to consume and we are more than happy to gorge on it like it's going out of style.
The Roundup
Speaking of food, Notre Dame Stadium is going to have a whole new menu. My only complaint about the concession revamp is that the "versus dog" bit doesn't go far enough during New Mexico week–it should be complete with a cutout of Bob Davie screaming at the hot dog machine.
Also doing food things, Kentucky. I mean, they are doing a thing and that's about all I'll say.
The NCAA once again fell on its face. Inconsistent rulings and applications of bylaws are pretty standard at this point, but when the NCAA seems to grant immediate eligibility waivers to everyone under the sun save for a kid who transferred to care for his terminally ill mother. The biggest kicker in this thing:
The NCAA surprised Brian Hoffman again when they came back with another line of questioning — why didn't Stephanie Hoffman, 50, retire (after her diagnosis and surgery) from her job as a teacher?
"We have almost a million dollars of medical bills," Brian Hoffman said. "She's a teacher and doesn't have enough years to get full pay from her pension. We simply couldn't afford it."
Bill Connelly's #sportsmath has returned! The S&P+, excuse me SP+, has returned.
Shane, Rakes, and I had fun kicking Oregon State in the junk on the pod. But a Loyal Reader brought the saddest season preview ever to our attention and welp, let's just bury that beaver a little deeper.
I always love features on lesser known cogs in the coaching staff machine. Folks like Jake Flint (Atheltic sub required, grab 40% off one on us) are vital parts of the staff that don't often get their moment in the sun. Fantastic read here by Pete Sampson.
It's always fun to see how a detached third party sees the Irish. Pro Football Focus had their own preseason rankings and the Irish are…um…up there. Then they went and wrote a thing that definitely did some things to me.
Opponent Headlines
If your curious how Louisville's beat sees the team, I'd suggest checking out this game-by-game preview.
Your opposing QB has an all-time name. If you aren't starting a guy named "Pass" at QB, are you even trying?
Heading to the game? Enjoy getting drunk early.
If you have two QBs, you don't have one. If you have three QBs, you're a damn mess. If you have four QBs, you're Bob fuckin' Davie.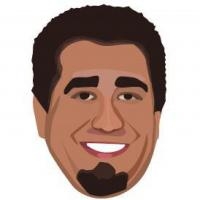 Latest posts by Ryan Ritter
(see all)