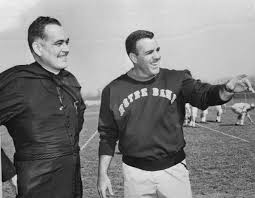 In Greek Epic, the great are given the epithet "Leader of Men." Few in the now 175-year history of Notre Dame deserve to be called a Leader of Men more than Ara Parseghian. Surely his fame on the field is, and shall always remain, golden. But he served under an implacable superior in Theodore Hesburgh, CSC, who demanded that Ara never tarnish the name of Our Lady or the University dedicated to Her honor. And Ara never did.
As a Leader of Men, Ara demanded much from his athletes: first, that they be good; second, that they be committed to their education; and third, that they be victorious. Though Ara may have found some of them as boys, this leader sent all of them out into the world as men. And though only some were formally recognized as such, all of Ara's men were champions.
Ara's life was long and rich. But his mighty heart did not pass through its many years without being pierced by sorrow. Like Job, Ara was given much; and like Job much was taken from him. Yet, Ara did not blame God or bemoan what had befallen him. No – this man of action, though he could not cure his own, led men and women in the unrelenting quest for the means to heal the sick in other families.
This leader was inspiration and example for generations of men and women who came to Notre Dame to learn, and left touched in ways great and small by Ara. His spirit, his zeal, his devotion always to higher principles and greater goods: these marked his 11 years at the University, and were never absent from the University in the decades that followed. Ara was a most Loyal Son to the very end.
At 94 years of age, we cannot say, "We hardly knew him." Indeed, we are all better for having known Ara Parseghian. Like a Sacrament of the Church, Ara's life was a sign of grace – grace in victory, grace in defeat; grace in joy, grace in sorrow; grace in always giving, and grace in never taking. In the Roman Legions a sacramentum was the loyalty oath pledged by soldiers to their leader, that bound leader and men together forever. In Roman religion, a sacramentum meant that he who swore it was given to God…as Ara is now.
EFS CSC
Latest posts by Father Sorin
(see all)