Ronnie Stanley is the newest member of the Baltimore Ravens, after the team selected him #6 overall in the 2016 NFL Draft.
Stanley's contract will be for $20,392,342 with all the money guaranteed.
Stanley, at 6 feet 6 inches and 312 pounds, started 39 games at tackle for the Fighting Irish. He proved versatile, making 26 starts at left tackle and an additional 13 at right tackle. Draft experts considered Stanley to be the best or second best offensive tackle available in the 2016 NFL Draft, along with Ole Miss' Laremy Tunsil, with most sure the Nevada product would be taken during the first 10 picks.
"He's a soft-spoken kid and it kind of looks that way when he plays. He plays like a glider," an AFC scouting director told Yahoo! Sports. "He just moves so easily. It's almost effortless. Part of me wants to throw out the tape because he was banged up from the week before and it was raining something fierce, but that Clemson game was not good. Shaq [Lawson] got in his kitchen and [Stanley] didn't like it."
Stanley is Notre Dame's first top 10 pick in the draft since 1994, when defensive tackle Bryant Young was taken seventh overall by the 49ers.
NFL.com compares Stanley to Lane Johnson, an offensive tackle from Oklahoma who the Philadelphia Eagles picked fourth overall in the 2013 draft. Johnson, who has a similar build to Stanley, has started all 44 games he's played in and has excelled in run blocking schemes. Mel Kiper also recently compared Stanley's "hype" to that of Florida State's Walter Jones, who was picked sixth in the 1997 draft, made nine Pro Bowls and was inducted into the Pro Football Hall of Fame.
Stanley was projected as first round pick in last year's draft, but draft expert Todd McShay said that the tackle "benefited greatly from returning to school for his senior season, during which he showed improved strength and technique."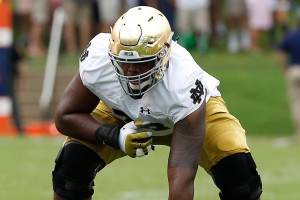 How will Stanley fit in with the Ravens? Probably pretty well.
Eric Edholm, of the Shutdown Corner, says Stanley is most ideally placed in a zone-blocking attack, but "should fit into any type of scheme" because of his "body control, balance, ease of movement and lateral quickness."
Stephen White, a former NFL defensive end, said he'd take "Stanley over Tunsil seven days a week and twice on Sunday."
"With Stanley, not only did I actually get to see him out on an island blocking edge rushers one-on-one in every game, I also saw him lock those guys down game after game after game. He faced speed rushers, power rushers, little rushers, big rushers or some combination of those attributes and the results were almost always the same: little to no pressure," said White. "What makes Stanley so effective is the fact that his arms are almost 36 inches long. He also has really good, quick feet to go with them. His punch isn't necessarily all that powerful, but it is damned effective for two reasons: First, his arms are so long that they usually get to a pass rusher's chest quicker than they're used to; and, second, once he gets his hands on a guy and fully extends his arms, it's hard for the rusher to be able to reach out and get 'em off because their arms are likely much shorter."
Latest posts by andrewwinn
(see all)