Pope Pope Pope Pope. Is no one aware that we have a football season underway? Well, certainly not the Pope, since his idea of a football is round, you can't touch it, and you play with it on a pitch. Yes, for Catholics (and, strangely, also for non-Catholics) a Papal visit is very exciting. It is an element of our religion, of our belief system, to recognize the supremacy of the Pope. But it's also an important element of faith for both Catholics and many, many others, to recognize the supremacy of Notre Dame Football.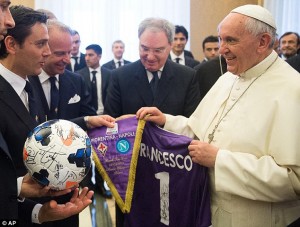 Pope Francis has called for a Year of Mercy. He is also very keen on physical demonstrations of merciful works. The Irish have already embraced this Papal exhortation to follow the path of mercy by allowing a losing Georgia Tech team to score two touchdowns, a two-point conversion, and to collect an onsides kick in the final minutes of the game. But to aid in this Spirit of Mercy, as well as to demonstrate to the extraordinary nexus between our faith and our love (Catholicism and Irish Football) I will demonstrate how the Notre Dame family can implement Catholic Mercy through football.
Corporal Works of Mercy:
Feed the Hungry – Share at your tailgate parties. Welcome starving undergraduates. Even welcome Minutemen fans – it will be the only highlight of their day. If you have a lavish spread pouring out of your conversion van like a mobile Sacred Heart blowing flame, share even more (besides, if you keep it until the next home game, it will be a lovely shade of Kelly Green). On the field, I urge our Kizer lad to feed passes to our Fuller, Hunter, and Robinson lads, for truly they hunger for touchdowns.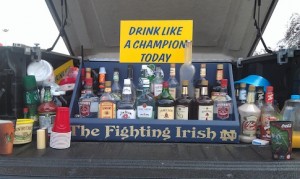 Give Drink to the Thirsty – Again I say to you, share at your tailgate parties. I'm sure there is plenty of juice and sparkling water…as well as sauce and fermented grape and barley water. Give drink to thirsty undergraduate…Seniors. Even give drink to Minutemen fans – for truly they will need it. And remember, the more you quench your own thirst, the more generous you will be in giving drink to others. On the field, I again urge Kizer to give the fortifying drink of the football to our Prosise lad, as he thirsts deeply for yardage AND touchdowns…thirsty fella, that CJ.
Clothe the Naked – The gentlemen at Under Armour have taken care of this quite handsomely (although trying to get out of a rain-soaked Under Armour cassock is quite the challenge). But if you have loved-ones who lack proper garments – and by that I mean Notre Dame garments – make a pilgrimage to the Bookstore so you may clothe them in glory. If you have enemies with hatred in their hearts, give them Blue & Gold clothing to hide the darkness of their souls; and if they are fortunate, to convert them to faith, hope, and love…in and for the Irish.
Shelter the Homeless – This doesn't just count when we have to shove everyone into classroom buildings during violent storms. Students, if you find a very sleepy alum seeking a friendly couch late at night after visiting the…sights…of South Bend, show mercy and give him a pillow, too. This could even be a very sleepy older or younger brother or sister…or dad or uncle. In the Stadium, we will shelter the Minutemen in a locker-room throughout the day – until we send them packing back to Massachusetts.
Visit the Sick – Well, the Minutemen are 0-2, which is a rather sickly start, and we're letting them visit. But in that an injury is just as bad as a sickness, students, you've got a lot of visiting to do. Flowers and cards aren't necessary, and you don't have to take turns at nursing duties, but when you see our lads Jones, Crawford, Zaire, Folston, Tranquill, and Smythe, whether in your dorm, or the Dining Hall, or in class, give them words of encouragement…and at the Grotto or in the chapel, a few prayers.
Visit the Imprisoned – Stop by Zahm or Morrissey, if not for a sloppy party, just to show solidarity with those poor souls incarcerated (or quarantined) there. And be sure to visit the lads in Carroll, so that they may know we have not forgotten them as they dwell in the wilderness.
Bury the Dead – Will start tomorrow by burying the Minutemen, and proceed to bury the Tigers, Midshipmen, Trojans, Panthers, Deacons, Eagles, and…Trees. We're going to need a bigger cemetery.
EFS CSC
Latest posts by Father Sorin
(see all)