The bride and groom had long since finished their first dance, toasts delivered, and the cake cut. The DJ did his level-best to fire up the dance floor, but the only dance at Table 11 was the setup of iPads and a WiFi hotspot.
Such is life at a Domer wedding when one of the major sports just happens to take center stage on your big day. But honestly, who could have seen this interruption coming, especially if you make the conscious decision to avoid scheduling the dreaded fall wedding?
Plus, if you want to plan a Texas wedding, as a native Texan (which the bride was), you certainly know that the summer is borderline crazy and the late spring is seriously pushing your luck with the Texas sun. March and April are the ideal months and late March should be a time of no conflicts with sporting events.
St. Patrick's Day is well in the rear view and Notre Dame hasn't been to the Sweet Sixteen since 2003 and the Elite Eight since 1979. Neither of those years are even in your mind when looking at potential March wedding dates, especially after last season.
But now, just off to the side of the dance floor Table 11 continues their dance. Chairs slide into position. Bodies in the front row hunch over to gain optimal viewing angles while additional interested alumni and parents find themselves slowly drawn to the glowing screens.
We are so sorry. We all love you, but we also know you understand.
2-0 Kentucky, 1st Half, 19:51 Remaining
As Trey Lyles throws down a dunk for the opening points of the game, my mind immediately begins to think of two things going on right now:
1) How excited and terrified that everyone is for this game and how cool it is that we get to experience this ride together and not through text, Twitter, or Facebook.
2) Thank God there is an open bar because we're gonna need it.
Speaking of said open bar, we made the conscious decision to ban all Kentucky spirits for the evening. There was Maker's Mark available. This was no small sacrifice.
4-3 Notre Dame, 1st Half, 15:53 Remaining
ND has managed to score on two layups and my mind is just not sure how to accept a world in which the Irish have scored all their points in the paint against Kentucky. At first glance, the size difference in the two teams makes it seem like a NBA team decided to pick on a college team for shits and giggles. Hilariously/sadly enough, this isn't too far from the truth.
Still the Irish ball movement allowed for two easy layups and a lead by the first media timeout. My brain starts to go to places of joy that I do not want it to go for fear of the ultimate disappointment later.
But still, if the Irish can keep this up…just maybe…
11-10 Notre Dame, 1st Half, 12:54 Remaining
Pat Connaughton drills the first three of the game and creates the first huge cheer from Table 11 and Friends.
It is at this point that we realize the joy of on-demand streaming technology: the delay. My side of the table is now spoiling the game for the other side of the table.
Through various freezes and buffering oddities, this switches throughout the night, but never stops being hilarious.
19-19 Notre Dame, 1st Half, 6:33 Remaining
Zach Auguste picks up his second foul after just having gone full #DunksDulac at the other end. The entire table is loudly cursing the level of officiating by this point.
Sure, the game is still tied, but everyone in attendance knows that Kentucky living at the free throw line will kill any upset hopes. And those hopes are still certainly there at this point. The conversation around the table buzzes during the commercial break of just how well the Irish are playing right now.
No one has really moved from the table either, but the wedding reception is still living on without us. And really so, is the rest of life.
I'm not sure when it happened, but at breakfast the next day, I had a rather hilarious story relayed to me. At some point during the gamewatch, one of my friends looked over at me and stated "holy shit, Ritter's going to be a dad in a couple months."
I can only imagine it happened during of these TV timeouts in which I'm furiously drinking whiskey and coke like it's water and cursing officiating incompetence. Life certainly does move on regardless of sports and somehow I'm going to be entrusted with another human life.
21-19 Kentucky, 1st Half, 6:33 Remaining
But right now, I'm screaming "THAT MOTHERFUCKIN' BALL IS LYING" in between gulps of booze at the top of my lungs after Karl-Anthony Towns drains his two free throws.
Future father of the year. Book it.
31-31, Halftime
As soon as the halftime buzzer sounds, by what has to be instinctive habit for us, our entire table gets up and takes either a much-needed trip to the bathroom or to the bar. The only difference between this and a game at the stadium or even a gamewatch at the bar is that we also find our way to the dance floor.
Any halftime "analysis" of the game is limited to conversations while waiting for alcohol or the walk to/from the bathroom. But once feet hit the dance floor, all of that fades into the background with our iPads in the distance.
We can compartmentalize. The game is great and we are all loving what Notre Dame is doing to this point, but we all wouldn't be in the same place if it weren't for the bride and groom to begin with.
You bet your ass we are going to dance with them just as they continue to stop by our table to watch the game with us.
38-33 Kentucky, 2nd Half, 17:38 Remaining
Jerian Grant is about to shoot a pair of free throws, but the DJ rolls out a slow dance, something my wife was hoping would happen during halftime.
Before she even looked at me, I was out of the chair and taking her to the dance floor. I don't pretend to be an expert at this marriage thing, but I know better than to disappoint the pregnant wife, especially a pregnant wife that offered to keep my iPad in her purse just so I didn't have to carry it so I could watch the game.
I make sure I don't dart my eyes behind her to the iPads at Table 11 either. The road from awesome husband to asshole is short and filled with too much regret to quantify. I'm definitely steering clear of that detour tonight.
As we dance, cheers from Table 11 continue to erupt in the background. I ensure my gaze goes nowhere besides my wife even though she too is taunting me and asking if it's hard to not look over. I stay strong, with the hope that I will see some replays and that Notre Dame will have the lead when I sit back down.
46-42 Notre Dame, 2nd Half, 14:24 Remaining
I arrive back at Table 11 in the middle of a timeout. Half the table is excitedly telling me about Auguste and Connaughton dunking with a Steve Vasturia three in between.
The other half is telling me to go back to the dance floor because we went on a run while I was out there.
I love my friends.
48-44 Notre Dame, 2nd Half, 11:15 Remaining
The anatomy of a major upset is an interesting beast. For most of the game, the reality of a win is nothing more than a fleeting thought and fantasy. At some point though, you start to realize that it could happen. Eventually you start to buy in.
TBS shows a graphic that Notre Dame is beating Kentucky soundly in points in the paint, turnovers, and assists. I'm starting to believe an Irish victory is a very, very real possibility.
However, you don't vocalize this. You aren't all-in quite yet. There is still some doubt because you know the other shoe can drop. Because there is another point in the potential upset in which you actually go all-in. We aren't quite there yet.
59-53 Notre Dame, 2nd Half, 6:16 Remaining
Vasturia hits a three. Kentucky calls timeout. They look shell-shocked, exhausted, and you can see that they see a potential future in which their undefeated season could end tonight.
There's a great scene from Rounders that describes where I am mentally right now:
I could be completely satisfied how everything has played out and take that to the bank. It's clear Kentucky is getting pushed to the limit, a result a certainly would be more than happy with before the game started.
Mike (Matt Damon) eventually can't shake the thought of not just shutting up a taunting KGB (John Malcovich), but being the guy that takes him down. Mike wants to avenge his past loss, and prove to both KGB and himself that he's good enough to win and dance with the big boys at the table.
Much like Mike, I know I can't win much if I don't put it all in the middle.
I'm all-in.
64-63 Kentucky, 2nd Half, 3:18 Remaining
Want to know what one of the worst feelings in poker is? Going all-in with pocket kings only to watch your opponent call with pocket aces. Sure, you have a couple of outs to survive, but all you want to do is grab you bet back immediately.
Aaron Harrison hits a three to give Kentucky the lead back and I'm diving across the table to get my emotional investment back, but it's too late.
66-64 Notre Dame, 2nd Half, 2:36 Remaining
Jerian Grant gives me one of the few outs left in the deck with a three of his own and I can breathe again. I need another drink, but I'm not moving and neither is anyone else save for the bride who had to leave the table to toss her bouquet.
66-64 Notre Dame, 2nd Half, 1:53 Remaining
The DJ decides to play "Living on a Prayer". I have no idea if it was any kind of intentional, but the group of 30-40 people at our table are now screaming the song in hopes we somehow will the Irish to victory.
The moment is equal parts incredible and heart-attack inducing terror.
66-66, 2nd Half, 1:14 Remaining
We try to scream Bon Jovi's lyrics even louder as Karl-Anthony Towns ties the game.
We have now entered #NDMensBBallIsDeterminedToKillMe territory.
66-66, 2nd Half, 0:36 Remaining
It's ND Ball, with 1 second on shot clock after one of the worst possessions that we've had all game.
I'm pretty sure I'm almost dead.
66-66, 2nd Half, 0:34 Remaining
Notre Dame turns the ball over for the first time in nearly 30 minutes on a shot clock violation. Kentucky can now take the last shot.
My mind is screaming at itself with "THIS CAN'T BE HAPPENING" and "JUST STOP THEM!"
The DJ calls for the garter toss. The groom is at the table and isn't moving. The DJ then sheepishly then asks for permission to do the garter toss and then follows up with "is now not a good time?"
NOT GREAT, BOB!
68-66 Kentucky, 2nd Half, 0:06 Remaining
So, uh, can we get "Livin' on a Prayer" going again?
68-66 Kentucky, Final
Jerian Grant's prayer of a corner three falls harmlessly to the ground. My all-in bet of emotions is quickly scooped up by Coach Calipari and an overjoyed Kentucky Wildcats team.
I'm proud of my team, but I'm crushed. There are no moral victories in sports. I firmly believe that ND and her fans should hold their heads up high, but, in the end, the scoreboard is a cruel reminder of the reality that the Irish were two points short. You can't shake that cold, hard fact regardless of how well-fought the game was.
The dance to put away the iPads is a collection of long sighs, random four-letter outbursts, and a shaking of heads. With the technology put away, we head to the bar, reminisce on what could have been and hit the dance floor for the remainder of the evening.
Because, as one wise Texan sage said, "the road goes on forever and the party never ends." Life continued on its course, uninterrupted by Irish defeat, but altered with the memories of a wedding and the rare opportunity for a group of friends to cheer for the Irish together just as they had done in college.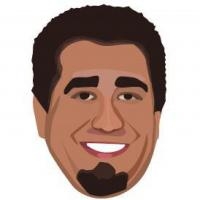 Latest posts by Ryan Ritter
(see all)