I mentioned on Monday that I would write a rebuttal to Bayou's hypothesis that playing Navy close would cost us playoff positioning. Thankfully, the College Football Playoff Committee saved me from loads of writing by making the argument for me by keeping the Fighting Irish ranked at #10.
As I said during the ND Fan Radio Navy post game show, I felt that the narrow win against Navy would mean about as much to the committee as the blowout win against Rice did: nothing.
Last week, I put forward my own hypothesis that the two biggest factors the committee used in ranking teams were the number of losses and the amount of quality wins against the top 25. The committee didn't appear to care about margin of victory, the quality of opponent faced, or how "good" a loss was unless they were trying to break a tie between two teams.
And that logic once again held this week. With that in mind, I've managed to pull out a few more nuggets of knowledge from this week's rankings. I have updated the spreadsheet from last week and added a new tab for this weeks rankings and a breakdown of the top 25, their opponents, and all their wins and losses (and included the two teams dropped out this week as a bonus!).
No Team That Won Dropped in the Rankings
If you take one thing away from this post, it should be this point. If a team in the top 25 won they either rose in the rankings or they didn't move. The six teams that dropped in the rankings all lost.
Often times, pollsters seem to consider some wins as "bad" and thus punish a team for winning a football game. That has never really made much sense to me and I'm glad to see the committee bucking that trend. Doubly so because the committee clearly used a similar logic for a "good" loss, a judgment call that certainly affected Notre Dame's initial ranking.
The message from the committee is quite clear: win your games (unless you have a laughable schedule like Marshall, in which case, sorry, please try again).
Margin of Victory Doesn't Matter Except When It Does
Notre Dame, nor any other team like Auburn or TCU, were punished for winning a close game. Likewise, we have also seen that huge blowout wins (Alabama over Texas A&M) or blowout loses (Arizona State losing to UCLA) don't really seem to make a difference in the rankings. Despite that, committee chair, Jeff Long, had this to say about Notre Dame and Arizona State:
Hmm. Long: ASU, ND have common opponent in Stanford. ASU moved ahead because of more convincing win.

— Stewart Mandel (@slmandel) November 5, 2014
So perhaps, more accurately, we should say that MOV only matters in a tie-breaker type discussion.
This logic though is somewhat head-scratching if you apply the same logic to a Notre Dame/Michigan State comparison and their common opponent, Michigan. I suppose the only logic there though is that Michigan State had the quality win so they initially put Sparty over ND. Since Michigan State didn't lose this week, the committee didn't want to then drop them down a spot.
So really, it appears the question the committee was trying to answer here was just how far should they allow Arizona State to rise and a debate arose between either #9 or #10, leading to the MOV comparison with Notre Dame. But hey, this works great for the Irish as not only do they have a chance for a quality win, but a win against a team ranked above them, meaning that a potential Arizona State loss will hopefully keep them well within the top 25.
Is the SEC Still Awesome?
I'll be interested to see this week's update to the theory. Signs may still point to yes. In each loss grouping, an SEC team sits a top of each pack–save for one. There is one lone three loss team in the top 25, West Virginia, hailing from the Big XII.
Currently, each top SEC team is benefiting from the circular logic that committee uses in terms of quality wins, but, as a said last week, at least the committee is consistent in their logic. Further, both SEC teams in the top 25 took significant drops, including Ole Miss whose heartbreaking loss to #3 Auburn, due to a freak injury no less, received no mercy from the committee.
In my mind, the bias is still there, but is much more tolerable. These rankings paint the SEC as the top conference in college football, which is hard to argue. However, that doesn't give an SEC team any luxury to not be punished quite heavily for a loss.
In fact, I dare say this could lead to a possible nightmare scenario. There does exist a potential doomsday possibility that the SEC emerges with zero one-loss teams. Will the committee change their logic then or will they remain consistent and, I can't believe I'm saying this, actually shut the SEC out of the playoff picture?
Notre Dame Can Join the Playoff Debate in Earnest After This Saturday
That is, if the Irish win.
Without any quality wins on their resume, any debate about how strong the ND schedule should have been or how it is still stronger than other teams that play FCS teams, is pointless. All other teams above us still have at least one quality win and five of the teams in the top ten have two quality wins.
A win against Arizona State changes all of that. With a top 25 win, the Irish and Brian Kelly can start making debates and politicking in earnest. With two games within the top ten (#6 TCU/#7 Kansas State & #9 Arizona State/#10 Notre Dame), another top ten team, #5 Alabama, playing #16 LSU, and #8 Michigan State taking on #14 Ohio State, the Irish have a huge opportunity to rise up the rankings.
The path to the playoff is still narrow, but it's there.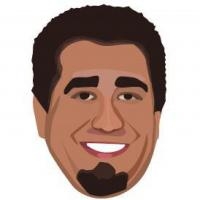 Latest posts by Ryan Ritter
(see all)