No, not Jack Daniels–although to be fair, I can't really blame you for thinking booze first in a Roundup post–but I'm talking about taking a moment here for Jack Swarbrick. I feel that, based on recent events, instead of attempting to make fun of Syracuse, I should highlight the wonder of the Athletic Director is Savvy Jack.
I'm not sure who coined the term "Savvy Jack", but I do remember the first time that I heard it. The same week that I resurrected the Friday Roundup, its previous author, co-founder of HLS, MQ, threw the phrase out on Twitter and accompanied it with one of my favorite Photoshops to date:
Back then, the college football playoff was a certainly, but Notre Dame's place at the table most certainly wasn't. The deal with the ACC wasn't in place and we still had Michigan on the schedule as a regular opponent. Yet in that Roundup, I stated that I wasn't at all worried as were a good section of Irish fans.
At that point in time (April 2012), other sections of Irish fandom weren't quite sold on my same confidence on Swarbrick. To be fair, at that point, especially in regards to football, a valid argument could be made that, while he had certainly made an impact on the athletic department as a whole, beyond the Brian Kelly hire (remember, this is pre-title run so the jury was still out for many), the list of things that he did for football was quite small.
That list, however, grew by leaps and bounds in 2012. He not only got ND a good spot at the table for the College Football Playoff, but also preserved Notre Dame's independence along the way. He made a scheduling deal with the ACC that was far better than anything that we had with the Big East, including access to bowl games that weren't terrible. He had the foresight to can the Michigan series so the Irish wouldn't be saddled with a B1G/ACC schedule that offered no flexibility. He even helped Notre Dame weather a potentially disastrous PR storm when the Manti Te'o catfishing news came to light.
Swarbrick, however, has gone moved beyond "great AD" status to "troll master that you best not f**k around with" this season. Of course, we are all well aware of the masterful move of announcing the scheduling of Ohio State during the final Michigan week; however, somewhat lost in the shuffle of the Texas A&M announcement was this:
#NotreDame did confirm that the ND-Texas football games in 2019 and 2020 have been canceled. The 2015-16 games will be played.

— Eric Hansen (@EHansenNDI) September 25, 2014
So why does this new cancellation add to Swabrick's trolling legend? Look no further than new Texas athletic director, Steve Patterson.
Back in 2013 while the dominoes of the new ACC deal were falling into place, it became clear that the original scheduled date for the Irish's visit to Tempe simply wasn't going to work. Therefore, Notre Dame reached out to Arizona State with a desire to cancel the game. Arizona State and Patterson was, understandably, upset with the sudden switch. Instead of taking up a contract dispute directly with Notre Dame though, Patterson decided to be a dick and let everyone willing to listen that he was SO MAD at Notre Dame:
"The school didn't have the courtesy to have the athletic director (Jack Swarbrick) call the athletic director at ASU to discuss it," Patterson said. "They had their PR guy call (ASU's media relations office) to give us a message Friday afternoon while everybody was out of town at the Final Four.

"At least in the little Catholic town I grew up in — Beaver Dam, Wis. — the good nuns wouldn't have thought that was a very appropriate way to honor your word."

Thus far, ASU has not received anything in writing from Notre Dame about the potential scheduling change. That's a required action for any change in the contract, which was signed in 2008, that also includes a game between the teams in South Bend in 2017. So as Patterson sees it, nothing has changed.
Quick note: the cancellation was not official at this point because, at the article stated, ASU had yet to receive anything in writing. This was supposed to be stage one of the discussion, but nooooooo, we gotta play this out in public.
"Our position is 'Hey, we've got a contract,' and we expect Notre Dame to live up to it," Patterson said.

…

"What people don't understand is you do this 18 months before a game," Patterson said. "Virtually every other university in the country's got their teams scheduled until 2014. So who do you get as a replacement even if you wanted to do it?

"If you act in a professional way and you want to talk about three years down the line or four years down the line where somebody's got a chance to make an adjustment in their schedule, that's a different thing, but when it's 18 months out, everybody's got their season booked."

…

"Look, our position is we're playing the game," Patterson said. "On Oct. 25, Notre Dame is going to be here and we're going to play football."
Patterson knew his out of conference schedule would be total trash without ND (Weber State and New Mexico were their other OOC opponents this season). So with all his eggs in the South Bend basket, so he made this huge stick to ensure the Irish would still come to Tempe on October 25 November 8.
So when Patterson replaced Deloss Dodds at Texas, a man many considered to be a great friend and ally to Swarbrick, many wondered how Patterson's relationship would be. With two Texas games cancelled and Texas A&M on the schedule, Jack more or less told Patterson: "Hey, remember that BS in 2013? You have a check on the way for $150k to cancel the games, that in the contract, I promise. You don't have to go on radio this time. By the way, I'm scheduling a rival of yours that you no longer play because they crawled under your skin when they refused to kiss the Texas ring and went to the SEC. That's right, I just messed with Texas. Have a nice day, asshole."
I mean, I'm pretty much to the point in which I believe the conversion that I made up in my head between Dave Brandon and Jack actually happened.
The lesson here? Don't screw with Jack. He will make you look a fool.
The Roundup
Speaking of looking like fools, HI MICHIGAN! Oh man, the dumpster fire in Ann Arbor is in full blaze. The ill-conceived Coke/ticket promotion wasn't even the worst thing that happened to them this week. One of their biggest football alumni stars ripped them a new one on the radio. Someone also had to ask Mark Hammon of NCIS fame what he thought about Michigan football since his father's number is now being worn by a potentially benched QB. This is Michigan football in 2014.
Want to laugh at Texas some more? Let's look no further than Longhorn puppet Texas insider, Chip Brown. Chip, whose scoops are uniformly dead wrong, had an incredible whopper about Roger Goodell wanting to met with Texas because reasons. Like most of his BS, Chip had his scoop behind a paywall; however, he is now sticking to his story on a freely available piece because in just a few hours the "scoop" was shot to hell.
We still may have very little clue on how the playoff committee will make their decisions. However, Barry Alvarez decided to give us a peek behind the curtain on his methodology.
Uh, College GameDay, what are you doing? Seriously, how in the blue hell does this guest picker make any sense?
And now, your moment of Nix… Let's laugh at Jim Delany, shall we?
Jim Delany said adding Rutgers & Maryland would expand the B1G's media footprint, but NC State has other ideas pic.twitter.com/GtqvV1Ext2

— Ramzy Nasrallah (@ramzy) September 26, 2014
The Booze
Much like Purdue week, we're sticking with the obvious: Mimosas and Screwdrivers for everyone! For beer, I guess Shock Top and Blue Moon are some citrus-inspired choices that are rather easy to make; however, I am also sure that you can find much better beers if you try.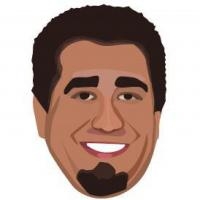 Latest posts by Ryan Ritter
(see all)