I'm not used to storybook endings for Notre Dame football. That might sound a bit strange for a program full of feel-good lore, legends, and even a movie about a walk-on that managed to record a sack on his only defensive snap. That was all "back then" as many people that love to hate the Fighting Irish will consistently remind me.
Recently, the script for Notre Dame football ends in nightmares.
The 2012 season, and the events that followed after it, serves as a perfect example. After an undefeated season, everything came crashing back down to earth as Alabama demolished the Irish. The destruction of our dreams didn't end there. The feel-good story of the season, Manti Te'o dealing with the tragic death of his girlfriend and excelling to a Heisman-caliber level of play, transformed into a PR disaster and added the term "catfishing" into many a vocabulary. A few months later, Everett Golson found himself dismissed from Notre Dame.
Granted, 2012 was full of fantastic moments and memories; however, when the time came to close the book on the season, the final pages were filled with nothing less with some of the most awful things that we could imagine.
"Ow, my balls."
"Hold me, I'm Irish."
These became better descriptors for Notre Dame football than "Play like a Champion Today" or "Win one for the Gipper." Good things would happen, but, eventually, the other shoe would drop.
Travelling to Notre Dame this past weekend, I couldn't help but think the end of the Michigan series would have a similar disappointing and painful end. And, yes, I had these feelings despite the fact that I was confident ND would win comfortably. That's just what ND football does to my brain.
Just think about everything that happened leading up to this game. Notre Dame finally got to be the one to put a hiatus on the series. The final game would be a home game. Jack Swarbrick stuck it to Michigan by announcing a series with Ohio State in a clear message that there are no plans to revive the series anytime soon.
I will forever remain convinced that Swarbrick firing that final salvo Michigan was in direct response to Michigan's reaction to the cancellation. Dave Brandon told anyone in the media that would listen of Swarbrick's cruelty. Brady Hoke began the "chicken" narrative that he damn well knew fans would grasp on to.
Notre Dame couldn't have asked for a clearer path for final vengeance. They could go 2-1 since the cancellation notice, killing the chicken narrative for anyone with a brain. With Brandon determined to channel his predecessors' arrogance in ND relations, he all but guaranteed that such a result would stick for the remainder of his tenure. His constituents could beg him for a rematch, but we'd let the phone ring when his name shows up on caller ID.
You couldn't ask for a better set up for a storybook ending on our end. That meant something had to go wrong.
Truth be told, while 2012 is a great example of our dreams falling back down to earth, 2011 is the bigger culprit, especially in regards to Michigan. 2011 should have gone down as a beautiful ass-kicking of Michigan under the lights if the game had ended after the three quarters. But that fourth quarter was played and instead of a 24-7 win, we had a 35-31 loss.
No loss had ever stung so bad. I had never been so angry about a ND result in my life, Bush Push included.
That game marked the first time that my wife realized I care way too much about ND football. Instead of running for the hills years ago, this Southern Illinois alumna sat next to me on the flight into O'Hare airport, excited to spend a weekend with myself and our friends at Notre Dame whom we hadn't seen in almost four months at the day of our wedding. As we prepared to take off, the plane stopped mid-taxi and we were informed that we'd be stuck on the runway for an hour and forty-five minutes. Thankfully, the delay was only a half-hour; however, any temporary relief quickly disappeared as our flight was suddenly diverted to St. Louis.
As we waited for O'Hare to give us clearance to resume our flight, I received some text messages from my friends that had arrived in our rental house. A power line by the house went down and half of our block was without power. Soon after, two more members of our eleven person group informed us their flights were cancelled. Soon after that, we received word that he had been cleared once again for takeoff–and right before I put my phone away, I saw on Twitter that Ron Washington, the manager of the Texas Rangers, my other love, had abruptly resigned for "personal reasons" that still aren't clear today.
What in the hell just happened? An anxious pit in my stomach, born in 2011, resurfaced. Before we took flight again, I expressed my concern on Twitter and saw this reply:
https://twitter.com/IDtheMIKE/status/508055912582742016
Son of a bitch, that's right. I have to write about this one way or the other. Please be the greatest retribution win ever, please.
The rest of the evening went much smoother than the flight. The house got power back so we didn't have to drink beer with LED headlamps on anymore. And, of course, it's Friday night, we are back at Notre Dame, and that means one thing: 'Backer.
To no surprise, we had to stand in an hour and thirty minute-plus 'Backer line in the rain since everyone and their uncle was in town for this game, tickets or not. At some point in that slightly miserable existence, I noticed dehydration had kicked in. Fun fact: a steady diet of caffeinated drinks that begins to take over your usual water intake as a result of a hectic work and blogging schedule that further results in little to no sleep will cause your body to start hating you because you have made poor life decisions.
But into the 'Backer I went and decided double-fisting a long island and water would get me through. That gameplan quickly switched to water-only after swallowing yet another cup of poison, but, dammit, I was going to close this place down tonight. This is my one 'Backer trip this year.
Yes, body, I know I'm too old for this shit. A smarter person than I would've been very concerned that they are unable to sweat in this crowded mass of humanity and left. Unfortunately for you, body, I am drunk and can no longer make good choices. I'm not drunk on 'Backer long islands, but on being here at Notre Dame, my second home, in the shittiest of all shitty dive bars that I have the deepest of love for because of all kinds of illogical reasons. I'm sure if we asked Joe Theismann, he could come up with the worst quote ever to put on a shirt to describe it, but the point is that I'm going to dance with my wife, hang out with my friends, and pretend I'm 22 for few more hours and there's nothing you can do about it.
Well, expect for the drinking water part. You win that battle.
See, I have grown up.
Thankfully, I acquiesced to re-hydration demand from my body. I woke up the following morning feeling like a normal person once again. Unfortunately for my poor body, that meant that I was fully ready to tailgate my ass off for about ten hours:
I would come to find out later that posting this picture on social media made a lot of you concerned about my potential well-being for the remainder of the day, including concern that I would fail to make it to the game. Truth be told, even the people with me were questioning my decisions at the time.
Silly people, there would be no way in hell, copious amounts of morning alcohol or not, that I would miss this game.
Sure, my morning sprint required that I take a breather and sober up a bit on the way to campus (and get drunk again while tailgating), but I made it to the stadium, happily buzzed and ready to watch ND beat Michigan. As an added bonus, at this point, my capacity for worry about potentially disastrous things happening on the field was long gone.
Until Everett Golson called a timeout to avoid a delay of game penalty on the very first play of the game.
Okay, that's a bit rough, but maybe we'll be fine–oh, nevermind, he had to call yet another time out. Oh, sweet, the drive's over. 6 plays, 14 yards, and two timeouts dead–all in three minutes and eleven seconds. The efficiency in which we shot ourselves in the foot? Kind of concerning.
Here comes Michigan with three plays and two first downs. Well, I'm sobering up in a hurry now. And now there's a fourth down conversion. Oh hey, terrible 2011 feelings, there you are again. I didn't miss you at all, can we please make this stop?
Thankfully, Michigan's kicker heard my screaming internal dialogue and sends his field goal attempt well wide-right. For once, I'm thankful NBC has long TV timeouts so I can calm the hell down.
Golson returns to the field and, in almost half the time it took Michigan to miss a field goal, puts together an 8 play, 71 yard drive. Joy has returned, but more so, relief. The lead is nice, but taking advantage of a Michigan failure is even better. 10 point swings are good.
Yes, I'm choosing to ignore the fact Notre Dame used it's last timeout on that drive. Shut up, 2011 feelings, LEAVE ME ALONE.
Michigan begins another drive with promise. That promise dies in a spectacular blaze of glory with a field goal attempt that doesn't even reach the endzone on the fly. I do not yet know that Michigan's kicker shanked the attempt so bad ND partially blocked the kick with a facemask because that was apparently where Matt Wile was aiming. All I know from my vantage point is that it's the worst field goal attempt I've seen in recent memory and I'm laughing my ass off.
After trading punts, the Irish are driving towards my seat in overlooking the south endzone. I see Corey Robinson make a wonderful play, diving just short of the endzone. From my vantage point in the corner, I'm slightly offset from the goal line, but I know he isn't in. Whatever, we will just punch this in from the…three?!
"The previous play is under review."
Well, thank God. That spot is terrible, B1G refs. I'm glad our new ACC friends in the booth will correct this injustice.
"The ruling on the field stands."
I hate everything.
The 2011 feelings are back again, taunting me. I tell them to shut up, but they get louder as both Tarean Folston and Golson fail to punch it in the endzone on the next two plays. The jubilant screams of 80,000+ drown them out as Amir Carlisle hauls in a Golson pass for a touchdown.
With only 3:58 left in the half, I know this stand for the defense is beyond crucial. Sheldon Day knows it too. That's why he shoves a Skunkbear lineman all the way into Devon Gardner who panics, tries to hold on to an attempted pass and fumbles. Notre Dame doesn't recover, but they didn't need to. The resulting 3rd and 20 on the 17 yard loss kills the drive.
Notre Dame gets the ball back damn near in Michigan territory thanks to a 12 yard punt return by Cody Riggs. My excitement for seeing an actual Irish punt return quickly subsides as I realize the realty of the situation: Golson has 1:24 left to take the Irish 56 yards and he has no timeouts.
He needs only 50 seconds.
The Irish go into the half up 21-0. I'm beside myself. This doesn't feel real. The Michigan fans spotted around me are even more stunned than I. They've been silent all game, completely shell-shocked by the first half. As the break winds down to a close one mentions that crazier things have happened before in this series. Perhaps Michigan could find a way to come back.
2011 is back. It fled from my body and possessed other people and is now speaking through them. I need this demon slayed in the worst way.
Max Redfield does his best to answer the call. His first career interception couldn't have come at a better time. Michigan is on the ropes now after their first drive fails in spectacular fashion, unfortunately, their defense counter-punches by giving the Irish their first negative yard drive in the game. The momentum starts to creep towards the Michigan sideline.
But sometimes the unlikeliest of heroes manage to stand. Like Neville Longbottom pulling out the Sword of Griffindor to halt Voldemort's army, Kyle Brindza and the Irish punt coverage team pin Michigan on the two yard-line. Momentum continues to wear blue and gold.
Michigan can only reach their own 32. They pay for their failure with another Notre Dame touchdown. The score is 28-0, there is 3:02 left in the third quarter. 2011 is nowhere to be found. After another Gardner fumble, like many Michigan fans, 2011 departs from Notre Dame stadium.
Molly, you asked me earlier this week when I started to get greedy and want the shutout. That fumble was the moment. The forth quarter was just around the corner and 28-0 wasn't enough. A win wasn't enough. I wanted blood. I wanted the shutout. The entire crowd wanted the shutout.
So did the ND defense. In 2012 Denard Robinson fashion, the next play that Gardner got resulted in an interception. Kyle Brindza adds on three more points for good measure. 31-0.
Michigan doesn't even cross the 50 again until the forth quarter is well past its halfway point. It's now 4th and 10 on ND's 22. Michigan is so close to actually running a play in the red zone for the first time all game. The lone Michigan fan in our section is begging Hoke to play for the field goal. I become slightly aware of Michigan's scoring streak thanks to his cries. I have no idea this will be the first time Notre Dame will ever pull off the feat. I have no idea that it will be the first time Michigan will be shutout in 365 games and the first time a non-conference opponent will do this to them since the 1920s.
I'm not sure if Brian VanGorder knows. I'm not sure if he cares. He wants the shutout just as much as the Notre Dame faithful that are, in a move not often seen in the stands with a 31 point lead in the forth quarter, all on their feet screaming for blood. VanGorder gives it to them and brings the house. I do not see the fist pump, but it is unknowingly fueling my joy.
https://vine.co/v/OuYHajJMHFh
At this point I see the student section waving. A few minutes earlier, I was hoping we'd sing "Goodbye" to our enemy should this result hold. I'm straining my ears, hoping that's what's happening. It was. I join in on the chorus. It is the most beautiful song I've ever heard.
https://vine.co/v/OuYgia6jdx5
Michigan receives one final chance to save themselves from embarrassment. Gardner delivers his final act of failure, this time into the hands of Elijah Shumate who runs all the way into the endzone. The clock reads 0:00, 37-0. It's over.
@HLS_NDtex pic.twitter.com/yKfYg1bFQ5

— ??BayouIrish?? (@HLS_BayouIrish) September 7, 2014
I'm jumping around in seats once occupied by Michigan fans. My cracked voice strains to deliver the amount of joy I'm feeling. My wife has as big of a smile on her face as I do and I'm sure she thinks I'm acting like an idiot right now.
I don't care. Neither does she. We both remember 2011. Fuck 2011. That game is dead, gone, and we will never speak of it again. 2014 is all that matters and Michigan still hasn't scored.
The B1G officials, however, aren't aware that the game is done. They have issue with Max Redfield delivering a block to Devin Gardner.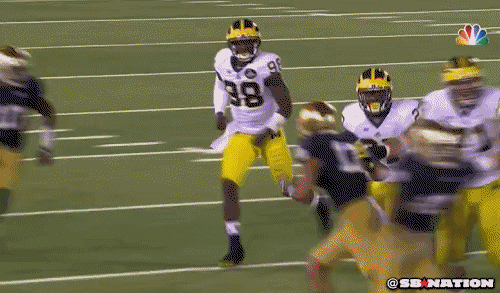 The block is delivered from the side and Redfield hits Gardner square in the front of his shoulder. Michigan fans will later call this a dirty hit and the B1G officials agree. Roughing the passer is called, the touchdown is removed from the board.
And not a single Notre Dame fan in the stadium gives a damn.
We aren't even aware what the call actually is. We can't hear the officials and we are too busy laughing at Michigan players sheepishly trotting back on the field so Zaire can run an untimed kneel down. We all have pictures of the 37-0 scoreboard right now and 31-0 isn't any less embarrassing.
So enjoy that final act of B1G defiance, Michigan. It matters not.
I wouldn't go to sleep for another 6 hours. I would manage to become drunk again for the third time in 24 hours while enjoying s'mores by our house's firepit. I would wake up tired and hungover as hell the next morning. Much like that worthless penalty at the end of the game, I didn't care.
I got my storybook ending. It couldn't have been written any better if I had penned using my wildest dreams. We beat Michigan–no, we destroyed them. We ended them. They won't get another shot for years. We got the last laugh.
Michigan went back to the same well they usually do in response. It's just one game, the B1G title is what really matters after all. Some of the usual suspects tried to rationalize that the loss really wasn't that bad because, after all, they gained more offensive yards than us!
But Michigan still hasn't scored.
The End.
Latest posts by Ryan Ritter
(see all)