So last week, I spent a lot of time discussing how the change were good and the new FieldTurf is just one example of progress. This week, I realize that I have failed you.
Just watch the final time lapse of the FieldTurf installation. Let's see if you notice it:
Did you see it? You probably missed it. The distraction of plastic cancer-causing grass, kickoff shamrock logos, and midfield monograms likely distracted you from the truth. Let's try another view:
Exactly one month from right now we'll be running out of this tunnel onto our new field! #GoIrish pic.twitter.com/YYq1HBZdS3

— Notre Dame Football (@NDFootball) July 30, 2014
Still mesmerized by the new eternal green that only used to exist in the dreams of Touchdown Jesus? ENHANCE:
@IrishElvis still no G pic.twitter.com/Ke97Ev0JU6

— Tamara Brown (@NDSportsBlogger) July 31, 2014
That's right, the "G" marking the goal line is gone. And yes, it definitely was there before:
https://twitter.com/oaknd1/status/492343580233850880
I know the Irish red zone offense has struggled, especially in goal-to-go situations where the goal line creeps ever closer. I had no idea the problems ran this deep.
Kelly's hatred of the goal line clearly knows no bounds. He's swapped goal line marked glory for ND monograms and shamrocks.
What's next Brian? X's in the endzone corners to mark were to stop on the fade routes? A gigantic sign on the 20 yard line that says "Do not Pass Run"?
And do you realize the ramifications that this will have on defense, Brian? How will we ever have a goal line stand like we did against Stanford ever again? Do you really expect VanGorder to just say "stop them before the line that's before the slanted lines?"
This has gone too far. I've been suckered by the changes. The allure of FieldTurf and a promise of jumbotrons has blinded me to the truth. The road to hell is paved with a synthetic surface and Notre Dame football is all aboard that "Crazy Train".
The Roundup
If you think FieldTurf is a huge change, just wait until you see what's going on in Aggieland.
One of the biggest party schools in the nation has announcement: party's over in Tempe.
And I thought Michigan was having trouble selling tickets. LSU has already taken to Living Social to dump cheap seats for terrible out-of-conference games and less desirable SEC opponents. They are even marketing this deal in Dallas. Here's an actual, unedited picture of my inbox:
I would say that shots were fired in Urban Meyer's direction. But this is more like nukes launched.
Our lineup of talking heads has been announced. ESPN released their finalized announcer shakeup as well as FOX which includes Irish alumni Brady Quinn.
And now your moment(s) of Nix… We have a tie this week. I simply could not choose between B1G mascots dancing to a rap song about the B1G conference:
https://vine.co/v/M0VFmnz7uKB
Or Florida State freshmen attempting to rap in a parody video:
The Booze
I missed out on the fun that was Sharknado 2: The Second One as my wife hasn't yet seen the glory that is Sharknado. To make sure she's probably introduced to both of these "so incredibly terrible, it's amazing" movies, we are having a double-feature tonight in the Tex household.
Her only request: buy a handle of vodka.
So this weekend is going to be filled with all kinds of vodka cocktails. Shoot me some of your favorites in the comments. Bonus if they are shark themed.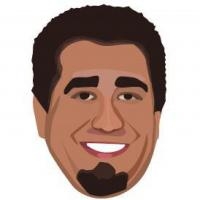 Latest posts by Ryan Ritter
(see all)